Video Licks: Watch Episode FOUR of The Celeb Sibling Comedy Series TWO-MARA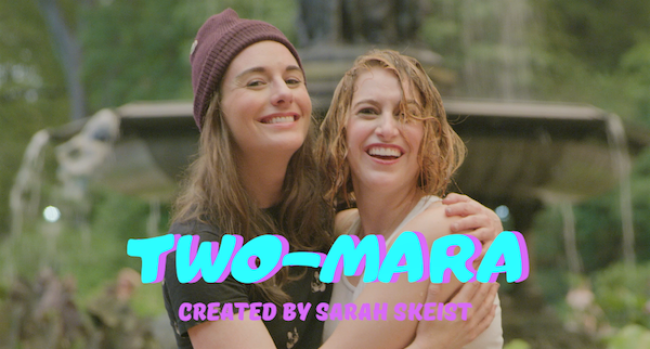 Isolated times call for comedy web series measures! We are happy to bring you the premiere of a brand new episode of the female-driven, original sibling comedy series TWO-MARA. The five episode digital series was created by Sarah Skeist and stars Skeist as the imagined celeb sibling Kate Mara (of House of Cards fame) and Jewells Blackwell, as her very different, brooding sibling Rooney Mara (from Girl with the Dragon Tattoo and The Social Network). In the series we find the sisters attempting to create video content for their YouTube channel (which we really wish existed). The well-intentioned Kate tries her best to bond with the diabolical Rooney, but Rooney manages to tear Kate's cooking, unboxing, gaming (and more) visions asunder. In the newest episode, dropping tomorrow on Edge In Motion, we find the Mara sisters skipping a shoot day to focus on themselves, Kate's therapy and Rooney's cricket to cricket feeding fest. When Rooney walks in on Kate with her "new friend," the therapist, all hell breaks loose. Enjoy Rooney and Kate "Get Real" now! Let the waterworks, I mean "Punk'd" episode begin!
This episode was brought to you by Edge In Motion Productions. It was produced by Lindsay-Elizabeth Hand, directed by Georgia Warner, and featuring Walker P. Vreeland as the Therapist.
Mentions: Watch the episode you may have missed HERE.