Quick Dish Quarantine: TOMORROW Don't Miss 'THE MADS: Walk The Dark Street' Live Riffing Online Event with Special Guest Jonah Ray
Calling all Mystery Science Theater 3000 enthusiasts, The Mads will thrive online as they bring you a special livestream event TOMORROW. Trace Beaulieu And Frank Conniff ("Dr. Clayton Forrester" and "TV's Frank") will present a live-riff screening of the 1956 film noir WALK THE DARK STREET (1956), with a Frank & Trace Question and Answer session, as well as special guest Jonah Ray (MST3K . The plot of the evening's film revolves around a sport hunting event in which the cat and mouse players are linked to a man who was killed in the Korean War. Chuck Connors plays the brother of Tommy, the victim. Platoon leader Dan (Don Ross) is the man Tommy points to as a his murderous suspect. Seems like the perfect candidate for some Mads treatment! Viewers will be able to tune in from anywhere in the world! Ticket purchasers will be sent a private link to the event an hour prior to showtime. (Anyone who purchases a ticket will gain access to re-watch the livestream and download it for personal viewing). A percentage of the proceeds will benefit the NAACP Empowerment Programs. See more info below!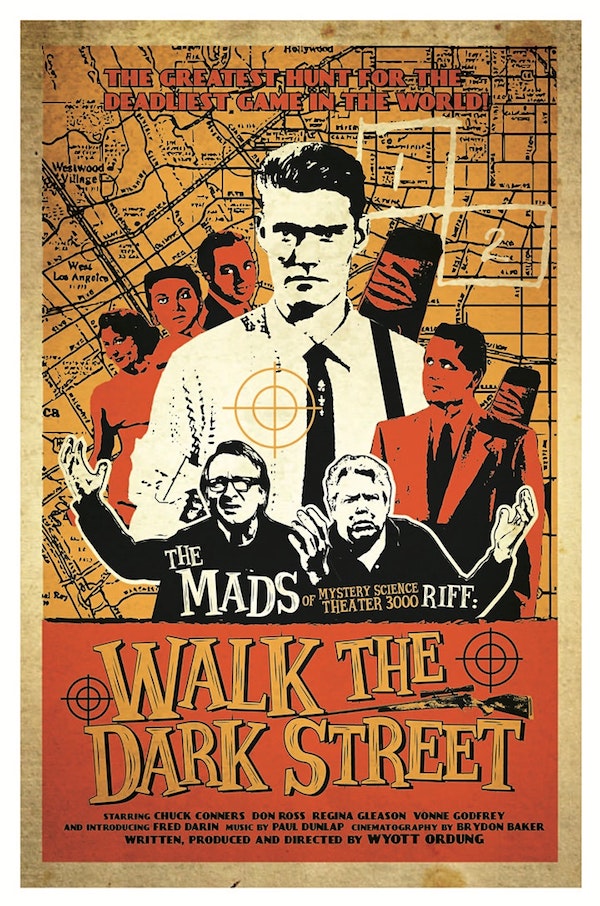 Mentions: Show 5pm PDT. Click HERE for information.