Icing: Meghan Gambling Talks to Comedy Cake About 'Bonnie's Future Sisters'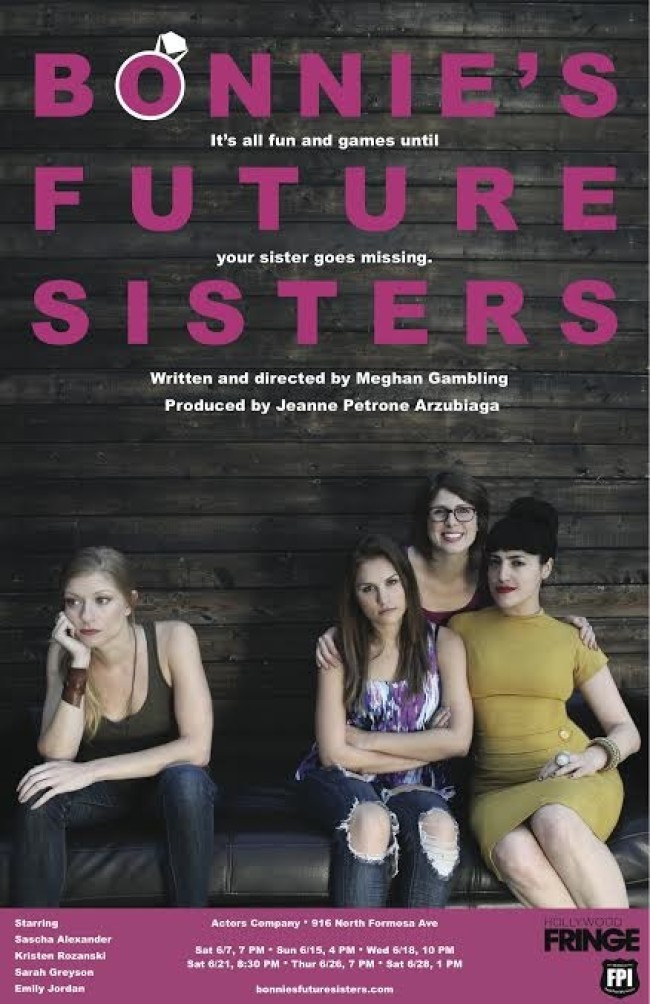 I first got a taste of Meghan Gambling's immense talent when I attended a performance of Identity Crush at the LA Comedy Festival. The extreme couple band has been featured on Funny or Die and ranked in the top 25 LA comedy bands on Reverb Nation. But enough about that awesome musical duo, Meghan Gambling has brought her writing talents to the theatre world in her newest production, Bonnie's Future Sisters. This play is a comedy written and directed by Meghan and produced by Emmy-nominated Jeanne Petrone Arzubiaga (Petrone Productions, Extreme Makeover: Home Edition, Girls Behaving Badly, Talkshow with Spike Feresten). Bonnie's Future Sisters is a four-person female ensemble play that takes a "heartfelt and riotous look at one bride's attempt to host her own engagement party."
The cast features Sascha Alexander (Bones, Days of our Lives), Kristen Rozanski (The Birthday Boys, Ugly Betty, Law & Order SVU), Sarah Greyson (Road Rules/Juke Box Hero) and Emily Jordan (Nike, Starving in Suburbia). Check out this trailer for a sneak peek of the production that will take place at Let Live Theater in LA Thursday, June 26th and Saturday, June 28th for Hollywood Fringe Fest.
Not trying to gush but Meghan Gambling is a TV producer and published playwright who has produced works in LA, Orange County, and San Diego. The New York International Fringe Festival presented three of her plays including The Kitchen Sink, which went on to be adapted into the film Cheesecake Casserole starring Brit Morgan (True Blood) and Torrey DeVitto (Vampire Diaries, Pretty Little Liars). We were lucky enough to ask this busy lady some questions about the writing process and Bonnie's Future Sisters. Enjoy!
Comedy Cake: What are the pros and cons of performing your own work, vs. watching others perform it?
Meghan Gambling: I find acting much harder than writing. So a benefit of watching others do it is that I don't have to do it myself. I get a huge rush out of performing with Identity Crush (my extreme couple band), but actual acting I'll leave to the pros. When I'm watching something I've written be performed by actors I love and trust it is the greatest feeling in the world. And when an audience is into it and the actors are up there cooking.. I can't get enough! I am so grateful to actors. I used to get so butt hurt over certain lines or certain shows not being 'right' but so much of watching something come to life is letting it breathe, knowing each show, each night, each audience is different – it is such a lovely, fleeting and indescribable thing, live performance.
Cake: What do you enjoy most about writing?
Meghan: Writing dialogue. The fast back and forth, the overlapping, the laughs that come a second too late because the joke has come and gone too quickly. I enjoy working out the arguments I have in my own head via characters. I, like most humans, am simultaneously a lot of things; self-righteous, jealous, lovely, friendly, mean, kind, ugly, pretty, amusing, hypocritical. I love taking two people and having them face off in a way that I can't in my own life. I love assigning people more balls than I could ever deliver as Meghan and I love watching conflicts unfold as my fingers often work faster than my conscious brain. I also love the middle ground of siding with a character but also knowing they're doing something kind of fucked up — but still understanding why they do it. Power struggles are my favorite. It isn't usually till the third or fourth performance of something that I really understand what I'm writing about, but I always know what my characters want. And after the writing, I love seeing if things work in a reading, picking actors, directing. I don't feel like the process ends with writing. I feel obligated to see it through the finished product as the script isn't meant to be read, it's meant to be performed and I love working with actors. They're just the bees knees. A really good actor holds you accountable for what you've written.
Cake: Describe Bonnie's Future Sisters for those of us who know nothing about it.
Meghan: Bonnie's Future Sisters is about an overnight success self help author who invites her estranged sister and her future sisters-in-law to a hotel weekend to get to know each other. A sort of pre-bachelorette engagement party; a self involved attempt to bring the family together which of course backfires when the teenager of the group, Larissa, goes missing. Bonnie, wracked with guilt and eager to play the hero goes looking for Larissa only to leave her lesbian sister and recently dumped future sister in law alone together. When Bonnie returns with Larissa she's ready to coach the sisters through their first family argument (using her book as a resource for conflict management) but is blind-sighted when she accidentally finds out what was happened while she was gone. On the surface the play is about betrayal but the more I watch it the more I realize it's really about Bonnie's desperate need to be loved and validated by her sister and how she goes about it in the most messy and awkward way possible. The final scene is a tightly wound comedy of errors and misinterpretations as each sister/sister in law sorts out what has happened that night and where they stand in this future family. It runs the gamut of both comedy and drama, truth and hyperbole and it is really a joy for me to watch. These four ladies are incredible and Sascha Alexander's mile a minute dialogue drives the piece like a bat out of hell.
Cake: What's the most challenging aspect of writing comedy?
Meghan: Keeping it truthful and in line with the story and not bailing out to the easy joke. Unless the easy joke is awesome, and then fuck it. Do it. I also find actor proofing my scripts to be difficult. Lines aren't necessarily always hilarious. It depends on who's delivering them which is why casting is nearly as important as the writing itself.
Cake: What your favorite type of cake and who would you like to throw it at when you're uber famous?
Meghan: Dark Chocolate with raspberry filling (made by my Aunt Libbie). Probably Chelsea Handler because she is consistently hilarious and I want to give her the gift of eating cake off her own face.
Mentions: Purchase tickets for June 26 (7pm) & June 28 (1pm) performances at Let Live Theater HERE. Photo of Meghan Gambling by Braden Tenney. Photo of Cast by Amelia Tabullo. Poster graphic design by Jess Frucht.