Quick Dish Quarantine: MAKING FRIENDS Comic Solo Play with TOM DeTRINIS Starts A Month-Long Online Run TOMORROW
From TV shows like COMMUNITY and 90210 to camp theater in LA and NY, Tom DeTrinis has been on stage practically since birth. Starting TOMORROW the actor/writer/director/producer will bring his POV to a solo show that will be performed and recorded remotely at the Pico Playhouse by IAMA Theatre Company. The 'Gay-tastic' play, about "looking at anger through the eyes of a quick-witted rage-a-holic who just wants to be your friend," will be available to stream for a 4-week run online. I mean, who DOESN'T want to be your friend? Making Friends will offers up 'a non-stop, hilarious litany of grievances, unmasking DeTrinis' singular views on everything from cheese ("vile f***ing spoiled milk!") to New York City ("its clutches grab you from the moment you enter until it squeezes the very last ounce of joy out of you right before you shrivel and die slash leave out of JFK/Newark or GOD FORBID LAGUARDIA?!?!?!")'.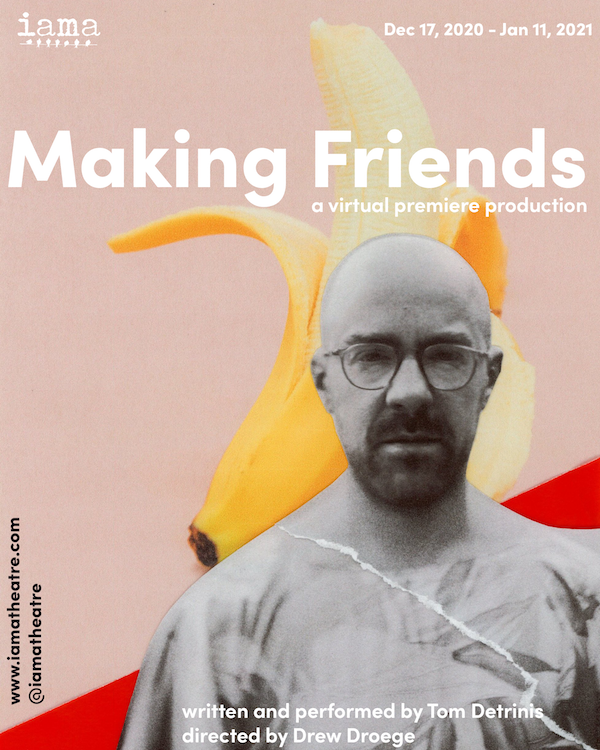 The play is directed by Drew Droege, co-produced by Donna Simone Johnson and Mel Stephens, and choreographed by Kathryn Burns (Crazy Ex-Girlfriend). Various talk-backs and Q&As with special guests will be announced including friends Tom has made, icons of the industry and colleagues. Tickets, which start at $15, will be sold in weekly blocks and include access to a variety of supporting live events. For more information on ticketing and streaming set your peepers down below.
Mentions: Opens TOMORROW, December 17th, and runs online until January 11, 2021. Tickets start at $15 and are available at www.iamatheatre.com on November 19. After the purchase of tickets, the details of viewing and schedules will be emailed to ticket holders. Feature image by Jeff Hammerton