Quick Dish Quarantine: ALONZO BODDEN Hosts The YOUR LATE NIGHT TALK SHOW TONIGHT Virtual Show TOMORROW
Wow, was that a lot of capitalization! Don't worry though, your parents are NOT texting you. It's just Cake Mama informing you of another stellar virtual show coming your way. TOMORROW, December 18th join Your Late Night Talk Show Tonight as Alonzo Bodden (Last Comic Standing, Who's Paying Attention?) takes on the role of host. Presented by Nowhere Comedy, the monthly talk show features a different celebrity host every month, leading a show built around their own comedy voice and point of view. A regular panelist on NPR's Wait Wait … Don't Tell Me!, Alonzo recently celebrated his 10th anniversary on the radio show. America was formally introduced to the comic as the season three winner of NBC's Last Comic Standing. Bodden's stand-up runs the gamut of topics including politics, pop culture, sports and current events. And if you want more proof of the comedy pudding you can stream Bodden's 2019 one-hour stand-up comedy special Heavy Lightweight on Prime. Now back to the show details. Alonzo will welcome three-time Grammy Award winning-musician Robert Glasper and comedian/actor George Wallace. That's right, they are not messing around with your virtual entertainment. This show should be top notch. Don't miss out!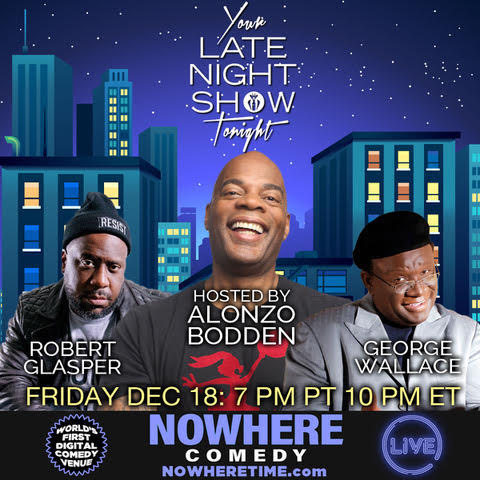 Mentions: Show 7pm PT (10pm ET). Admission $10-$30. Purchase tickets HERE. Follow Your Late Night Show Tonight on Instagram.