Icing: Meet Writer, Producer, and Comedy Cake Contributor LEE KEELER
LEE KEELER is not simply the latest addition to the Comedy Cake family; the man is a comedy POWERHOUSE. The Iowa native wears performer, writer and producer hats with true ease. With a background in improv and sketch, Keeler took on Los Angeles (and the internet) by storm making a name for himself in various comedic disciplines. He's written for ScreenJunkies.com, The Devastator Quarterly, and Crave Comedy Online, to name a few. He currently hosts and produces two amazing shows in LA, The Hour of Power Hour at the Hollywood Improv and The Devastator's Stat Attack at the Comedy Central Stage at the Hudson. Keeler has also made significant strides putting Iowa's comedy scene on the map with his Green Gravel Comedy Festival. Without further delay, get acquainted with this comedy juggernaut.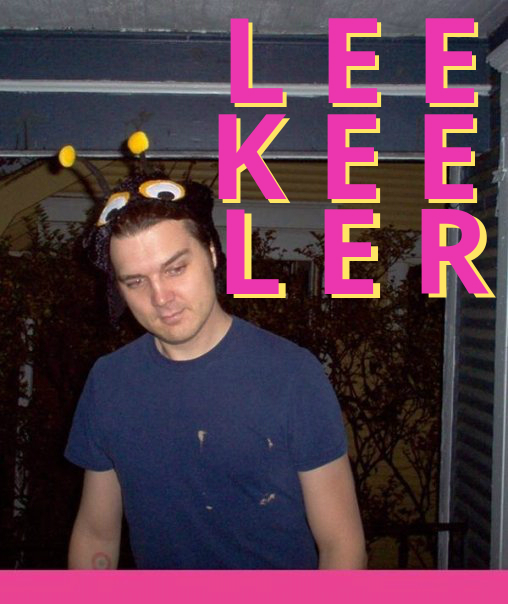 COMEDY CAKE: How did you get your start in comedy?
LEE KEELER: I used to be in improv/sketch groups at OSU. There were some incredible, insanely talented people in there and we partied and did shows together. Some of those guys ended up in theater and comedy in terms of day jobs, which is cool. Cody Johnston from Cracked.com was one of them. Then I moved to Savannah for grad school and met some incredible stand-up comedians like Phil Keeling and Chris Davison there. I had dabbled in solo comedy, but there was a void for indie stand-up in Savannah that was surprising, considering SCAD is around. So I guess that pushed us to do it ourselves and get people to come out to shows. By the time I left town, shows were finally getting write-ups in the newspapers and performers were getting paid and stuff.
CAKE: What discipline wets your whistle most: producing, writing or performing? Why?
KEELER: That's a good question. I love each thing in its own way. I got more into producing because I was already doing it with some film shorts. Also, when I moved to Los Angeles I quickly realized the commitment that it takes to be a stand-up here. You need to be out every night working the material. I was in a place in my life where I really couldn't be going out too much, so I figured out that I could be producing from home and then just do shows once in a while. That was four years ago! I've always had a knack for producing and like being able to put on shows I'd want to attend myself. I miss doing stand-up, and some of my old friends are bummed I don't get up and rant like a spazz anymore, but mostly I stick to hosting now. I think that hosting can be a skill in its own way; a good host can make or break a show. I've seen some shows with stellar lineups, but if the host is an unlikable goon it kills the room. In terms of writing, once again – huge time commitment. I have friends who have spent four years writing a single book. I'm not saying I'll never do that, but while I live in Los Angeles and am producing stuff at the Comedy Central Stage or The Improv I want to keep that momentum going for now.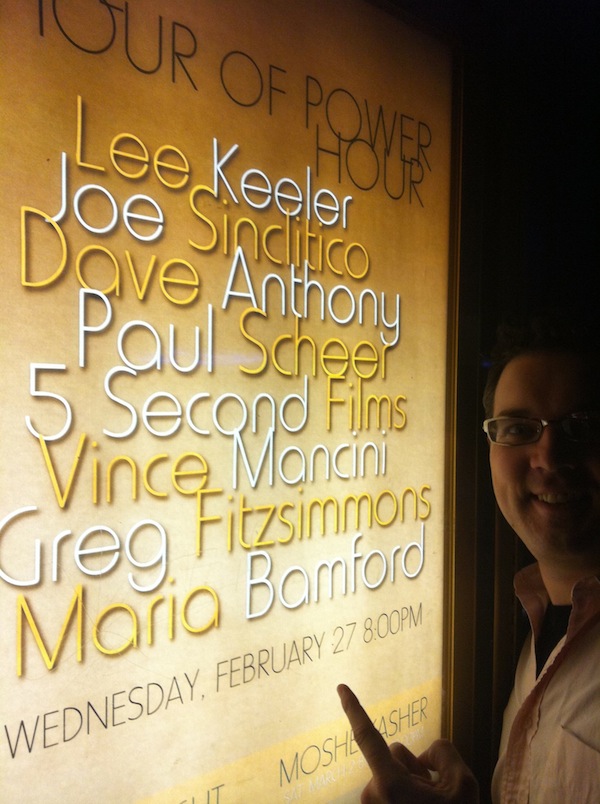 CAKE: Who are your comedic influences?
KEELER: The funniest people in my life are my best friends. So you haven't heard of them, but my biggest influences are Dave Backhaus, Justin Nawman, Craig and Hanny Boyer and my father. Sorry if I just made it harder to hashtag this story, but those people are goddamn hilarious. In terms of professional comedy, that's tougher. I found my uncle's dubbed Robin Williams cassette when I was really young. This was during his peak cocaine phase, which I didn't know at that time – it just blew my mind that a person could think/talk that fast. That probably messed me up a lot! I really love Penny Marshall. I grew up watching The Comedy Channel, so I was enamored with Higgins Boys and Gruber, Night After Night with Allan Havey and Gilbert Gottfried when he would host on the USA network. Weird Al's movie UHF was the best thing since pizza. In terms of not-ancient influences, the work that spawned from The State has impacted me a lot. Aparna Nancherla is my favorite comedian today.
CAKE: Many videos you've done have gone viral like The Lorax: He speaks for the tree and Ferris Club. What's the key to sparking the Internet's interest?
KEELER: Scott McCloud has this quote, "Learn from everyone, follow no one, watch for patterns, work like hell." We had some minor viral success with The Lorax and Ferris Club because we noticed that /Film.com was posting "Video of the Day" stuff while I was attending film school. So we jumped on that and worked like hell. This was around 2009, and the internet has already changed since then. Now /Film has their pinkies out when they type and fancy themselves a serious film "publication", but they couldn't can't stay a blog forever. They don't really do much Video of the Day stuff anymore. So what does it take to spark the internet's interest? Boobs? Cats? Latching onto well-known brands/themes/performers doesn't hurt. But I honestly think the web series/web short thing is played out now. Everybody's got or had a web series. I guess the primary advice I have is to keep it effective and simple without being lazy. The world doesn't need anymore sketches filmed in apartment living rooms. But if you look at the simplicity of stuff like Tiny Fuppets, it was so effective that Scott Gairdner is one of the top guys at Funny or Die now.

CAKE: Tell us about your involvement with The Devastator publication.
KEELER: I had started my own comedy site with a partner from grad school, but we both got busy with life and work stuff that it just didn't happen for us anymore. So I was looking for a young publication that I could hopefully grow with, and was lucky to find The Devastator. It really is completely independent and run by genuinely kindhearted people – Geoffrey Golden and Amanda Meadows. They pay all of their writers AND THEY'RE A PRINT PUBLICATION. The Devastator really does have some of the best voices in comedy without compromising the integrity of the book, which has been the most valuable experience for me. I started as an intern, helping with marketing and ad stuff, then started contributing as a writer and have been the Assistant Editor for the past couple years. My duties have ranged from lining up talent like Joe Lo Truglio to appear in the book to being the guy who brings yellow beer to staff meetings. The staff really are like a weird family and The Devastator is taking us on a retreat this fall to Lake Arrowhead, which is incredibly rad!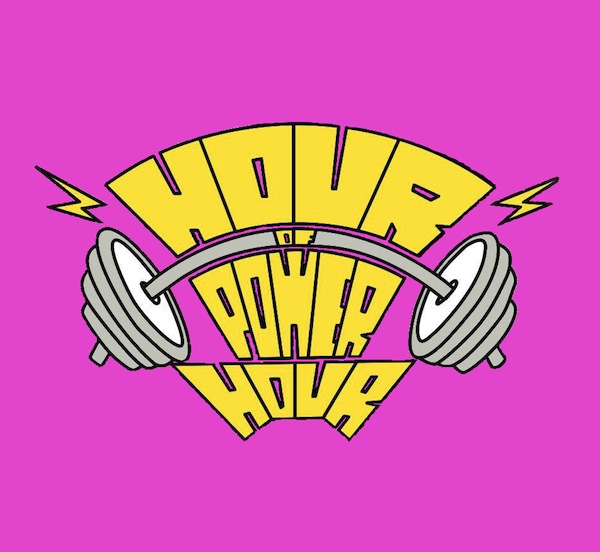 CAKE: You produce both The Hour of Power Hour and The Green Gravel Comedy Fest. Please wax poetic about these wonderful productions. What advice can you give to producers starting out about putting together a well-oiled show?
KEELER: The Hour of Power Hour has been amazing because I've been able to run an indie show in a corporate venue, the Improv Hollywood. Jamie Flam runs things there and is a complete guru in terms of comedy. He's the guy. His heart is full of positivity and that shines through with most of the Improv's shows. When we moved to the main stage I started to get paid and now I'm able to pay my performers. In terms of Green Gravel, we're still a new thing. We've been incredibly lucky to have discovered comedy scenes in Des Moines, Ames, Iowa City and more that are building and supporting each other. I had moved home to help my dad with some cancer treatment and discovered that, culturally speaking, Iowa was not the same place that I had left behind when I went to college. I'm thrilled to be able to put on a fest that can grow in a place where the process of comedy is still a new frontier. It blows my mind that we could possibly make history and put Iowa's comedy scene on the map. People are hungry for comedy there. While there are many fests popping up all over the place, I don't really see it as a huge achievement to put on a fest in an environment where there are already venues that regularly host those comedians. That's just me.
Producing advice? Don't do the cool thing. Especially in a big city, there are enough people trying to do that already. Unless the venue has a problem with it, book who you want to see and who you think deserves genuine exposure. When I was able to, I used to book a Japanese sketch comedy troupe called Samurai Lab. Nobody would give these dudes stage time and their bits were great. Building on that: take what freedoms you have and give the audience an experience. My show at the Improv Hollywood has a live band, Jack & Gene, that plays the theme to Duck Tales. It feels amazing to have recommended a song to the band, watched them learn it and then at our last show we had a packed house singing the "OO-WOO-OO!" part in the chorus without being prompted. My heart soared in that moment.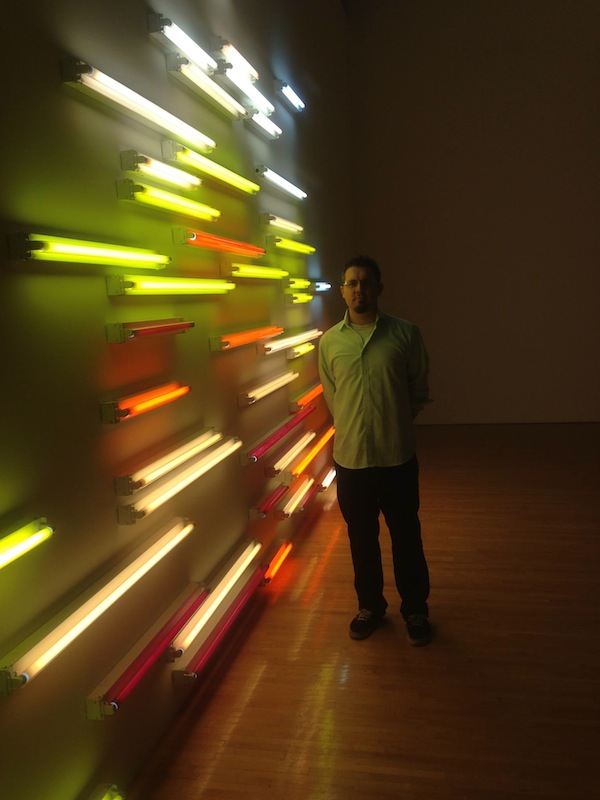 CAKE: You have the Redford Sketch Team show coming up at the Comedy Central Stage July 22nd. What makes this iO West house sketch team sparkle and how will they be ravishing the audience on stage?
KEELER: Redford are bonkers because they come from such seasoned backgrounds. These are guys that come from schools like the Groundlings, UCB, iO West, Second City and more! They bust their asses with the writing, and it's a larger group so you can see how they're driving each other. I can't explain it, but every time I see these guys I can feel some kind of momentum. Plus they have Brett Weiner directing them, and the guy brings a fresh perspective since he usually does video work for Break Media. He directed this short with John Ennis called "Verbatim" for the New York Times that is fantastic. Watch it and you'll get a sense of the level of quality Redford brings to the stage. I've found myself hollering at their shows. Hollering. How often can you say that about sketch comedy? Redford hustle, man. It's more like watching sports than comedy, and I'm grateful to have something like that to turn to. Even crazier is that this Comedy Central Stage thing is going to be "best of" of their work so far. That means the audience will be receiving their work in a condensed, refined form like the blue stuff from Breaking Bad! It's a major boo-boo to miss this show.

CAKE: Finally, what would be your pre-Armageddon choice of tasty, sweet treat? Cakies wanna know!
KEELER: I lost my sweet tooth when I was a kid eating Bit-O-Honey, Tangy Taffy and other stuff that murders your molars. So I guess I'd have to say my favorite sweet treat is genuine, bought-from-a-pickup-on-the-side-of-the-road Iowa sweet corn. Forget the slop at Gelson's. There's nothing on earth like it, it bursts when you bite into it and people around you will possibly moan while eating it.
Mentions: To see Redford Tuesday, July 22nd @8pm at the Comedy Central Stage at The Hudson RSVP by calling 323-960-5519. Be sure to follow Lee on Twitter and Tumblr.