Quick Dish Quarantine: Eating Sh*t and Loving It Presents SH*TFEST 24-Hr Livestream 4.10 on Twitch
Are you ready to have 24 hours of pure unfettered entertainment? Then turn to Eating Sh*t and Loving It (Dan Moore, Kelley Quinn, and Sean O'Reilly) who will present their Sh*tFest livestream of the worst and darkest parts of the internet. Get ready for comedians, puppeteers, and slop connoisseurs of all flavors at a stream, unlike any other. Peppered with licensed therapist check-ins, the fly by the seat of someone's pants event will include:
*a SCREENING From Justin to Kelly with comedians Justin Catchens and Kelly Dickinison
*CURSED YouTube videos all day and night
*a look at TikToks from the WORST TikTok algorithm ever created
*an INTERVIEW with YouTuber Chris the Hobby Guy
*AND the mandatory poking around Pureflix (Google it)
Did we mention guests will be stopping by with suggestions of hilariously bad video for attendees to watch throughout the stream? You may never fully be prepared for an event like this, but it's sure to be memorable! Don't miss a spicy minute!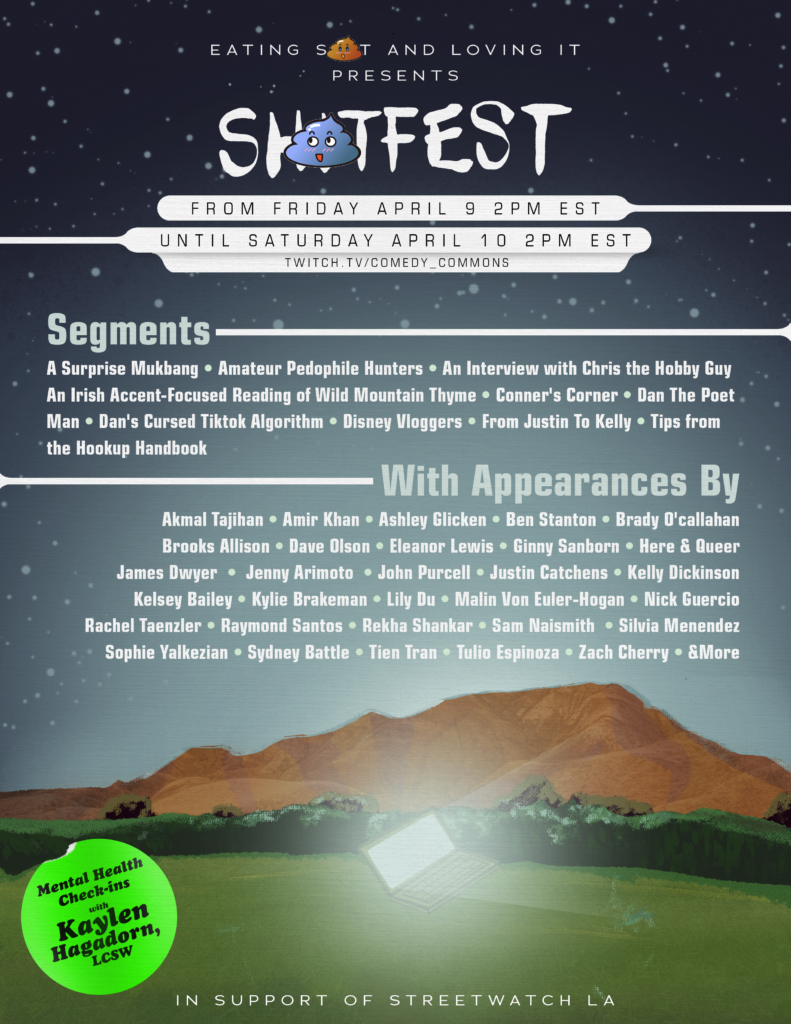 Mentions: Show Friday, April 9th at 2pm – Saturday, April 10th at 2pm. FREE admission. Happening at twitch.tv/comedy_commons (a cooperative comedy and arts channel) & created in support of Streetwatch LA.