Quick Dish Quarantine: Enjoy A New Week of SELF CARE COMEDY Laughs on Zoom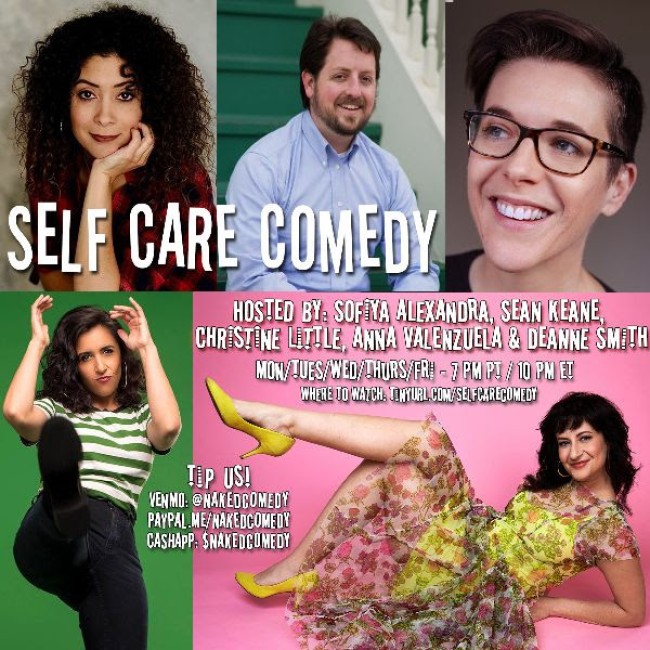 When you've been taking care of everyone else's needs, do you ever stop to think, "hey, #1 needs a darn break?" Well, magnificent nuggets, no better time than the present to pluck yourself from the rat race and pamper yourself like gods. This week Naked Comedy presents more SELF CARE COMEDY on Zoom. Monday through Friday you'll be whisked away to your happy place care of the best comics from around the world. Better yet, the experience can all enjoyed from the comfort of your abode. This week's lineups look pretty darn inviting:
Monday 4.12 Deanne Smith hosts Kenice Mobley, Dana Gould, & Maggie Maye
Tuesday 4.13: Sofiya Alexandra hosts Marcia Belsky, Karolena Theresa, & Irene Morales
Wednesday 4.14: Anna Valenzuela hosts Nori Reed, Megan Gailey, & Jay Jurden
Thursday 4.15: Christine Little hosts Noah Gardenswartz, Calise Hawkins, & Amber Nelson
Friday 4.16: Sean Keane hosts Tashi Condelee, Erin Lampart, & Jamel Johnson
Now that's nothing to sniff at! Be part of the week nightly experience. Details below.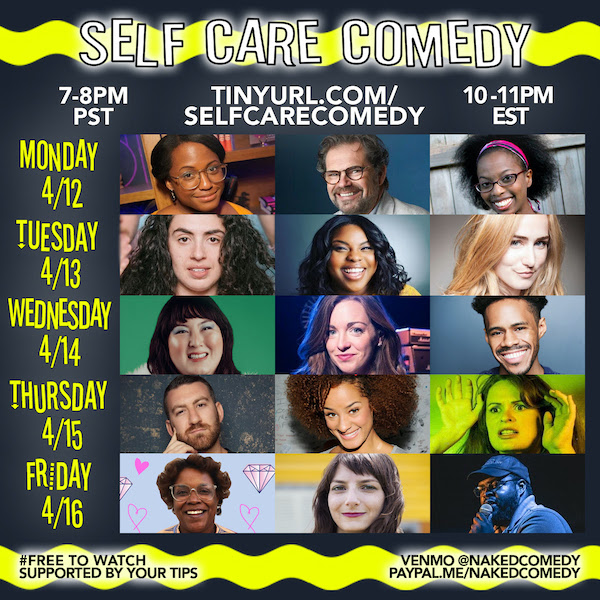 Mentions: Shows 7 PM PT / 10 PM ET. Zoom link: https://us02web.zoom.us/j/84027069654. Meeting ID:  840 2706 9654. Please be in a quiet room and keep talking to a minimum during the show. Headphones are recommended! $10 per show tip suggestions. Please tip/donate so the show can pay performers, hosts and the producer. Tip via Venmo @nakedcomedy, PayPal.Me/NakedComedy, CashApp $nakedcomedy, and Eventbrite.com/e/self-care-comedy-tickets-138026231173. Follow the show on Instagram.