Layers: RORY SCOVEL Survives A Step Off The Comedy Cliff in His New Fully Improvised Stand-Up Special 'Live Without Fear'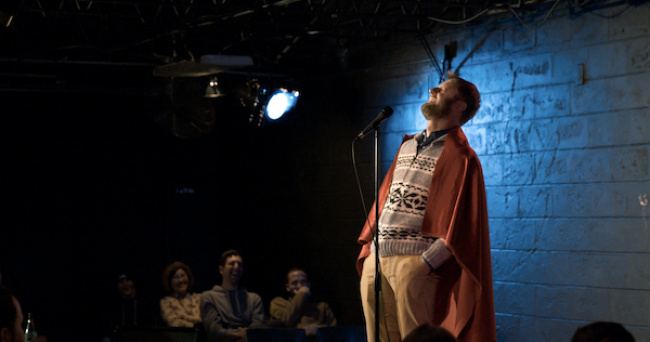 So who's more half-baked? A comic doing six nights of fully improvised stand-up, the audience who signs up to watch or the person taking the time to watch and review the film premiere of the event? Hey, I'm not answering that for you, but what I AM doing is telling you the creation is a special, unique "Documentary-Meets-Comedy Special" (also audio album) worth taking a chance on. Live Without Fear, directed by Scott Moran (Rory Scovel Tries Standup for the First Time, Modern Comedian), features RORY SCOVEL (Physical, Robbie, Those Who Can't) performing six nights of fully improvised standup at Atlanta's Relapse Theatre, pre-pandemic. The special follows the comedian before, during, and after the days of entertainment, chronicling his travels, pre-show jitters, post-performance thoughts, and those interstitial, totally-unrehearsed moments you just can't make up.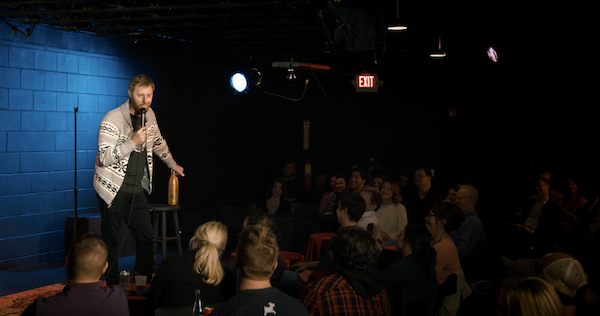 In the special we learn that from Scovel's humble beginnings, he has tried to incorporate improv into his stand-up. We further ascertain the comic is frustrated that he has managed to build up to a well-crafted hour, but simultaneously been pulled away from the spontaneity he so relishes. March of 2018 Scovel embarks on making his fully improvised special a reality. Likening the experiment to Indiana Jones boldly (and blindly) taking a giant step into nothingness in The Last Crusade, Scovel casually jokes about taking that giant leap of faith journey to his own comedy Holy Grail, at the outset of the film.
As the film audience is treated to clips from each night of the journey, we get a glimpse into just how a true master can materialize hilarity from even the smallest of internal and external queues. The first night, it's an article Scovel reads about a self-driving car accident which blossoms into a time travel riff. The following day, proclaiming he's "gonna bomb so bad tonight," the comic uses the audience as inspiration. Scovel asks that for one brave soul to reveal the craziest experience they've had in bed. Samantha takes the bait, and soon the comedian is off and running with a bit featuring Scovel's over-the-top shock and physical theatrics, highlighting the freakiness of the reveal. Wednesday, the comedian reveals that instead of reading articles to stimulate ideas for the show, he instead engaged in multiple self-pleasuring escapades. Scovel, sporting a Mr. Rogers-esque sweater, most contrastingly eases into a bit about pr0n watching which culminates in an arm/thumb wrestling challenge with an audience member. In that case, choosing reproductive part size as a starting point surely beat out the pot-smoking route the comic could have taken.
Over the next three nights we see the comedian build confidence, unleashing a string of outrageous performances. Thursday, it's tablecloths used as cult props and nudging an audience member to reveal the contents of their snack bag. Friday, the sh** figuratively hits the fan, as Scovel dives into potty humor, supported by timely audience participation, and that time his college classes were conducted despite the news of national disaster. So how could Rory possibly top a week of sold-out shows? By using ideas from previous nights to propel the show forward. Saturday, Scovel starts off entertaining the audience utilizing new characters he invents on the spot, and then incorporates those characters into some priceless audience interactions. If you don't think asking an audience member about the age they lost their virginity can be juiced to the point the performer is comfortable teasing the audience that they bet they wished the comic would move onto another topic, you'd be wrong.
I won't tell you exactly how the final shows ends, but it's thanks in part to the venue where whole thing began. You see, not only is Rory the star of this special. Through the documentary, we learn about the almost unbelievable challenges The Relapse Theatre's founder, Bob Wood, has had to overcome to "build a better comedy club." Even if you don't consider yourself particularly religious, after hearing or seeing Bob's story, you will soon realize that it is by the grace of fearlessness, sheer determination, and the undeniable strength of the human spirit that true miracles are possible. Not only can that be applied to putting a venue on the map, but it can fuel a comedian to realizes his career dreams.
Mentions: Live Without Fear premieres at 5 PST, 8 EST on YouTube. Album Version Out Now! Follow Rory on Instagram! Check out 800 Pound Gorilla Records at your leisure. Feature image by Scott Moran.