Sweet Tweets: Last Week Tonight Tries to Save The Space Geckos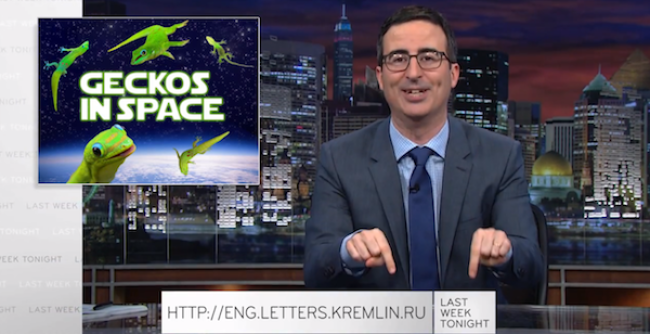 After yet another week of dismal news to report John Oliver ended yesterday's Last Week Tonight episode with an encouraging challenge. Apparently, Russia sent some geckos to space to study their mating habits in zero gravity but lost contact with the cute Geico mascots. In an effort to unite the nation, Oliver asked everyone to implore the Kremlin to save those green space lizards via email and Twitter. Oliver's celeb friends even got in on the action. Check out the official Last Week Tonight tweet complete with gecko hashtag #GoGetThoseGeckos and video:
Humanity needs a win right now! Email Vladimir Putin (http://t.co/gmmxzdwMEZ) and tell him to #GoGetThoseGeckos! https://t.co/xyWjHZTpwK

— Last Week Tonight (@LastWeekTonight) July 28, 2014
Mentions: Watch Last Week Tonight Sundays at 11pm on HBO.