Quick Dish NY: 9.15 Enjoy RISK! Storytelling Hybrid In-Person & Livestream Show at Caveat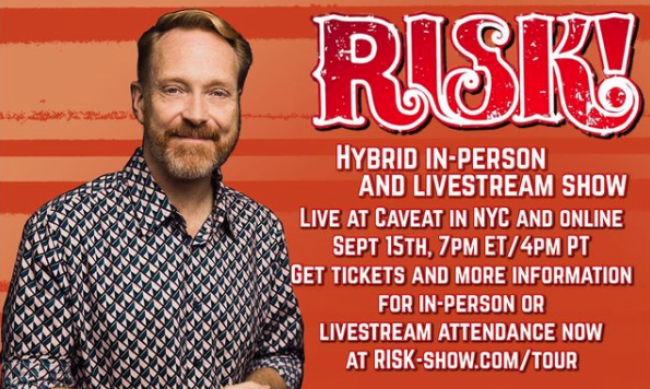 Wednesday, September 15th join Kevin Allison (The State)and another stellar crew of storytellers for RISK!'s hybrid in-person and livestream show at Nw York's Caveat. This way attendees can either watch the show online via livestream on Youtube (and after) or in real time in the flesh. The lineup will include:
Christina Chiu
David Drake
Steve Andriolo
Maureen Ferguson
and, of course, RISK! host, Kevin Allison!
There's never a bad time to tell true tales in a bold way! Be there (in any capacity!)
Mentions: Show 7pm Eastern/4pm Pacific. Buy tickets HERE ($25 adv, $30 door, $15 livestream). Location: Caveat, 21 A Clinton Street. Follow the show THERE.  If you are coming to see the show live in person at Caveat, COVID-19 safety protocols will be strictly enforced. Attendees will need to present the NY Excelsior pass or a COVID-19 vaccine card to prove their vaccinated status in order to enter the venue.