Quick Dish LA: POPULAR KIDS CLUB COMEDY 7.13 with The Sklar Brothers, James Davis & MORE!!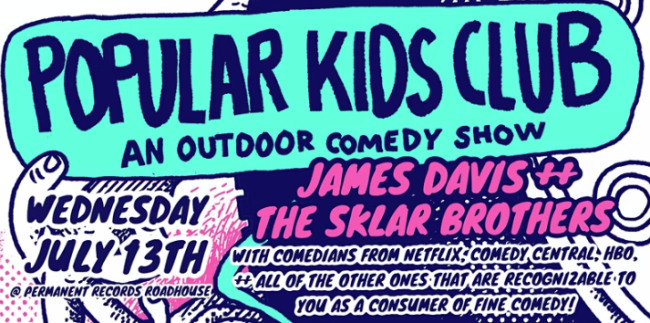 POPULAR KIDS CLUB is back in session this Wednesday, July 13th. Turn that hump day on it's head as "America's favorite handsome boy" Luke Wienecke assembles the most talented comics around into the Optimus Prime of stand-up shows. This week's sentient, living autonomous robot of a show's lineup includes:
James Davis
Paige Weldon
Ryan Conner
Camirin Farmer
Cori Gonzalez-Macuer
and you, the adoring audience!
As OP would say, "there's a thin line between being a hero and being a memory." Let's all be heroes this week, kids!
Mentions: Show 8pm PT. Tickets HERE. Location: Patio of Permanent Records Roadhouse, 1906 Cypress Ave., Los Angeles, CA 90065. Plenty of street parking. Vaxx card required for entry per venue requirements. *ADA Compliant Listening Devices Available Upon Request.** Feed the beast. Follow the show.