Quick Dish NY: This Sunday 8.7 ANDREA COLEMAN TELLS STORIES at Young Ethel's
FAndreas, rejoice because lawyer/writer/entertainer Andrea Coleman will be telling more courtroom tales of triumph, tragedy and redemption THIS Sunday at the elevated Brooklyn dive bar, Young Ethel's. At ANDREA COLEMAN TELLS STORIES, Andrea will be joined by stand-up Emily Walsh hosting and Nicole Wright of The Harlem Chamber Players on classical violin. Let me tell you, Andrea has been busy! The law comedy show she created and star in "Wack or Woke? Andrea Coleman Judges the Law," has been featured in the New York Times, TimeOutNY and broadcast on PBS. One of her short films aired on BET and Aspire TV. She has performed at the SF Comedy Fest, the Women in Comedy Festival, and the Austin Sketch Fest. She's in her 14th year as a Senior Trial Attorney and has tried 30 jury trials. My my! Also, you can currently see her in OutTV's new series "Iconic Jusitice" starring Judy Willam, streaming on AppleTV. Won't this give Judge Judy ideas? Maybe, but who doesn't like some courtroom drama outside the courtroom?! Get all the info you need below and then go watch some Law and Order. Bang! Bang!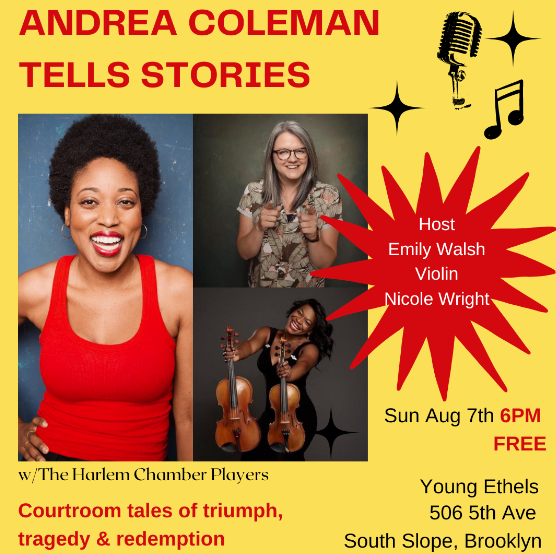 Mentions: Show 6pm ET. FREE, reserve HERE. Location: Young Ethel's, 506 5th Ave., Brooklyn, NY 11215 (Park Slope). Follow Andrea legally. Feed the beast.