Quick Dish Online: MST3K's Mary Jo Pehl Watches "Devil Dog: Hound Of Hell" TOMORROW for A New MOVIE JO NIGHT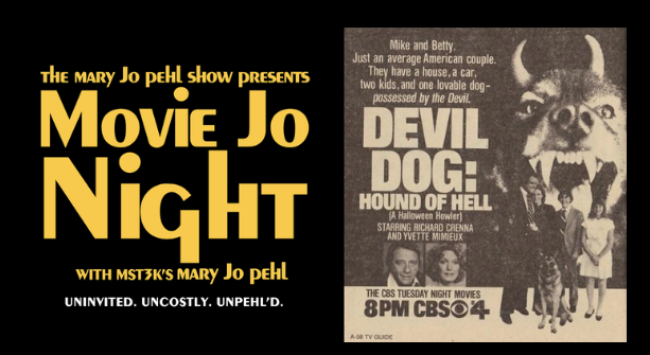 One of the most frightening moments watching a scary movie as a kid was that ankle slicing scene in the movie adaptation of Stephen King's Pet Sematary. How I got away with witnessing that child-inappropriate is puzzling, but, BOY, did I pay for underage brazenness! If you like your entertainment on the lighter side, come watch victim, I mean, writer, actress, and comedian MARY JO PEHL (original MST3K) as she watches a never-before-seen-by-her movie on Twitch. This time the flick on the MARY JO NIGHT plate is the 1978 American TV movie, DEVIL DOG: HOUND OF HELL, a real pre-Halloween Howler! The movie centers on suburban family, The Barrys, as they endure the mind control of a possessed dog they've so unwittingly adopted. YOu may recognize the child actors as having previously played the siblings in the original Witch Mountain films from Walt Disney Productions. We can't wait to hear with Mary Jo has to say about this one! Note to self: NEVER adopt from a Satanist! Grab your popcorn for one delightful Tuesday evening. We promise it won't bite!
Mentions: Show 8pm ET/ 7pm CT. To watch the live event subscribe to The Mary Jo Pehl Show on Twitch with new episodes every fourth Tuesday. This is a FREE event. RSVP for email reminders.