Quick Dish Online: THE MARY JO PEHL SHOW 'Game Show Night III: Password' TOMORROW on Twitch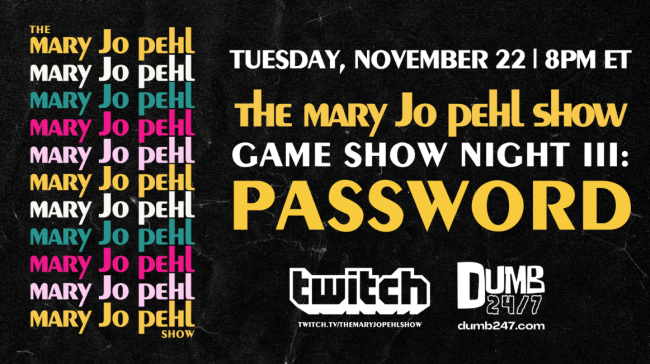 Can you believe The Mary Jo Pehl Show is already three episodes into Season 2? Yes, I know, the shock face is real with this one. TOMORROW, November 22nd, you can savor another episode pre relatives invading your personal space time. Join original Mystery Science Theater 3000 writer & cast member MARY JO PEHL and Chris Gersbeck (founder of Dumb Industries) as they bring you live gameplay of that classic show PASSWORD. Who needs GSN, when you have MJP et al.?! In the original show two teams, each composed of a celebrity player and a contestant, attempted to convey mystery words to each other using only single-word clues, to win cash prizes. How will it work tomorrow? I have no idea, but it's sure to be high class entertainment. Join in the fun!
Mentions: Show 8pm ET/7pm CT. FREE to all viewers. Info HERE. Subscribe to The Mary Jo Pehl Show Twitch channel and you'll be able to watch the replay at your leisure. FREE for Amazon Prime members! The MJP show is brought to you every fourth Tuesday of the month. Follow Dumb Industries for updates. Feed the beast.