Quick Dish LA: GIMMIE GIMMIE PEACH SAMBA Tomorrow 9.23 at The Hollywood Improv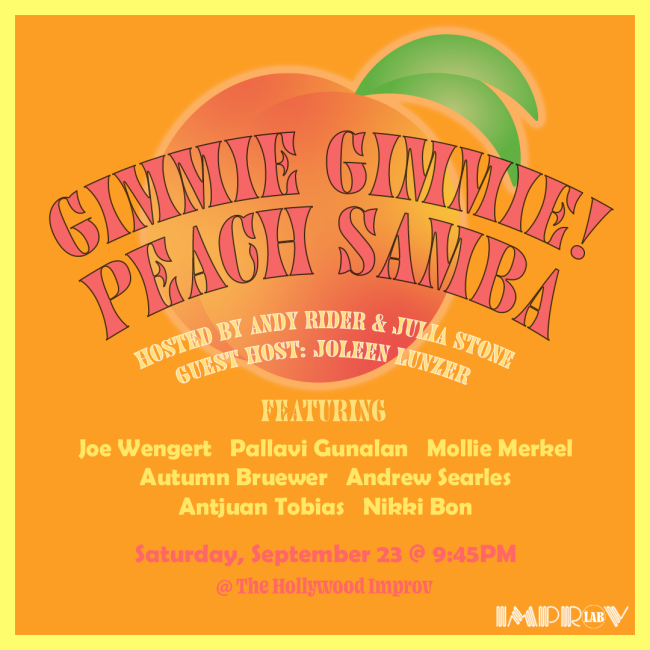 GIMMIE GIMMIE! PEACH SAMBA is back at The Hollywood Improv Lab, for a show SO GOOD you'd skip watching the new season of Taskmaster on YouTube. You're welcome! The uber talented comics entertaining you THIS SATURDAY include:
Joe Wengert (Big Mouth, Comedy Bang Bang)
Pallavi Gunalan (Facial Recognition Comedy)
Mollie Merkel (Netflix is a Joke)
Autumn Bruewer (Good Sport Comedy)
Andrew Serles (Ghosts)
Antjuan Tobias (Angelyne)
Nikki Bon (Gripe Juice)
& Chris Calogero (Funny or Die)!
hosted by Andy Rider & Julia Stone!
Don't MISS it!
Mentions: Doors 9:15pm, Show 9.45pm PT.  Two-item minimum purchase requirement in the showroom for all guests. $15 tickets HERE. 21+. Location: Hollywood Improv (The Lab) | 8162 Melrose Avenue, Hollywood, CA 90046. Give Andy a FOLLOW. Feed the algo.