Quick Dish LA: WINESHIP BUDDIES Tonight at Oeno Vino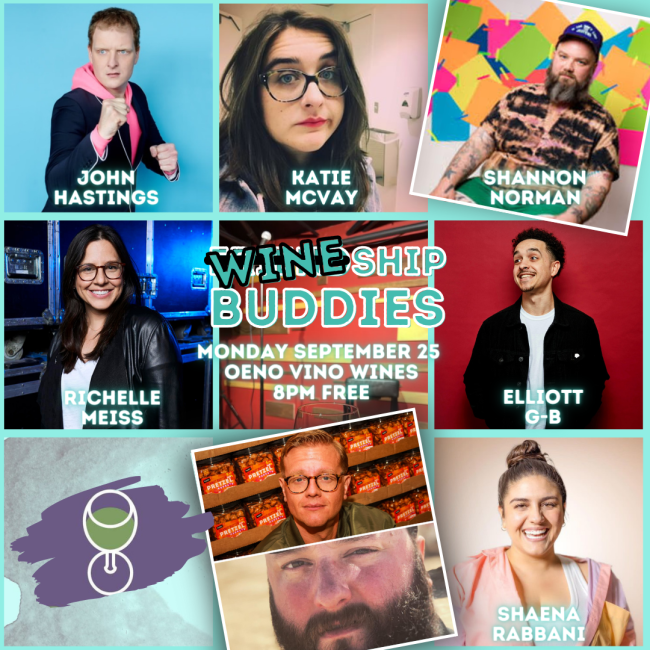 On the 2nd and 4th Monday of every month, Aaron Hertzog & Brendan Kennedy bring their favorite stand-up comedians to the cellar at Oeno Vino. Well, you landed on the right Monday, folks. TONIGHT the hilarious stand-up comedy showcase will be offering up talent from Netflix, HBO, Comedy
Central, MTV, Late Night TV, and more live for the very low price of zero dollars. This evening's packed lineup will include:
John Hastings (America's Got Talent)
Richelle Meiss (Platonic, Single Parents, Bachelor the Musical)
Katie McVay (Women Crush Wednesday)
Shaena Rabbani (The Improv)
Shannon Norman (Good Enough Comedy Show)
and Elliott G-B (Burning the Light podcast)!
Come get your Monday starts with good laughs, frienship plus wine flights, gourmet cheese plates, charcuterie, pizza and salads)!
Mentions: Show 8pm PT. FREE. Reserve spot HERE. Location: Oeno Vino 3111 Glendale Boulevard #2 Los Angeles, CA 90039. Follow the show. Feed the algo.