Tasty News: Comedy Had a Good Night at the Grammys '15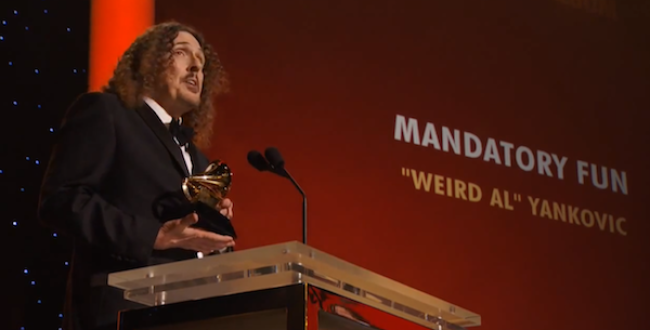 The 2015 Grammys was filled with the usual fanfare, eye-catching fashion, and unusual behavior (cough, Kanye). Lucky for us, it also has a good share of comedy as well. Weird Al beat out an impressive list of nominees when he won the Grammy for the album Manadatory Fun, his now fourth win. He also ran quite a distance to receive the coveted award. I hear he enjoyed a burrito afterwards to replenish all those calories lost retrieving the award.
Our beloved Joan Rivers won a posthumous award for Best Spoken Word Album for "Diary of a Mad Diva." Her daughter Melissa Rivers accepted the award on her behalf.
Finally, we were surprised and entertained by the appearance of Kristen Wiig in a performance of Sia's "Chandelier". Not only do we know what Maddie Ziegler will look like when she grows up but Wiig's talents know no bounds.
Mentions: Hopefully all that erases the image of Madonna bum flashing as a matador from your mind.