Quick Dish: SUMMAHFEST is Almost HERE 8.1 at NerdMelt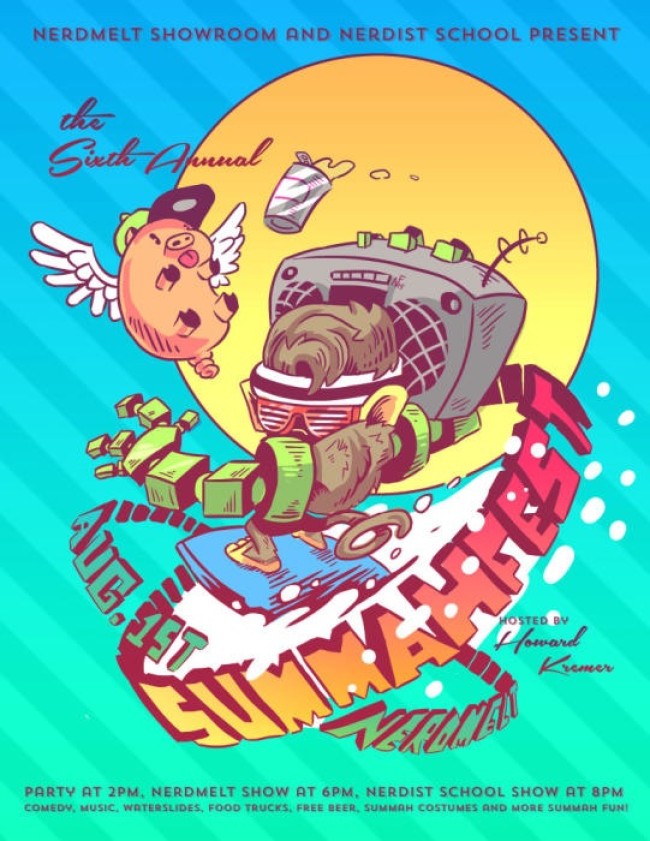 The legendary King of Summah is back with the 6th annual SUMMAHFEST. As a thank you to the NerdMelt community, Nerdist Industries, NerdMelt Showroom, and Nerdist School, the OTHER holy trinity, will be bringing you a full day of comedy, music, waterslides, food trucks, free beer, water balloon fights, face-painting, "summah" costumes and more THIS SATURDAY ('cuz school is just around the corner – Gasp!) And while we're on board with food, drink and sunlight we're most excited about the COMEDY. Check out this no-sunscreen required stand-up lineup:
Steve Agee
Paul Danke
Cornell Reid
Brooks Wheelan
Nick Rutherford
Jade Catta-Preta
John Roy
Brody Stevens
+ More!
With rapper Nova Rockafeller!
hosted by HOWARD KREMER
You know the drill. Get on those floppy sunhats and shades and come out for some cool fun.
Mentions: FREE! Party start at 2pm. Comedy show 6pm. LIVE IMPROV at Nerdist School Stage 8pm. Bring a bathing suit or your best "summah" costume. Bring ID 'cuz carding for alcohol is a must. NerdMelt Showroom is located at 7522 Sunset Blvd., LA.