Quick Dish: See MY DIARY at the Comedy Central Stage 8.10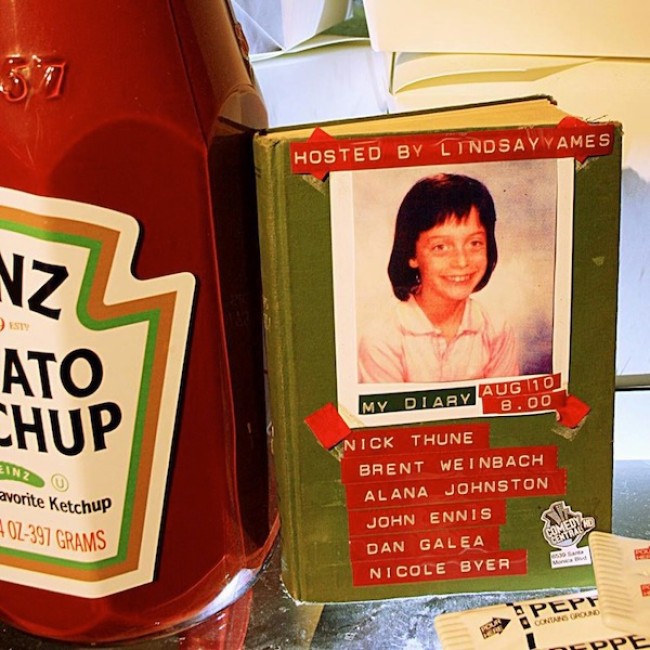 Do you have the desire to see into the mind of your favorite comedian? Don't answer that! However, DO go see MY DIARY Monday, August 10th at the Comedy Central Stage. Before the show heads back to their UCB home, see a SPECIAL diary unveiling featuring these SUPER SPECIAL guests:
JOHN ENNIS (WITH BOB AND DAVE, MR.SHOW)
NICK THUNE (COMEDY CENTRAL, TONIGHT SHOW)
NICOLE BYER (MTV's GIRLCODE, BIRTHDAY BOYS)
BRENT WEINBACH (KROLL SHOW, ANOTHER PERIOD)
ALANA JOHNSTON (BIRTHDAY BOYS, UCB)
PLUS special musical performance by DAN GALEA
AND a special video from Lindsay Ames and Elisha Yaffe!!
hosted by LINDSAY AMES
Bring those private moments into the light for comedy's sake, please. Don't miss out! It's FREE!!!
Mentions: Show 8pm. FREE!!! Reservations Required. To RSVP, please call 323.960.5519. Comedy Central Stage at the Hudson is located at 6539 Santa Monica Boulevard (cross street Hudson Avenue between Highland and Vine). Street and Lot Parking Available.