Quick Dish: PICTURE THIS! At The Satellite 10.4 with Provenza, Fulcher, Weisman & MORE!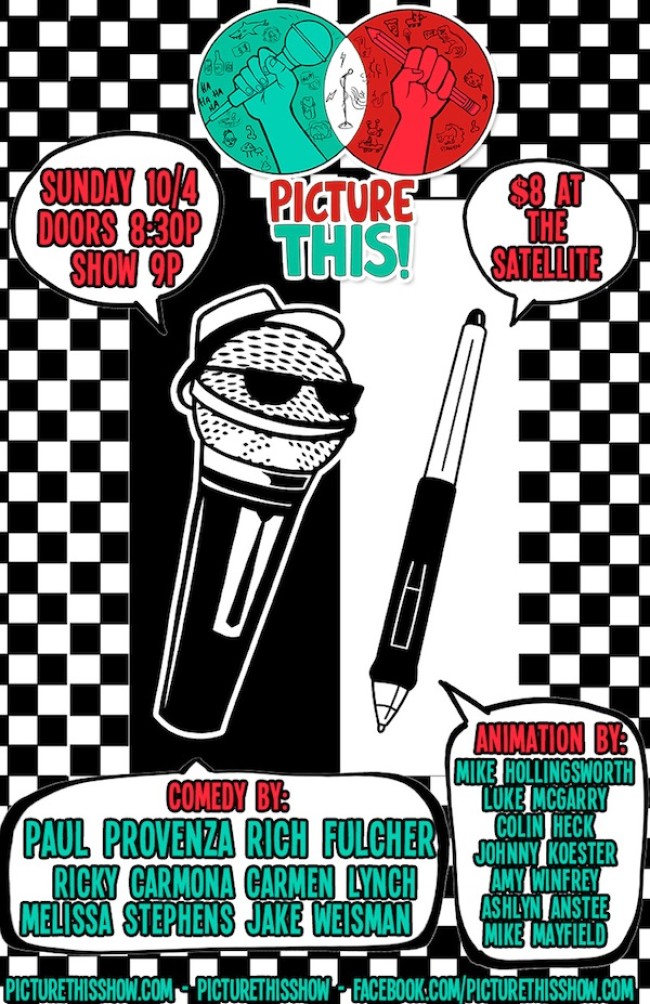 Care to support talented artists while having a splendid time yourself? Head on over to The Satellite in Silverlake October 4th for another edition of PICTURE THIS! There's never a dull moment at this live animated comedy show. Animators bring to life each comedians' set in front of an audience, which is cooler than cool. This sick lineup only adds another layer of greatness:
COMEDY c/o
Paul Provenza (Showtime, Letterman)
Rich Fulcher (The Mighty Boosh, Comedy Central, FOX)
Carmen Lynch (Inside Amy Schumer)
Jake Weisman (WOMEN, IFC)
Ricky Carmona (Tosh.0)
Melissa Stephens (HelloGiggles)
ANIMATION c/o
Luke McGarry (Festival Supreme)
Colin Heck (The Simpsons)
Johnny Koester (Titmouse)
Amy Winfrey (South Park)
Ashlyn Anstee (Nickelodeon)
Mike Mayfield (Mr. Pickles)
Mike Hollingsworth (BoJack Horseman)
HOSTED by
Brandie Posey (MTV, Comedy Central, Lady to Lady)
Did we mention there's a FULL BAR? Yep, you are so in! Support live comedy!
Mentions: Doors at 8:30pm, Show at 9pm. $8 online & at the door. The Satellite is located at 1717 Silverlake Blvd
Los Angeles.