Quick Dish: MCBAIN Comedy is After Your Laughter 11.8 at iO West's Del Close Theater
I've been informed from the powers that be that the iO West sketch house team McBain (Batman fans, relax) "will blow your butt off with laughter" Sunday, November 8th at the Del Close Theater. You know what that means, you better get that rear in gear and attend this FREE show! McBain performs on the second Sunday of each month in the DCT, bringing audiences a combination of "absurd, dark, and outlandish" sketches. The McBain members have trained at such reputable establishments as iO West, UCB Los Angeles, Second City, Miles Stroth Workshop, Groundlings, The Philly Improv Theater, Paul Kampf Studio, Ivana Chubbuck Studio, and Killan's Workshop. They have also written and performed for the New York Sketch Fest, Philly Sketch Festival, Boston Comedy Arts Festival, and the Ladies Are Funny Festival in Austin, Texas. Don't miss out on this fantastical night with McBaig, McBrown, McGentile, McGiebel, McCay, McUrban, McVreede and McWeddle!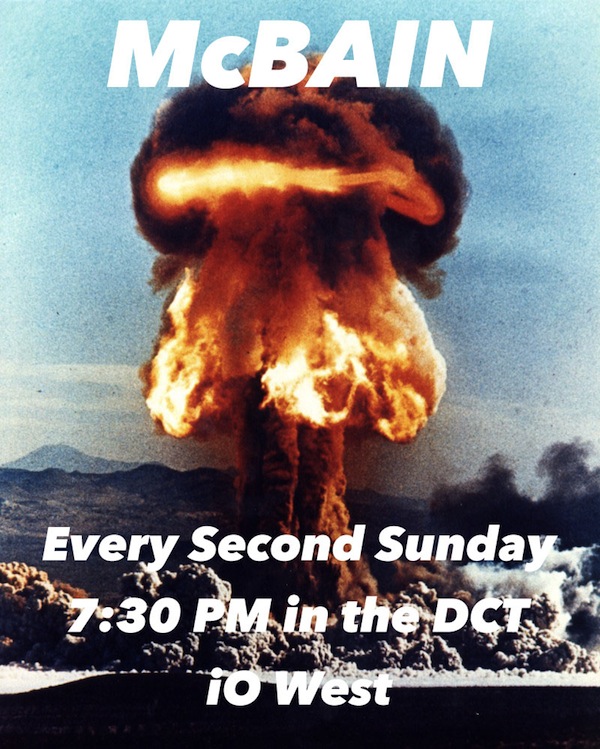 Mentions: Show 7:30pm with Hot Lunch. FREE! McBain is Shaan Baig, Shannon Brown, Chris Gentile, Greg Giebel, Brendan McCay, Nicky Urban, Dana Vreede and Dana Weddle. The show is directed by Jesse Klein. The Del Close Theatre at iO West is located at 6366 Hollywood Blvd, Los Angeles.