Icing: Poised With Elegance at The WHATEVER Show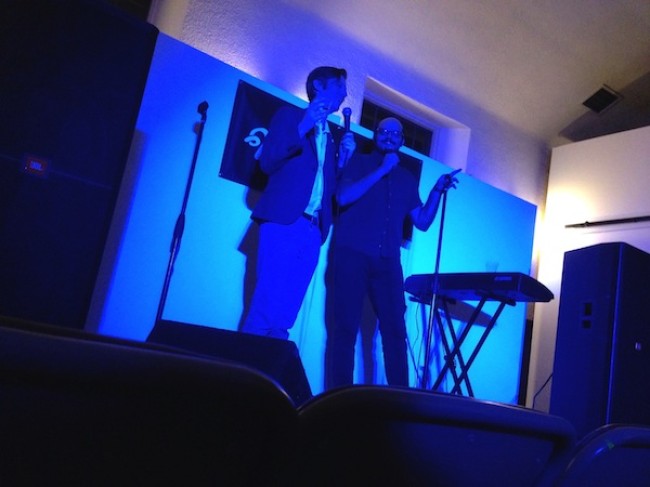 Celebrating my Friday in style, I ventured out to the Center For The Arts Eagle Rock for an intimate night of stand-up at Whatever Show. A monthly show hosted by the sensual Eric Dadourian and the dashing Allen Strickland Williams, the church-like library turned venue (and most likely rented out for weddings on the daily) really set the vibe with comedians performing close, but their voices booming outward rochambeau-ing for status as lead pastor in this hip congregation.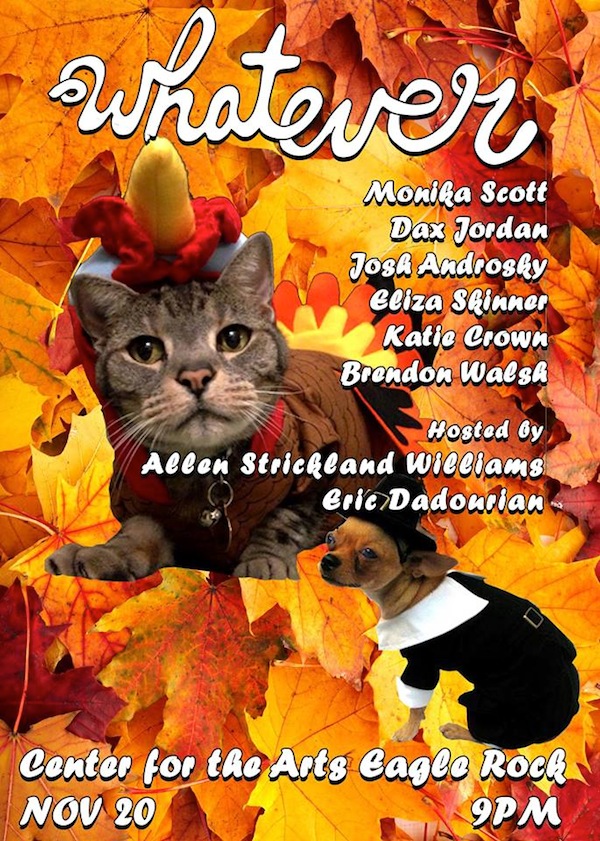 While Eric and Allen reminisced about their high school senior year prom jams even performing a little for the audience (with the help of some moonshine cherries), first comedian of the night, Monika Scott, kicked things off with twisted tales of her parent's threesome heard round the world. Her particular brand of glee in the face of absurdity was infectious. Comedian Danny Palumbo, visiting from Austin, continued riffing on life's absurdities, but on the realities of doing art after your day job and quitting smoking only to get addicted to Vicodin. Comedian Brendon Walsh embraced the darkness giving us all kinds of tips and tricks for fooling delivery workers to the extreme, doubling down on the bad behaviors, but coming out smiling in the end. Comedian Eliza Skinner also gave us some life advice for the proper way to deal with seeing an ex again and then pontificated on the true horror of hearing your inner pet voice actually coming out from the pet. As a pet owner this realization horrified me, but Eliza's brazen confrontation of this fantasy was another great turn in her playful, but unflinching style.
When comedian Katie Crown took the stage, things got a little more surreal, pulling the audience into a sad story of woe over a dead cockroach on the sidewalk and then showing us the deep hilariousness of the songwriting process, jamming out about the weather before our very eyes and ears. Katie definitely embraces the trickster spirit, taking delight in our reactions. It was simply glorious. Comedian Dax Jordan casually recounted the time his grandmother heckled him on her deathbed in a play-by-play that had my jaw drop as much as I laughed. Finally comedian Josh Androsky and musician Greg Katz closed the night as the jumpin' and jivin' lounge act The Soda Boys, playing impressive show tunes about falling in love with God and conspiracy theories. Josh has a Liza Minnelli-like charm that is only enhanced when Greg twinkles the casio (yamaha) keys. These tunes sent the audience strolling off into the night in good spirits.
With the wide range of performers and styles, Whatever Show was anything but, highlighting many of LA's (and Austin's) brightest, comedians I'm so very grateful to be able see them on fire, and at their funniest of course. I'll see you there next month okay?
Mentions: Like Whatever Show on Facebook. Follow Eric Dadourian, Allen Strickland Williams, Monika Scott, Danny Palumbo, Brendon Walsh, Eliza Skinner, Katie Crown, Dax Jordon, Josh Androsky, Greg Katz, and US on Twitter.