Video Licks: ADAM SANDLER Talks "Billy Madison," Disneyland Ghosts & Meeting Harrison Ford on CONAN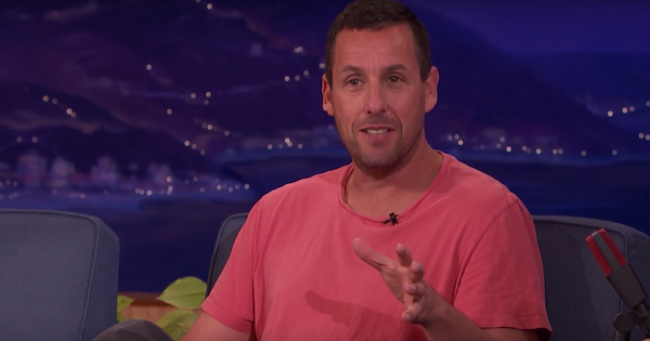 When you think of iconic figures in comedy, there's no doubt ADAM SANDLER comes to mind. Yesterday, the actor/comedian/screenwriter/film producer/musician sat down with CONAN for a fun chat. The two reminisced about working with some movie greats on Sandler's groundbreaking early films. Sandler recalls the great times working with the late Carrie Fisher on The Wedding Singer and brings up a star-studded party he attended where he rubbed elbows with the legendary Harrison Ford. Little did he know, he'd be asked over to Ford's home at this lavish shindig.
When Sandler isn't busy making us laugh, he's acting as parent taking his kids to amusement parks like Disneyland. During the interview, the comedian shares his Disneyland Haunted Mansion ghost story. It's not what you expect.
Of course, host Conan O'Brien couldn't let Sandler get away without asking him about that memorable Dodgeball scene in Billy Madison where he nails a bunch of a kids with this deadly weapon. Who knew those kids would still be in Sandler's thoughts to this day?
Mentions: Watch CONAN weeknights 11/10C on TBS.