ICING: We talk to UCB Alum HESLEY HARPS About Her Dark Comedy Series 'LIVE IT UP LEMONADE'
Did you ever love something so much you'd go to unfathomable depths to keep it? In HESLEY HARPS's NEW Dark Comedy series LIVE IT UP LEMONADE, Rhonda is a determined woman with a mission and a few prison bars aren't going stop her. Each episode the recently incarcerated lemonade saleswoman, played by Harps, shares her "get rich quick" method for selling that sweet and tart commodity to YOU, her franchise owners. She enthusiastically attempts to turn lemons into lemonade, despite being in prison for murdering one of her trainees. Gulp! This 6-episode series is an extension of Harps' one-woman year-long live show at UCB which ran in early 2016. Four episodes in, the series does not cease to impress.
Harps tip top comedy skills really shine in this drinkable new series. Her comedy background reflects her stand-out performance in the series. She has appeared as a recurring sketch comedian on the TBS late-night show, Conan. She's garnered a fanbase on Funny or Die and CollegeHumor, starring in online exclusives and on HBO's Funny or Die Presents. Her TV credits include a role on NBC's new hit-series This Is Us, along with appearances on New Girl, Adam Ruins Everything, The Adam Carolla Show and more. Harps, who wrote, produced and starred in the "Live It Up Lemonade" series, sought the aid of her ultra funny friends in the making of the prison-based universe.
The two and half year journey to laughter included the talent of performers Luke Sholl (Very Mary Kate), Arnie Pantoja (Hamlet 2), Carolyn Jania (The Groundlings, UCB), and Kim Cooper (CollegeHumor), PLUS the directing skills of Comedy Cake favorite Carmen Angelica. Take a step inside the mad, mad world of LIVE IT UP LEMONADE with the just released episode FOUR of the series. You can follow that up with our interview with the gifted creator and Georgia native. NOW enjoy Rhonda's prison break attempt and her explanation of the importance of Sample Stand location in Location, Location, Location (Join me!):
CAKE: How'd you come up with the idea for the series and do you happen to enjoy drinking lemonade IRL?
HESLEY HARPS: I DO love lemonade, especially the cherry lemonade from the LA County Fair. Try it, y'all!
This project was inspired by my day job at the time, working as a brand ambassador (basically a grocery store sample lady) for a huge brand. I met almost a hundred people every time I worked an event and was blown away by the insanity I witnessed on a daily basis; shoplifting, fights, crazy conspiracy theories. I knew I had to do something with all that wackiness that was hiding in plain sight.
I began to wonder, if you do this job long enough, do you become one of those people shouting obscenities in a grocery store? We see "brand ambassadors" handing out samples every day, seems like a pretty simple gig right? It turned out to be more bizarre than I could have anticipated, so I knew I wanted to explore that. Starting the job you're told you're going to be handing out samples to yoga moms, but three hours later you're at a fun run being bullied by tweens as someone's raking all of the products off your table and screaming, "F#$k granola!"
CAKE: The protagonist in the series is both super likable and nefarious. How do you make such a character funny to an audience without making them too scary?
HESLEY: Thank you! At the end of the day, Rhonda is a human being and makes all of her decisions, no matter how nefarious, from a grounded place. I think a lot of my approach comes from my UCB training, which encourages performers to think, "If this is true, what else is true?" So if Rhonda truly believes that selling lemonade is her calling in life, that it's the most important thing that she or anyone could be doing, then you can start to create how far she would go to get what she wants. The same is true for anyone; think of the most important thing or person in your life and then imagine the lengths you would go to win it back.
CAKE: How long did it take to create the series from start to finish?
HESLEY: Live It Up Lemonade started out as a one-woman show that ran at the Upright Citizens Brigade Theater. It was designed as a live training seminar with the audience playing the franchise owners who were learning how to run a lemonade business.
I wanted to play all of the fun characters-the franchise manager (Rhonda), people in the grocery store, and a member of the audience. So, I printed a cardboard cut out of myself to play the straightman and pre-recorded all of her lines. People were pulled up on stage, there were hot models, a character was murdered-it was live organized chaos and the most fun I've ever had on stage!
After the run ended, I knew that I had to continue Rhonda's story. Thus, the Live It Up Lemonade web series was born! I worked on writing the series for about six months. Then, we filmed all six episodes in one day in April. We were in editing and animation over the summer and here we are!
So, I guess in total from stage to screen, two and a half years!
CAKE: How did you go about choosing the cast?
HESLEY: That was one of the easiest parts of the process! I am so lucky to have many ridiculously talented friends in the comedy world whom I have worked with before. Luke Sholl (Bodyguard from Very Mary Kate) and I met working on CollegeHumor projects and he is the perfect Boris–he also played that role in the live show. Carolyn Jania (Lisette) was a member of the Groundlings Sunday Company and we had written and performed sketches together before–I knew that she was down to get weird with me. Kim Cooper and I also met at CollegeHumor and she was the first person to pop in my head when I wrote the role of Stephanie. Last, but not least, Arnie Pantoja (Vitamin J in Hamlet 2) is a comedy powerhouse and we've performed both musical and regular improv together for years.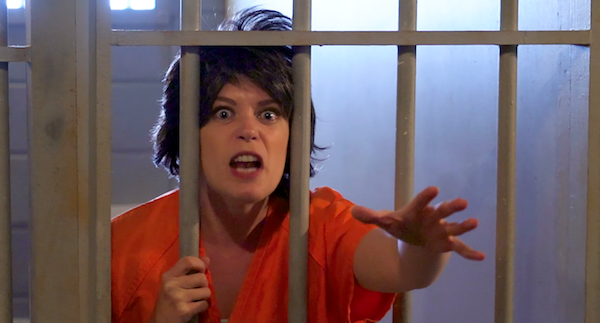 CAKE: What were some of the biggest challenges putting the series together?
HESLEY: I think the biggest challenge for me was wearing so many hats both before and on the day of the production. I wrote the series, produced the series, starred in the series, and had a lot of ideas that I wanted to try out on the day of production. So, I'd film a take where I would feel completely immersed in my character and then once I heard "cut," I'd need to be like, "Hey, did everyone get their lunch orders in? Has anyone seen the police badge prop?" The flip side is, having unlimited creative control is incredibly liberating.
CAKE: Did your improv background assist you in making the series?
HESLEY: I LOVE using improv as tool, even within a scripted series. Our process was to film a few takes exactly how the script was written and then one or two more takes with improvisation. Or, if someone went up on their lines, we'd just improv until the director called cut. A lot of that improv made it into the final cut and the fact that we kept rolling even when we weren't exactly on track script-wise was such a gift! We had so much fun working together and it made the end product feel very alive.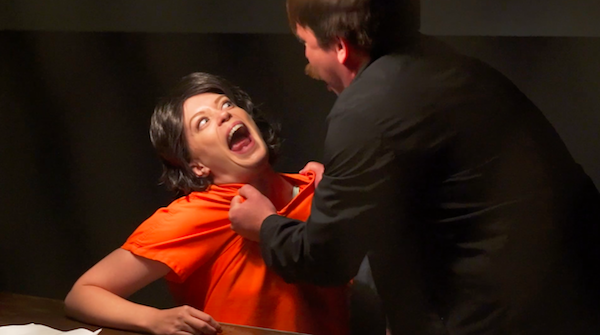 CAKE: Who inspires you most in the comedy world?
HESLEY: I could watch Kate McKinnon forever. It seems like she has the best time while she's performing and gives zero f%&ks if her character makes her look weird, traditionally unattractive, or bananas. There is so much pressure for women to take on roles that still make them "look good" because not looking good seems to put their career in jeopardy. I hope that I reach her level of devotion to character and the effortlessness that comes with that!
CAKE: Besides yourself, who do you see being the next big star out of the UCB Theatre?
HESLEY: 100% Live It Up Lemonade's director, Carmen Angelica. Carmen's directing style keeps everything moving on time, but still allows performers not to feel rushed and like they have plenty of time to play. It's magical. Not only is she an incredible director, but she's also a talented writer and, at times, performer. Anyone would be lucky to have her as part of their project.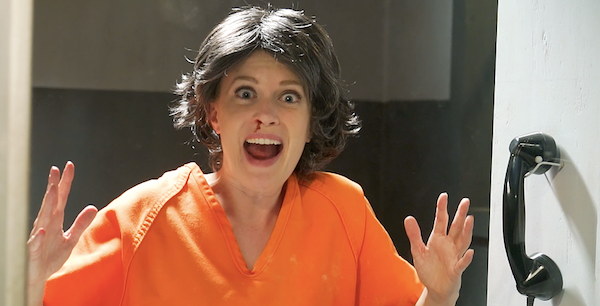 CAKE: What brings you the most joy as a performer?
HESLEY: I love playing around on set and just seeing what happens. I'll use the script as a backbone, but it feels so great to come up with an idea in the moment and explore it more with a scene partner.
CAKE: Where can our readers find you doing comedy these days? Will there be a second season of "Live It Up Lemonade"?
HESLEY: I appear on Conan as a sketch performer on TBS pretty often, so you can catch me there or in various shows at UCB. I'm submitting Live It Up Lemonade to some festivals and I'm already dreaming of a season two!
Mentions: Watch episode 1-3 of Live It Up Lemonade HERE. Look for 2 more new episodes Wednesdays! Follow Hesley on Twitter & Instagram.