Tasty News: Listen to This Hilarious Track From MAGGIE FARIS' New Audible Comedy Album "A Dingus Among Us" Out 12.29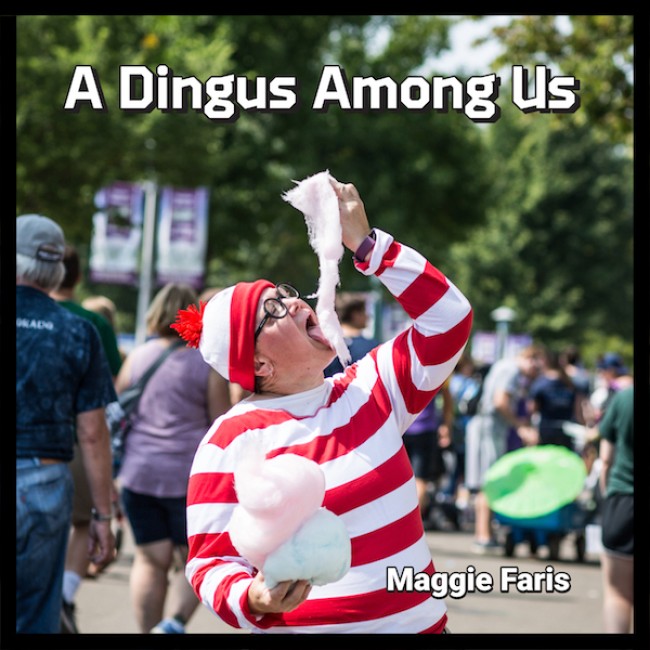 Right about now you are all thinking about searching for that perfect gift for the season. Why not give the gift of laughter? See, it was right there in front of you! Lucky for you, MAGGIE FARIS will be unveiling her second album, this one on Audible Comedy, this month. Sure, it debuts December 29th, but you weren't actually thinking of giving gifts when they were expected, right? Laughter has no time restrictions! A Dingus Among Us was recorded at 2nd Story Comedy in St. Peter, Minnesota, which is run by magician/comedian Michael Callahan. The album is an aggregation of the comedians new and old faves, that clearly represents Faris' signature brand of silliness.
When the comedian isn't recording awesome albums, she's winning comedy competitions. Faris has won the Minnesota Laugh Off, she beat Tig Notaro to win both the Funniest Clip of the Year and Silver Nail award at the Aspen Comedy Festival. She also won The Advocate Magazine's national search for the Next Funniest Queer Comedian. I mean, the gal's on a roll! And if that wasn't enough, Maggie has opened for the greats like Jay Pharoah, Fortune Feimster, Michael Che, Maria Bamford, Daniel Tosh, Kathleen Madigan, Louis Black, and Damon Wayans PLUS performed at cool comedy events like Boston Womens Comedy Festival, Gilda's Laughfest, Out Loud Comedy festival in San Francisco, Laugh Your Asheville Off, and best of the fest in the 10,000 Laughs Festival and the first Madison Comedy Festival. Alright, enough grandstanding, it's time to get a listen to that track we promised you. You'll chuckle hard as Faris describes an uncommon syndrome her knitting granny is afflicted with, "Knitterettes." Cover your ears, kids! This one's a NSFW gem. Enjoy!
Mentions: "A Dingus Among Us" will be released on Audible December 29th. More about Maggie HERE. Maggie's first comedy album is titled "Hot Lesbo Action."