Icing: The Buttery Audible Original Comedy BAD RECEPTION Awaits Your Earholes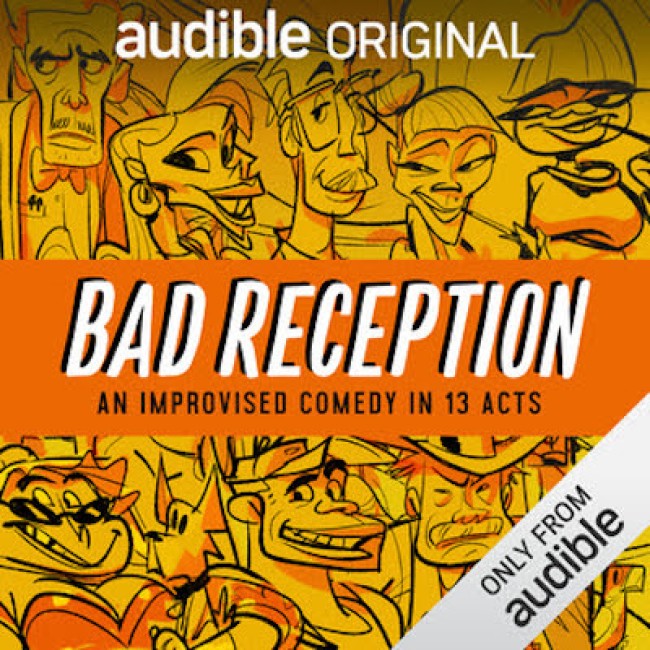 If your memory serves you correctly, we recently mentioned the upcoming release of the Audible original comedy BAD RECEPTION (proof HERE). Well, kids, your waiting days over. The entirely improvised comedy is OUT NOW on Audible. The 13-act unscripted comedy, created and directed by Justin Michael (Infinity Train, Thunderstruck, Danger & Eggs) and Eric Martin (producer of Festival Supreme with Tenacious D's Jack Black and Kyle Gass & This American Wife), stars over 40 top comedians and improvisers, including Paul F. Tompkins, D'Arcy Carden, Kyle Mooney, Lauren Lapkus, Nicole Byer, and more.
We had the opportunity to talk to the series' talented creators about what spawned the creation of this funny and mysterious comedy about the Northern California city of Grampers, the Movie Theater Butter Capital of the World, where the 'Incident' ridden plot is played out entirely on the phone. You'll learn all the juicy details of what went into bringing you this laughter-inducing, genius-laced, improvised narrative, including the creators' thoughts on the federal agency listening in on all these convos! I bet they have security clearances. Enjoy the static-free interview!
COMEDY CAKE: So was coming up with the idea for "Bad Reception" a joint venture? What sparked its creation?
ERIC MARTIN: We had already worked together on a number of projects when Audible approached us about an idea for a sketch comedy show set on the phone. We immediately thought of the possibilities of improvising the show, with the UCB house team Winslow (that Justin is a member of) forming the backbone of the series.
JUSTIN MICHAEL: Yeah, it felt natural to utilize all of the amazing improvisers we know. There's something chaotic and unpredictable about improvised dialogue that you just can't get from scripted comedy. It was fun to turn open-ended improv scenes into tightly-cut sketches.
ERIC: So we created a pilot, and everyone had a blast and it made people laugh, so the next step was to take the concept and make it compelling over an entire 13 chapters or episodes.
CAKE: What audio gems out there could you compare the series to?
JUSTIN: Tonally, if you're into the improvised characters you hear on Comedy Bang! Bang! and Hello From the Magic Tavern or the pure insanity of Big Grande's The Teachers Lounge, I think you'll enjoy this show. Which is no surprise since many of the guests who appear on those shows (or create them) are longtime buddies who show up in Bad Reception! I also grew up on The Simpsons and I think a lot of our improvisers grew up watching it, so at its best, South Grampers feels like our own weird, alternate universe Springfield.
ERIC: An influence on this show is the classic Superego podcast, that really paved the way for bringing improvised comedy to modern audio formats, and also editing it in a really sharp and propulsive way. And the loose overarching plots of Christopher Guest movies like Waiting For Guffman was a big inspiration in terms of how we structured the show.
JUSTIN: That said, I'm not aware of another show that's structured quite like ours. There are certainly similarities, but juggling a deliberate narrative that still allows the improvisers to make changes to the world from week to week almost feels closer to Dungeons & Dragons than comedy. I think by necessity, we edited our improv a lot more than most of the above comedy podcasts. We'd take 10 to 30 minute raw improv recordings and cut them down to the tightest and funniest 3-5 minute scenes, add sound design, and thread it into a building narrative. Things certainly end up bonkers – but there's something cool about committing to the craziest choice and letting it shape the world of the series. The story obviously ends up much looser than something that's fully scripted, but I'm really proud of the callbacks and details we weave into the later chapters – especially the finale. Seemingly insignificant details or characters come back for one last hurrah, which is always something I find especially satisfying. I should also say here that while Eric and I guided the cuts and kept track of the overarching story, we truly couldn't have done it without our amazing team of editors: Nic Michaels, Emma Erdbrink, Grant Martz, and Jake Young. They deserve heaps and heaps of credit for really shaping the comedic voice of the series. To edit comedy well, you have to be funny and "get" comedy. And we're so lucky that each one of them got it and they're all very funny.
CAKE: How did you manage to convince so many big name guests to participate in this buttery mystery?
ERIC: Our goal right at the top was to get together as many of the best improvisers in the world as we could. And when you get the best folks together in a room, who wouldn't want to join? It's a lot of fun! Both of us have worked in comedy for years, so in every case we were calling up folks we loved and worked with before.
JUSTIN: Yeah, most of the improvisers on the show are longtime friends or buddies from UCB in Los Angeles, so it usually came down to texting "Hey wanna improvise for an hour or two this week? It'll be you and all these other fun people!" I've known a couple cast members since middle school, a handful more since college, and so many more for at least 5-10 years in various capacities. And even with such a huge cast, it still feels like we only tapped 25% of all the funny people we know and love. In an insane, ideal world, this would've been a 300 person cast and include every single funny friend.
CAKE: For each episode is there any kind of general outline performers follow before they get into improvisation? Or are they just that good.
ERIC: First off, they are just that good! And in terms of what we tell them, it's very little. It helps to know who at least one person is on the call before we start, and a sense of the game of the scene and how it propels the overall story. Also, if it's a returning character, we may quickly review the character voice and a few funny details from the previous sketch. But otherwise, they totally make it up!
JUSTIN: And because it's edited, we had the freedom to cut around tangents and pace the improv scenes more in post so they're focused on a singular game. Or follow the tangent and cut out our original setup entirely because the tangent was funnier! The closer we got to the finale, the more insane the setups became. I don't want to spoil anything, but those last two episodes involved heavy explanations to the improvisers. There are a lot of moving pieces, callbacks, and action… so that had to be outlined a little bit more than the earlier stuff.
CAKE: Will we find out what federal agency is listening in on these South Grampers conversations?
ERIC: That information is extremely classified, and we can neither confirm nor deny that the information will be revealed over the course of the series.
CAKE: What made you pick Northern California as the location for the unscripted comedy?
ERIC: It started with the name Grampers – which came up in one of the very first sketches.
JUSTIN: Yep, Drew Tarver named a cafe Grampers in the pilot. It was just a funny throwaway specific, but when we were greenlit for a full series, we had to turn these disconnected, funny scenes into a world with recurring characters. I think it was Eric's idea to just call the town Grampers, and I loved it. It made us both laugh, it's immediately an insane name for a town, and I think it sets up the comedic tone from the get-go.
ERIC: I also lived in the Bay Area for years, and the concept of a town being known for a single thing (like garlic or something) is a thing – why shouldn't there be a Movie Theater Butter Capital of America?
JUSTIN: Yeah, and I'm from Los Angeles with family in NorCal, so it just seemed like a natural fit. Far enough away from Hollywood to be Anytown, USA, but still California.
CAKE: Where is the series recorded? How does scheduling work with so many performers?
ERIC: We recorded the series at Starburns Industries in Burbank, one night a week over several months, getting together who we needed and whoever was available. We had some reschedules and drop-outs of course, as everyone is a busy working actor, but over time we got everything put together.
CAKE: What have been some of your favorite improvised moments in the thirteen acts, that you can reveal?
JUSTIN: Honestly, everybody was so good it's truly hard to single any moment out! There are parrot smugglers, a woman who drives a blimp like a car, a Swedish movie director named Speeven Steelberg, and a shy church lady who speaks through her aggressive cat named Bogus.
I personally loved any of the scenes I improvised with Dan Lippert as feuding bagel shop owners. They both believe they invented the bagel with cream cheese and movie butter, and eventually rent out bagel shaped limos. It only gets more insane from there, but that's veering into spoiler territory. A few other non-spoilery faves:
Paul F. Tompkins and Dhruv Singh play a pair of NPR hosts who casually host a pledge drive under apocalyptic conditions.
Betsy Sodaro recurs as the Mayor of South Grampers, and within her first scene we find out she spends most of her time in the attic of a dilapidated mansion wearing a wedding dress and no shoes with "one dead dog and one alive dog."
Jess McKenna effortlessly improvised a full song to some hold music we played her over her headphones in a single take, and it's amazing!
D'Arcy Carden plays a little boy named Wayne who gets eaten alive over the phone and his final words are "have you ever tried spaghetti?"
CAKE: Any series outtakes that stand out? Or is that possible in an improvised series?
JUSTIN: Oh man, so much good stuff had to be cut! Nicole Byer led a conference call for a toilet company called Flushles that didn't make it in the series, but was veeeery funny. There was an hour and a half improvised Q&A panel for a fake version of Friends called Mis Amigos with Lauren Lapkus, Rene Gube, Ronnie Adrian, Lou Wilson, Veronica Osorio, and Dan Gregor playing the cast and crew. We had to cut it down to like… 10ish minutes total? But we could honestly release that full hour and a half unedited. It was so funny.
CAKE: Can you tell us a topic that your phone recently eavesdropped on and mysteriously ended up as an ad suggestion?
JUSTIN: My phone's been pretty good about not eavesdropping lately, but I think anybody who's been on any conference call ever can relate to the very first sketch in our series. Those kinds of awkward phone calls offered plenty of inspiration!
CAKE: What's next on your plate?
ERIC: We're both already working on our next collaboration together, but it's not quite far along enough yet to share. I'm an audiobook narrator and director, and I've got some big new projects coming out in the months ahead, including a couple of new all-star comedy projects that I can't talk about just yet!
JUSTIN: In the meanwhile, I'm writing on a Cartoon Network show called Infinity Train, so keep an eye out for that in 2019! Otherwise, check out the Batman: The Animated Podcast and come see my improv team Winslow at UCB Franklin in Los Angeles every Friday night at 9:30.
Mentions: Check out the series on Audible NOW!