Quick Dish LA: INTERNET EXPLORER A Comedy Game Show Saturday at UCB Sunset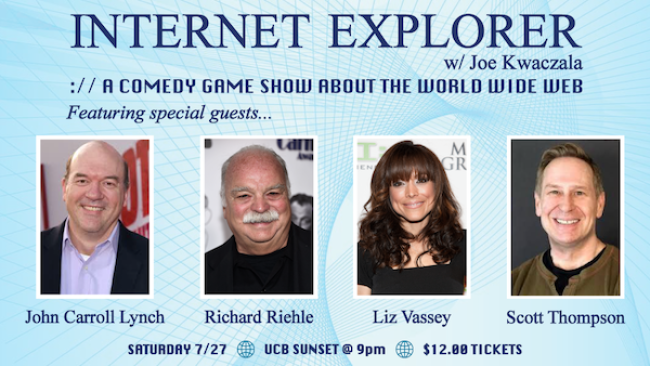 This Saturday, July 27th at UCB Sunset, join host Joe Kwaczala (Comedy Central's Comics to Watch, IFC, ClickHole) as he presents his interactive game show, INTERNET EXPLORER, where audience contestants are quizzed on their expansive knowledge of the farthest reaches of the internet! This time Joe welcomes these extraordinary special guests for an extra special segment:
John Carroll Lynch (Veep) I
Richard Riehle (Office Space)
Scott Thompson (The Kids in The Hall)
Liz Vassey (The Human Race)
Yeah, I'm shivering from excitement after reading that lineup, too. Obscure video clips, games, prizes and more await you!
Mentions: Show 9pm. $12 tickets HERE. UCB Sunset is located at 5419 Sunset Blvd.