Icing: The International Woman of Comedy, JEN KIRKMAN, Returns to The Bell House 9.11
Your favorite internationally touring stand-up comedian is back in Brooklyn in just two days, kids! This Wednesday, September 11th the bestselling author, TV writer, actor and comic, JEN KIRKMAN, returns to The Bell House with an hour of MUST see & hear material that you haven't already seen on Netflix. Heck, if you desire, you can read this interview, buy tickets to the show, then rewatch her specials "Just Keep Livin'?" and "I'm Gonna Die Alone (And I Feel Fine)" in time to see her live. Now that sounds like a plan! We had the opportunity to discuss Kirkman's New York visit, as well as what she has planned for the rest of her tour including far off places like Canada, the UK, the Netherlands, and Norway.
For those of you who have been living under some seriously comfy rocks, Jen is a WGA award winning writer for her work on two seasons of the Amazon series, The Marvelous Mrs. Maisel, as well as a New York Times Bestselling author. She was was a invaluable contributor to the Chelsea Lately show where she was both a writer and round table guest, and she's been a five time narrator of Comedy Central's Drunk History (where, face it, we know an embarrassingly sizable chunk of your education has come from). Jen has released two stand-up albums, Hail to the Freaks (released March 2011) and her 2006 debut album Self Help, and she has weekly podcast called Having Funlessness with Jen Kirman (formerly known as I Seem Fun: The Diary of Jen Kirkman), which has taken roost in the Top 100 in comedy on iTunes many a time. But that's not all! Actually, I'm not going to list ALL of her accomplishments because you'll soon realize how amazing she is after reading her answers to questions which we really hope have passed her "Hot Tips on How to Interview A Comedian" criteria. So go ahead, keep reading, there's no time to waste. Also, there's so much end of the year comedy treats to discuss we are just plain giddy about it!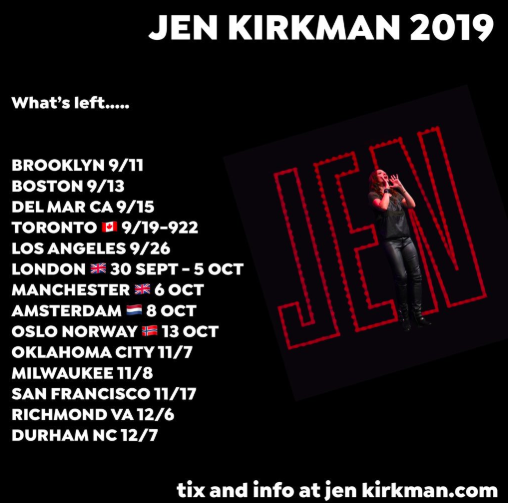 COMEDY CAKE: I just watched the most recent trailer for the DC Comics "Joker" movie. One thing the trailer made me think about is that there's a fine line between the comfort of comedy and the total abject horror of it. When I say horror, I'm talking about both riding millimeters away from total rejection and at the same time having the power to make an audience feel completely unnerved with mere words. I'd like to think most comics' sets are powered by elements of fear and surprise, but also that rush of totaling "killing" it. What most fuels a Jen Kirkman performance, aside from the need to make a living?
JEN KIRKMAN: Honestly, I never had any of the high wattage internal powered by rush or adrenaline or anything. I know some comics run that way. I never did. I'm horrible at actual math but to me – being on stage feels like doing math, it feels unemotional in some ways. As good as it might feel to "kill" on stage one night – it's more of a relief to me than a rush, or more of a confirmation that either I truly managed to surprise them with a story twist or a joke punchline. I'm mentally noting, "Keep that" or "re-work that later".  Sometimes people are just fucking slap-happy and they're laughing at set-ups – and that always means, these people are just in a good mood. I don't live and die by every performance – maybe because I've been doing it a long time – but I don't remember ever feeling this way in the beginning. I enjoy it. I feel like I want to talk to people and yet sometimes it is just a job. I have to be totally honest – if I found a bag of money on the street (I'm talking millions – not just like a bag of change for the Coinstar machine) I would probably stop working altogether. I know that people don't want to hear that. Do audiences want their comedians up there getting heroin highs with laughs and feeling low lows with silences? Do they not want to know that deep down – any job you have for decades eventually just becomes an impedement to doing absolutely nothing? I will say this – I do feel dread when shows are sucking. I feel intense anger when people disrupt the show. I am utterly disgusted by audience members who yell "Whoo" in the middle of a story I'm telling during a quiet moment that I orchestrated to be quiet for a second. I don't respect people who feel they need to fill the silence that I created. I actually yelled at an audience member in Athens, GA this year, "I didn't drive hours from Alabama so that you could fuck up my rhythm with your inability to hold your alcohol and your need for reassurance in a quiet moment." See? I'm full of passion!
CAKE: Will you be dressing up for Halloween this year, and if so who or what would you most want to dress up as?
KIRKMAN: I am not. I WOULD if I had a house – but I live in a condo and no one tricks or treats. Last year I went to a friends house and just wore a pointy witch hat from CVS that made annoying noises. Even though I don't have or want kids my favorite part of Halloween is handing out candy to kids and remembering the thrill of trick or treating. This year I may go visit my sister and she lives in the woods so no one is trick or treating there either.  If the doorbell rings at her house it means something terrible is about to happen involving an ax.
CAKE: You will be traveling all over the world this end of summer and fall. On your podcast, "Having Funlessness with Jen Kirkman," you mentioned you'll be making your debut at Boom Chicago in Amsterdam. Do you ever get uneasy unleashing your material in a new place, especially abroad? Have you met a lot of comedians in Amsterdam? If so, what do they think of "American" humor?
KIRKMAN: I always get excited to perform in a new place. People – especially internationally – are usually very appreciative that I made it to their corner. Honestly, when I'm on stage I can be anywhere.  The stage is it's own world and when the audience and I are together – I could be anywhere.  If they bought a ticket, they like me for me. So I'm gonna be me and do the material that makes me me. I can't try to change it for the city or country.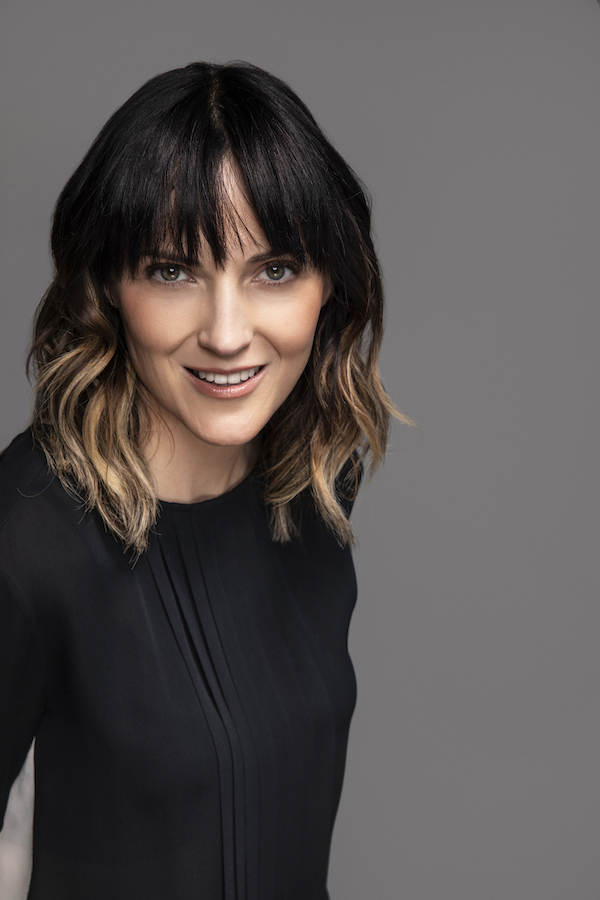 CAKE: Is there an equal mix of first time Jen Kirkman fans and diehards at venues in foreign countries?
KIRKMAN: Yup. Even in America – this year most of my audience was new people. 30% die hards and 70% new. I'm grateful that people are still finding me. Some people are just old enough now to actually go out and see comedy – they were fans of mine when they were young teenagers when I was on Chelsea Lately.
CAKE: After shows you have loads of fan interaction. Can you recount the last memorable encounter that made you chuckle?
KIRKMAN: Yup! I was in Dallas, Texas and it was after the late show Saturday night. I had sold out of my books that I bring to sell during the early show and so I didn't go to my merch table after the late show – because there was none left. People are usually SO drunk after a late show that I don't do a meet and greet because I get a lot of too-tight-hugs from overly enthused dudes. So, I'm backstage settling up with the club owner and talking to the other comics and a waitress came backstage and said that a guy from the audience wanted to talk to me. I told her to tell him that I had left. I didn't want to talk to some dude post show. (I get a lot of creepy offers.) Anyway she goes and lies for me – and then she comes back with a note that the dude had written. It was a gay guy and he said he came to the show with his boyfriend and somehow my comedy made him feel like he could come out of the closet and live his authentic life and he wanted to thank me. I am so sad I missed that encounter in person. I was like, "I wish he mentioned that he was gay! I would've come out to say hi!"
CAKE: When touring abroad, how much downtime do you normally get and how do you plan to spend it this time round?
KIRKMAN: It's always different. With London – there often isn't too much down time because I do a lot of press every day and then I have the show at night and then of course jet lag – so sometimes it takes a few days of mostly sleepless nights and I try to take it easy. This time I'm hitting Amsterdam and I'll have a few free days after my show and before I fly to Oslo so I plan to visit as much stuff as I can. I'm happy just walking and having coffee by day – wine by night.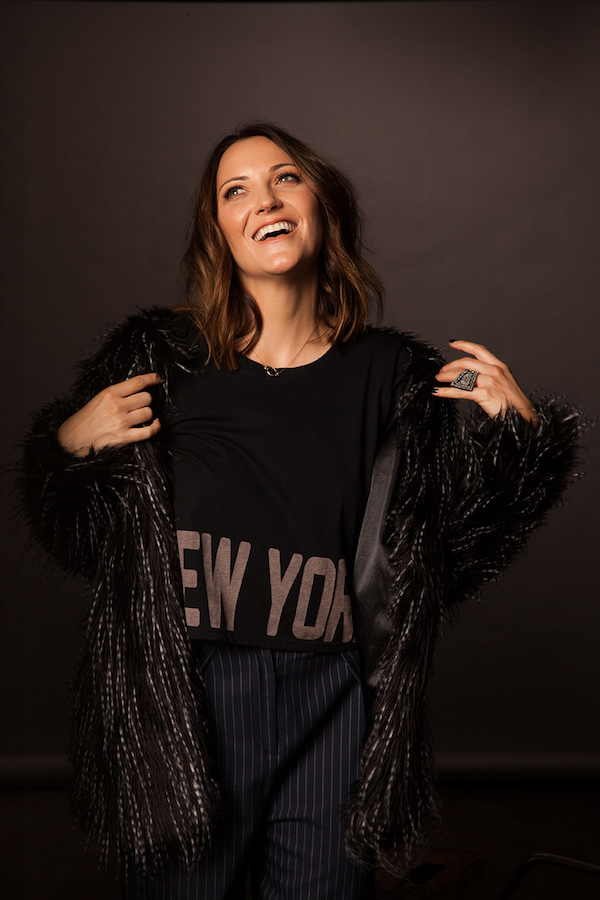 CAKE: You've sold out at your last two visits to the Bell House. What material are you most excited to bring to the Brooklyn venue?
KIRKMAN: I'm super excited to talk about being Generation X, how much I miss smoking, I want to bridge the gap between my generation and younger ones and let them know we are on their side. I'm excited to NOT talk about Trump except for one story I have about a family political fight that is really funny.
CAKE: A load of people like to listen to podcasts when they're moving from place to place. What are some of your favorites to listen to when traveling for work?
KIRKMAN: I'm obsessed with the Deck the Hallmark podcast – three guys watch every Hallmark Christmas movie – and other Hallmark movies and give their takes. I also love Ten Percent Happier with Dan Harris – he interviews influential meditation people. It's really interesting. And I'm a big fan of my friend Andy Kindler and J. Elvis Weinstein's podcast Thought Spiral, plus The Jackie and Laurie Show (Jackie Kashian and Laurie Kilmartin) and Throwing Shade (Erin Gibson and Brian Safi).
CAKE: Your 7th annual Dysfunctional Christmas Show at The Hollywood Improv is not too far around the corner. Is there anything you can reveal about the upcoming show?
KIRKMAN: I can only reveal that it's going to have amazing guests, hilarious sketches, music, comedy. But I haven't put it together yet but it's going to be the same beautiful time that it always is. Last year my favorite moment was when I asked the audience – by round of applause – if anyone felt upset about the upcoming holidays because they didn't feel happy either because of their relationship status, money status, or just holiday depression. Everyone applauded. I told the audience to think of that moment when they're feeling sad at Christmas and remember that they're never alone. That's the kind of heart-warming things that happen in between the hilarity at my Christmas show!
CAKE: What are your thoughts on the longtime tradition of Secret Santa exchanges and the poor soul who inevitably ends up with a crummy gift?
KIRKMAN: I AM SUPER COMPETITIVE at Secret Santa. I'll take candy from a baby. I'll take the last Band-Aid from a bleeding person. And yet at the same time I don't mind getting a bad gift. As long as people like my gift – I win.
CAKE: I still don't regret reading Jen Kirkman's "Hot Tips on How to Interview A Comedian." Have you added any tips to that list since you wrote it?
KIRKMAN: I'm so glad you read that! I think my newest tip would be STOP trying to make every interview "important." Stop asking comedians how Trump has changed their act and if they feel they have a responsibility with their comedy. And dudes who interview women – saying to them,' So, the Me Too movement….huh?" That's not a question.
Mentions: See all her tour dates HERE. Pick up tickets to see Jen Kirkman in Brooklyn 8pm (doors 7pm) at The Bell House HERE. 21+. With purchase of one of Jen's books at the show you get admission to the post-show Meet and Greet! The Bell House is located at 149 7th St, Brooklyn, NY 11215. Read more Kirkman info THERE. Photo credit: Robin Von Swank.