ICING: Performer, Talent Booker, Entrepreneur KAMBRI CREWS Celebrates Q.E.D. Astoria's Five-Year Anniversary with A Revealing Look Back at The Venue's Evolution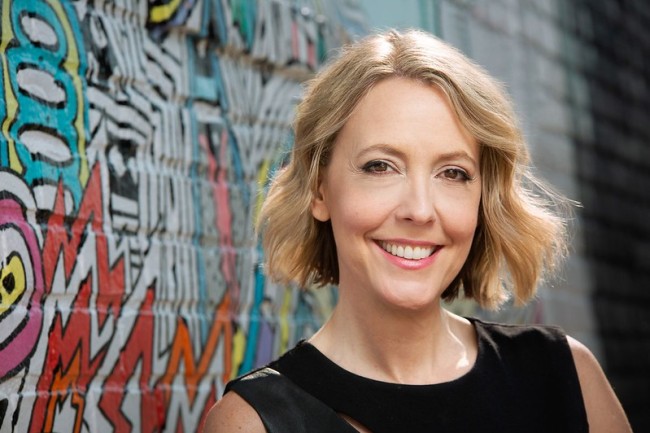 I think it's rather fitting that as I write this intro there are high winds moving through, shifting every object in their destructive path, and yet very soon they will have completely calmed down, revealing clear blue skies. The winds of change are just as strong, and revelatory. They stop for no one, but it's how one survives them that speaks volumes about a person's character and fortitude. Performer and Q.E.D. founder, KAMBRI CREWS has weathered her share of life's obstacles on the path to success. Her acclaimed storytelling and New York Times bestselling memoir Burn Down the Ground has informed many on the origins of her comedy/storytelling career. Those creative skills have given us great insight into her chaotic, unconventional childhood living with deaf parents in rural Texas. They've also spawned a career filled with memorable performances and new opportunities.
Kambri has performed at a plethora of the New York City's top indie comedy venues, including Joe's Pub, Upright Citizens Brigade Theatre, Gotham Comedy Club, Broadway Comedy Club, The Peoples Improv Theater, The Bitter End, Comix NY, and KGB (bar); and at memorable shows like The Moth, Risk!, Seth Herzog's Sweet, UCBT's School Night, Liam McEneaney's Tell Your Friends, and the NY/LA comedy show Mortified. Many a performer would just rest on their laurels with reaching that level of success, but not Kambri. Prior to founding the amazing alternative comedy venue, Q.E.D. in Astoria, Queens, she was owner of Ochi's Lounge, producer and publicist for Comix NY and comedy booker for 92Y Tribeca. After Comix came to an end and Kambri was looking for a new creative outlet post memoir tour, Kambri decided to open up her very own venue, and frankly, the rest is comedy history. Kambri and her comedy family will be celebrating the FIVE-YEAR anniversary of Q.E.D. this November!
Currently, the inviting and accommodating venue offers one hundred plus events each month. On any day of the week you can find performers of all different experience levels on stage. The venue has played host to hundreds of major comedians and speakers, including Leslie Jones, Kate McKinnon, Michelle Wolf, Janeane Garofalo, Sasheer Zamata, Michelle Buteau and more. Since its inception, Q.E.D. has been featured on The Jim Gaffigan Show, NY1, The New York and LA Times and a myriad of other media outlets. Comedy shows aren't even all Q.E.D. has to offer. One can take in it's other offerings like arts and crafts workshops, writing classes, board game meet ups, storytelling, movie screenings, watch parties, and more, should one fancy a taste. Now it's time to learn more about the independent, woman-owned and operated venue that continues to bring joy to it's throngs of visitors. This interview will make it abundantly clear how much hard work and positive energy has fueled the venue's success. Kambri's unwavering dedication to Q.E.D.'s quality and longevity will no doubt fuel bigger and better projects in the future (like possibly a Q.E.D. #2!) Enjoy this deeper look behind the comedy magic of Q.E.D., as well as the blood, sweat and tears it took to build this beloved venue from the ground up!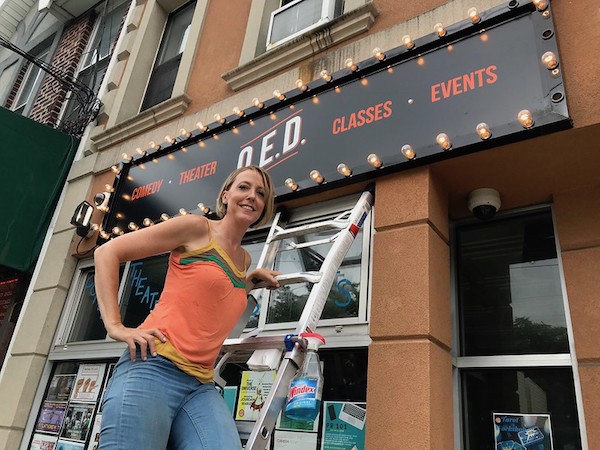 COMEDY CAKE: So many people have experienced the wonderful shows at Q.E.D., but I don't think as many people know about its origin. Can you tell us what sparked the idea to build this welcoming alternative venue from the ground up? Also, who came up with name for the venue?
KAMBRI CREWS: I owned a small 40-seat alt comedy space called Ochi's Lounge from 2007-2010, but it was a sublet in a larger comedy club Comix where I also served as Publicity and Marketing Director. When that club closed, it took Ochi's down with it. It was a huge loss personally and to the comedy community, but it's also fairly common that little "rooms" will pop up and close down at the whims of owners. I vowed that if I were to venture running a venue again, it would be on my own.
From 2010 – 2014, I was booking comedy for the 92Y and then touring with my memoir BURN DOWN THE GROUND about my Deaf family and my relationship with my father who is serving 20 years in prison. As the book tour wound down, I had to decide what my next steps would be. I wanted my Ochi's back; my community; my creativity. Astoria was the most logical place for me to recreate that magic.
I believe venues that are willing to nurture new talent without pressure or judgments are vital for up-and-coming artists and for established talent needing to try new things or work out material. Ochi's was and Q.E.D. is the embodiment of that core belief.
As for the name, Q.E.D. is short for the Latin "quod erat demonstrandum" which translates to "that which was demonstrated". I love crossword puzzles, and Q.E.D. is a clue in so many of those but mostly I was a math nerd in school and at the bottom of geometry proofs you put Q.E.D. as though to say, "I'm done and have shown my work, see above." On stage, we're showing our work: Q.E.D. (mic drop).
I liked that it could have a double meaning of Queens Ed, too, since we also host classes here.
A subtle and never-noticed hat tip to Queens is the color scheme of the venue. The walls are a rich teal blue and the logo a burnt orange, an homage to the orange and blue of the Mets.
CAKE: What prompted you to choose Astoria, Queens for the venue's location?
CREWS: It's my home. I've lived in Astoria for 20 years, longer than anywhere I've ever lived. I've always been involved in the arts from community and professional theater, on stage and behind the scenes and yet I had never performed or produced in Queens. That was bizarre to me.
Astoria has long been a home for artists of all types due to its affordability and proximity to Manhattan, so I knew there was already a core group of people who would use and appreciate the opportunity to perform.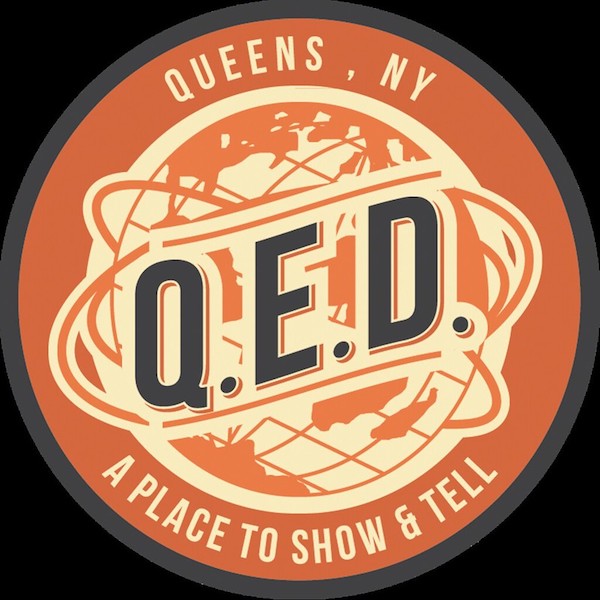 CAKE: What have been some of the greatest challenges you've faced growing this comedy and storytelling business?
CREWS: Oh, lord, where to begin?! I've had so many personal challenges besides the grueling workload. I got sober, had breast cancer, my mom and her 2 dogs came to live with my husband and our two dogs in a 4thfloor walkup, my mother-in-law died unexpectedly and that's just part of it. Any of that would have been tough on its own so to fold these ordeals into my 80-hour workweek was a bit much. I felt like the Universe was trying to overdose me on material for another book! Chill out, Universe. I heard you. Message received loud and clear. Can I get a break here?
Owning and operating this venue and overseeing over 100 events a month is a staggering amount of work and it's relentless. Every single day something new crops up that demands my attention. It has meant my sacrificing my own writing and performing for the greater whole. That personal loss sometimes feels like too much. Thankfully, every day (no joke, every. single. day.) someone tells me how much they love QED, how it changed their life for the better, or simply thank me for providing the space. I don't know if other small business owners get that kind of feedback daily. I sincerely hope so because these words of encouragement and appreciation serve as a buoy keeping me afloat when I struggle with the demands of this gig.
CAKE: What have been some of the highlight performances you've had the privilege of viewing during Q.E.D.'s operation?
CREWS:The Jim Gaffigan Show (TV Land) filming at QED but also incorporating us into the script was so special. The premise was that Q.E.D. was such a niche club that Gaffigan needed three recommendations to get into the room.
My friend Bryan Tucker who has been co-head writer of Saturday Night Live hosted a few shows here with several of his friends. His friends happen to be cast members and writers for SNL and so having these famous folks on our stage –Kate McKinnon, Leslie Jones, Pete Davidson, Jay Pharoah, et al.—the first month of our opening was a huge treat for the early fans of Q.E.D. and helped legitimize us. Kate, Jay, John Mulaney and Colin Jost had all actually performed in my first venue Ochi's Lounge and another spot I ran.
CAKE: When you're wearing your talent booker shoes, what do you look for when enlisting new performers?
CREWS: Command of the stage. That doesn't always have to mean high energy and a booming loud voice, but is more a confidence level that shows maturity on stage and a real connection with the audience.
CAKE: Being a "world class storyteller," what do you believe are the necessary elements of telling a compelling story?
CREWS: I feel like there has to be a point in telling it. A payoff. Sometimes there are things that are beautiful or crazy or harrowing but if there's not a point in telling it, it can feel empty or hollow. I have a story I want to tell about my brother and I watching drive-in movies on my grandparents' roof. They were deaf and we were able to get away with most anything. We clambered onto the roof and tuned in to a transistor radio to get the sound. It's a beautiful scene, fond memory, a sign of the times and interesting about Deaf family life, but I don't know why I'm telling it. Because I love my brother? That's not enough. I'd want to somehow find a reason for telling it.
My "greatest hit" story is about the time I smuggled in a pack of Juicy Fruit to my deaf father in prison. The Warden busted us, and I get the heck out of dodge. That story works because I discover so many things about myself and him and I have changed in the end. I have discovered that I am not a criminal, don't jive well with bad behavior, I like rules and, though I love my dad, he will never get the Dairy Queen cheeseburger or $100 bill that he's requesting.
CAKE: Besides Q.E.D., what are some of your favorite venues to watch comedy?
CREWS: In NYC, I love the PIT, Gotham and New York Comedy Club. My husband loves performing at those places as well as The Stand and Eastville. In the US, the DC Improv is one of the best clubs in the country.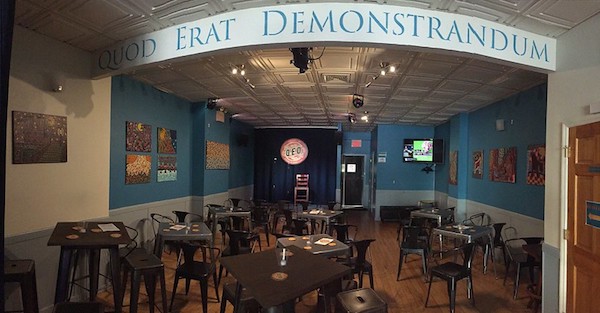 CAKE: What do you have planned for Q.E.D.'s five year anniversary this November?
CREWS: We plan to feed everyone hot pies from our local pizza joint, Michael Angelo's. Plus we'll have plenty of our fresh, hot popcorn and other light snacks available in addition to $3 beer specials thanks to Lagunitas, Sixpoint, and Ommegang breweries all of which we've served up since the day QED opened. Drink specials will be named after some of our VIP customers. We've got lots of pictures from over the years to share on our slideshow and we'll repeat last year's party highlight: a lineup of QED performers telling one joke they created at QED. It's a speed round of comics new and old and super fun.
CAKE: Where do you see comedy venues evolving as technology advances? Do you think there will always be a hunger for in-person viewing?
CREWS: The Internet simultaneously connects us to the world while isolating us from human interaction. Live performances serve as an antidote to that, and I believe the bond between artists and their home and community is deepening. As more and more retail spaces close, the realization that we need to nurture our small, mom-and-pop shops heightens because who wants to live in a cookie cutter strip mall? Not any New Yorker that I know.
CAKE: What are both your career aspirations and those regarding the growth of Q.E.D.? Is there a possibility of opening up another Q.E.D. location?
CREWS: I do see myself eventually writing a second or third book such as a follow up to my first memoir or one about comedy and small business ownership. Someone nominated me to run for office, and I do think I'd be good in local politics or activism. I stepped up my participation and used QED as a location for the Midterms and plan to do more of that for the 2020 elections.
My father will be getting out of prison soon so I feel like a documentary about that transition and our relationship would be interesting. His being deaf, the visual medium is better suited and I think it will be fascinating to witness a deaf man essentially stepping out of a time machine. He's never been on the Internet or used text messaging or FaceTime, technology that will change his life and how he interacts in the hearing world. Plus he has a lot of healing to do from his time in prison.
I've mulled over a second location, but don't see how it's feasible on my own. I don't think I've captured lightning in a bottle here –I could do this again somewhere else– but I'm only one person. I'd have to find the right partner willing to take on some of the workload. I really would love to focus more on the programming and performance, teachers and classes instead of all the stuff like accounting, insurance, payroll and scheduling. That stuff is a real drag and having to do it twice for two separate spaces? No way. But I could see QED expanding to a larger space some day. For now, though, this little engine that could is chugging away.
Mentions: Check out more info, as well as the entire Q.E.D. calendar HERE! Follow Kambri Crews and Q.E.D. Astoria on Instagram.