ICING: KEVIN ALLISON Discusses How He's Kept It Real with RISK! Storytelling for Over A Decade
When I think about the power of storytelling, I can't help but think of the words of the character Elijah Price, aka Mr. Glass, at the conclusion of the film Glass. He says, "I believe that if everyone sees what just a few people become when they wholly embrace their gifts, others will awaken. Belief in oneself is contagious. We give each other permission to be super heroes." One hero of the storytelling podcast RISK! is creator KEVIN ALLISON (known for his work with the sketch comedy group The State). His podcasting achievement has demonstrated how just ONE individual with a vision and the will to put truth out in the world can touch and inspire so many. What started as a zero budget, uncensored audio podcast where people would tell daring, true stories has amassed 1400 plus episodes and traveled the nation as a live show, featuring names like Janeane Garofalo, Lisa Lampanelli, Kevin Nealon, Margaret Cho, Marc Maron, Sarah Silverman, Lili Taylor, Rachel Dratch, Andy Borowitz and more.
The weekly RISK! podcast gets over a million downloads each month. Every story is raw, revealing, and a testament to the human spirit. Some stories bring the audience to tears and other make you laugh yourself to tears. Of course, with the treasure trove of episodes the podcast has amassed, there's truly a story for everyone. The podcast was founded by Allison in 2009 and has been going strong for a decade and counting. Allison still hosts the live show in New York at Caveat, and you can look forward to David Crabb hosting the LA show with stories from Ron Hart, Jen Kober, Peter Kim & Victoria Rocha this Wednesday, February 5th at it's new home The Virgil. (Study up on that RISK! trivia, folks, because a pair of tickets for the Los Angeles show will be up for grabs TOMORROW on our Instagram). We were lucky enough to get the chance to ask Kevin a few questions about what it's been like bringing such a wonderfully rich collection of stories to the masses and what we can look forward to from the podcast/live show in the future. Enjoy!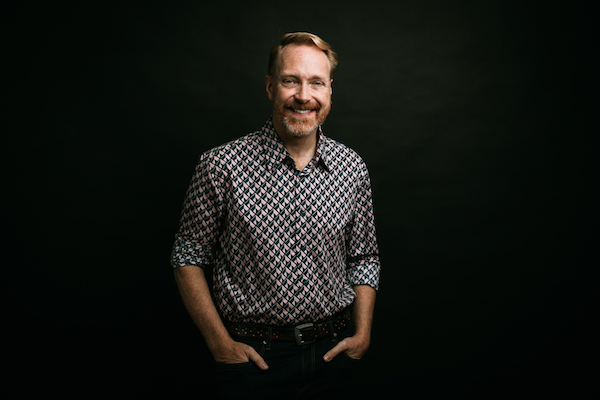 COMEDY CAKE: Wow, it's been ten years of bringing the world the most meaningful, uncensored and often humorous stories. That's quite a legacy. How does all that hard work paying off make you feel?
KEVIN ALLISON:I've never told anyone this, but I actually do a little statement of gratitude for RISK!'s continued awesomeness every morning. The thing that most floors me is that we just keep finding stories unlike anything we've heard anywhere else. We just got another story that involves cannibalism, and amazingly enough, it's both hilarious and inspiring! The work is exhausting, sure, but the payoff of all these unforgettable stories and people we get to know? That's the fuel that keeps us going.
CAKE: I recommend everyone listen to the 10th anniversary retrospective episode. Having grown so much from it's humble start, how do you plan to keep things fresh (and risky) for the next decade?
ALLISON: We're going to mix it up a bit. We're going to do more seeking of stories rather than just wait for them to be pitched to us. So we're watching little local news stories and when we see something that makes us think, "Whoa, what would THAT really have been like to live through?" we're reaching out directly. We're working on a story right now about a young woman who got trapped in a religious cult and another one about a young woman whose bipolar disorder amounted to her ending up homeless. They're both jaw-dropping stories.
CAKE: What would you say are the key elements of a compelling story?
ALLISON:Whether the story is hilarious, terrifying or beautiful, it should be about specific incidents that the storyteller lived through and felt really emotional about. If the storyteller can really "take us there" and recreate those peak moments, that's the juicy stuff.
CAKE: It seems like people really appreciate the vivacious and frank RISK! hosting you've provided over the years. Did you ever want to call it quits in the early years? If so, what compelled you to keep going?
ALLISON:My voice and personality are big and colorful. And I tell a lot of stories on the show about my kinky lifestyle. So, I wasn't quite prepared for all the haters when the show first started. People calling me gay slurs and saying the show would be great if I just got rid of myself. But as time has gone on, the fans of the show have really gotten to like me, by and large. Both RISK! and myself are an unusual dish that you acquire a taste for over time I guess!
CAKE: What would be some advice you'd give someone starting their own podcast?
ALLISON: Make it as high quality as possible and put it out as regularly as possible, like once or twice a week. Then be relentless about finding ways to network and market the thing. Any little classes you can take on using social media as creatively as possible are a good idea.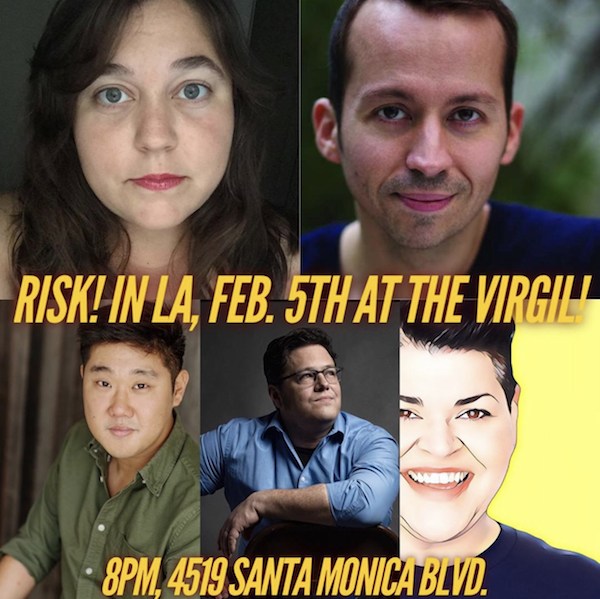 CAKE: Where do you see the podcasting world evolving to? Have you seen a resurgence of edgier comedy/storytelling since you began the podcast?
ALLISON: Unfortunately, big corporations are trying to buy up all the podcasts now, making it harder for independent shows like ours to get attention. But storytelling will always be with us.
CAKE: What do you think makes for a great podcast theme song?
ALLISON: High energy, a catchy lick, and keep it under 30 seconds for sure!
CAKE: With fan prompting, you recently re-released the "Little Big Man" episode that touched upon basketball and Kobe. What's the response been like?
ALLISON:Some folks were upset that we ran a story wherein Kobe Bryant was a character, because they felt like he shouldn't be remembered in stories on account he was accused of rape. But the fact that he was accused of rape is addressed in the story. RISK! gets lots of complaints from people. We couldn't be as bold and uncensored as we are without upsetting at least a few people most weeks.
CAKE: What's the question you've been asked the most about the podcast? What's been your most awkward interaction with a fan?
ALLISON: The most awkward interaction was when a fan who was clearly in an altered state walked right up onto the stage to give me a hug in the middle of my telling a story. There was also the time a fan gave me 15 hits of acid as a gift after a show. The question I'm probably asked most often about the show is probably which stories are my personal favorites. Which is always so hard to answer! It changes every week.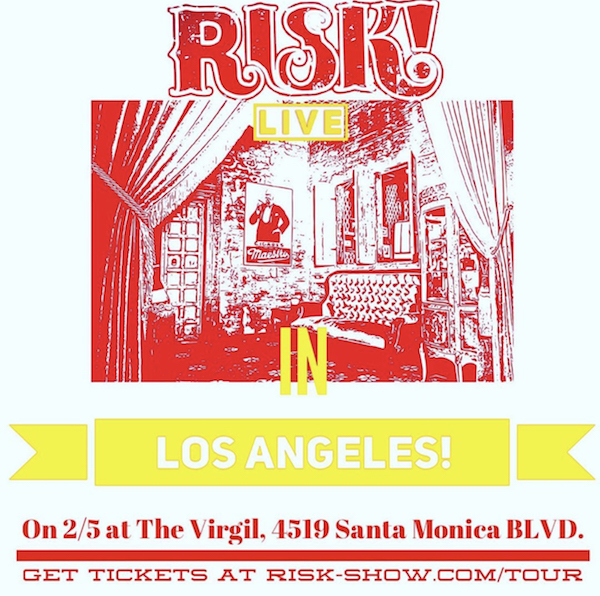 CAKE: You have some live shows coming up, one in LA hosted by David Crabb at The Virgil, as well as one in NY at Caveat, hosted by yourself. Can you tell us a little bit about the planned guests and where else you might want to take the live shows in the future?
ALLISON: The LA show is going to be amazing. Victoria Rocha, Peter Kim, Ron Hart, and Jen Kober are telling stories. The next NY show is still being cast, but it's always amazing. We love our tour dates. We've got dates in Cleveland and Reno coming up, but also some Texas dates in the works. The shows are always listed at risk-show.com/tour.
CAKE: How much would you be willing to fork over for the risk.com webpage domain, currently owned by Hasbro?
ALLISON:Ha! Nada! I've been saying RISK dash Show dot come for so long now that I'd trip over it every time!
CAKE: Cake or pie, which would you lie for?
ALLISON: Pie. I mean come on, it's gooey. You can't go wrong with gooeyness.
Mentions: Tickets for the upcoming RISK! show at LA's The Virgil HERE. Tickets for the upcoming New York 2.27 at Caveat THERE. Listen to a wealth of RISK! storytelling podcast episodes HERE. Follow the show on Twitter & Instagram.