Tasty News: GARY BUSEY Lays Down The Law as PET JUDGE May 25th on Amazon Prime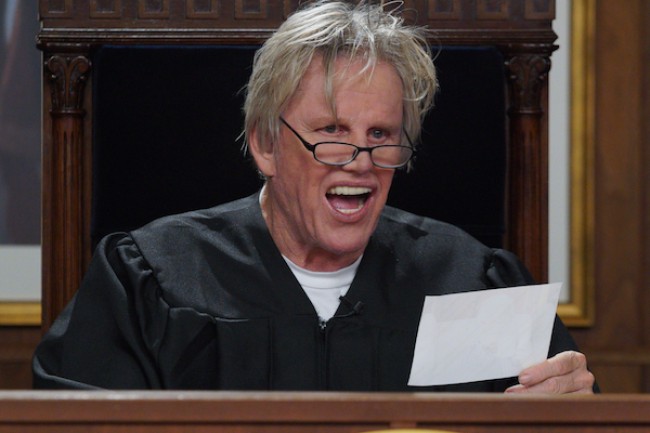 There are three things I'm looking forward to the most: visiting a public beach, watching Nicolas Cage as Tiger King's Joe Exotic, and seeing Judge Gary Busey as PET JUDGE. Looks like the latter is the MOST within reach of this entertainment trifecta. The six-episode season of the series will be available on Amazon Prime and other streaming services as well as for purchase, and will be entirely binge-able on May 25, 2020. The series stars Busey as he presides over the fates of litigant pet owners. Just when you thought Judge Judy had corned the pet law market, some major competition comes her way. Sure, Busey is not a real judge nor does he comprehend pet law, but does that really matter? With those Busey-senses you just know there will be pet justice serviced!
Each half-hour you will be treated to two cases featuring a bevy of animal, including "monkeys, goats, birds, dogs, meerkats, turtles, robot raccoons, and more." Plaintiffs and defendants will plead their cases, Mike E. Winfield will acts as the bailiff with the voice of reason, Ian Abramson (SNQ) will be in charge of those classic exit interviews, AND Shadoe Stevens will lend a familiar voice to the Dr Doolittle like proceedings. The press release indicates the idea for this show came to a one Jack Vaughn (Comedy Central Records) in a fever dream, one half of the husband and wife (Hanne Vaughn) team that runs Vaughn Land & Cattle production company. Perhaps more shows should emerge from the ether like this? Consider this the ONLY "kangaroo court we can't wait to see!
Mentions: More about the show HERE. Follow the show on Twitter, Facebook and Instagram. Feature image by Brenden Wedner.