Video Licks: Watch FIX YOUR LIFE A Fully Improvised Makeover Parody from Sherra Lasley & DeDe Drake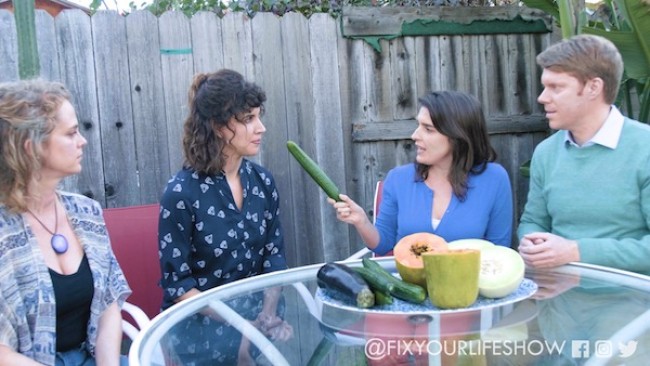 From the minds of comedy partners Sherra Lasley and DeDe Drake comes a new, fully improvised web series that takes life makeovers to the next level! Remiscent of the mockumentary style comedy of a Christopher Guest ie "Best in Show" or "A Mighty Wind," this series takes on the 'fix it" reality show genre with hilarious results. Each episode the FIX YOUR LIFE hosts "take a subversively meta swipe at our pop culture's current obsession with wellness and self-improvement." The five bite-sized episodes include guest appearances by performers like Tim Baltz (Righteous Gemstones), Chrissie Fit (Pitch Perfect 1-3), Olivia Macklin (The Young Pope, L.A. to Vegas, Filthy Rich), Cyrina Fiallo (Community, Glee), Niccole Thurman (The Opposition with Jordan Klepper, Shrill) and David Rispoli (What Would Diplo Do, Host for Cinemark Theaters). Today we bring you TWO episodes featuring the self-interested hosts "helpin out" some unassuming clients. In the episode called HOW TO FIX A PARTY, we find our hosts desperately trying to find some flavor that will make this "dud" of a couple the life of their own party. Unbeknownst to the hosts, this couple has more spice to offer than they realize. Who knew a veg and fruit spread and a "pin the tail" game could be so provocative! (WARNING: Probably Not Safe for Zoom!)
How To Fix A Party (FIX YOUR LIFE: a Fully Improvised Makeover Comedy) Guest Starring Tim Baltz and Lily Sullivan:
In the second episode we have for you today, Olivia Macklin guest stars a young and happening single ready to get out there after getting out of a "long" relationship. Sherra and DeDe help out their hopelessly unaware client by taking some liberties with the truth on dating apps; playing the numbers game; and exercising some pre-game roleplaying with the sound guy Tim to sharpen their's client's dating arsenal. Looks like Olivia is on her way to scoring plenty of Ds (that's D for Dates, you perv). The improv is off-the-charts good in this series so WATCH HOW TO FIX A LOVE LIFE now!
How To Fix A Love Life (FIX YOUR LIFE: a Fully Improvised Makeover Comed) guest starring Olivia Macklin and featuring Tim De La Motte as Tim The Sound Guy:
Mentions: Watch MORE laugh-inducing episodes HERE! Follow Sherra HERE and DeDe THERE.