Video Licks: Find Out The Fate of NerdMelt with 'NerdTerns' Season Two, Part Deux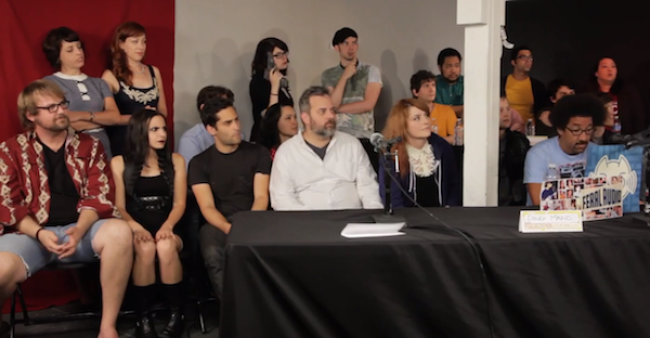 The other half of NerdTerns Season 2 dropped this weekend. The remainder of the season is chock full of dorkists, yarn bombs and girl fights. Oh yes, there are also great laughs, warm fuzzies and guest stars galore. You will find appearances by Chris Hardwick, Dan Harmon, Paul F. Tompkins, Erin McGathy, Doug Mand, Sex Nerd Sandra, Dave Ross, Ricky Carmona, Rhea Butcher, Cameron Esposito, Alie Ward, Georgia Hardstark, Ben Acker, Brandon Johnson and more. Nothing is better than that deep feeling of satisfaction you get from a completed season. WATCH!
Episode 6: The Nerdterns compete to get into the Lipton Book of World Records by hosting the world's longest open mic.
Episode 7: Jenny starts to exhibit bizarre "nice" behavior which prompts the gang to spy on her.
Episode 8: Jenny, Nerdmelt, and Nerd-kind are in grave danger! Beware The Dorkist!
Episode 9: Can Jenny be NerdMelt's only hope?
Episode 10: An epic showdown between the Nerds and the Dorks ensues.
Mentions: Find more awesome videos at the Nerdist Channel. Your NerdTern writers are Kyle Clark, Jenny Fine, Aaron Davidson, Mo Fathelbab, Natalie Hazen, John Ungaro, Matthew Burnside and Todd Mole.