Quick Dish: Party Down at NerdMelt with Seems Legit & Booze Cruise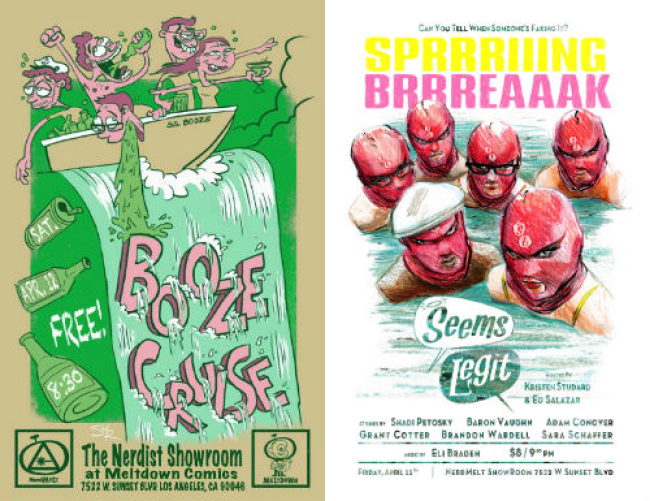 Tonight, April 11, Seems Legit brings storytelling to a whole new level. How well does your internal lie detector work? Listen to performers tell outrageous true tales and one very fib-tastic one. You'll get to call out the big fat liar along with the twittersphere. Find out if you can tell who's the Pinocchio. Stories will be provided by Shadi Petosky, Baron Vaughn, Adam Conover, Grant Cotter, Brandon Wardell and Sara Schaefer. There will even be music by Eli Braden.
If you've not yet made Saturday plans get your loungewear ready because the Booze Cruise sets sail April 12. All Hams On Deck! Ken Shultz (Brad Gage of Family Sandwich, SketchMelt, AFV XD) hosts the ship's comedy variety show hour featuring a a buffet of stand-up, sketch, music and more!
This month join IAN KARMEL, RANDY LIEDTKE, MO WELCH, BRANDON WARDELL, BIRDS IN THE AIRPORT and more on their Blunt for Red October adventure. FREE SHOW! FREE DRINKS! FREE LAUGHS!
Mentions: Buy your tix for Seems Legit HERE! Booze Cruise is written and produced by NerdMelt's own Aaron H. Baker, Brad Gage, Danielle N. Kramer, Eric Lombart & Drew Spears.