Video Licks: Part 2 of Manheim's "The Neverending Story" Interview with Film & Yoga Goddess TAMI STRONACH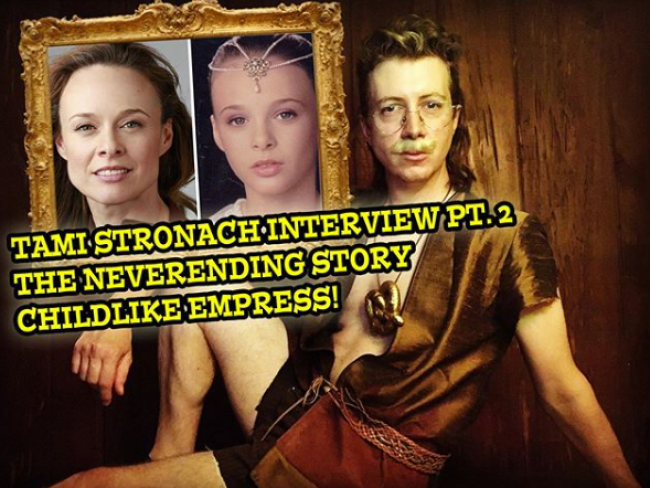 Fanheims, have we got a treat for you. Stop noshing on those pretzels, already! Waaay back in August, Germany's favorite late night host and #1 fan of all things 1980s, Manheim Tuttlingen (Tim Girrbach), brought you part ONE of his interview with the child star and Childlike Empress herself, TAMI STRONACH. We were left on a cliff hanger about what exactly Bastian was screaming out the window near the conclusion of The Neverending Story. Manheim is certain it what the name of his babysitter Monica, but Tami explains the more obvious answer, steering the audience in a more Fantastica love and peace direction. The Frauleins each have their own thoughts on the name, but the bath water soaking Patrina, with the skin of a "baby snake," gets our vote!
As it turns out, child acting, was not the only thing Tami has been up to all these years. In addition to her boutique family entertainment content production company, Paper Canoe, she is well versed in the art of yoga. During the interview, she gives Manheim a little Never Ending yoga lesson. Apparently, our host is a whiz at this yoga thing. Not only is he one flexible lad, but his perfect tree pose is bound to bring calm roots and plenty more 80s programming surprises.
Since it wouldn't be a true interview without some major plugs, Tami delivers a doozy of a teaser. Tami confirms for Manheim and The Frauleins that her new film project "Man and Witch" (screenplay written by Tami's husband) has moved Paper Canoe from the music and play arena of children's contents to the world of indepedent film. The love story, fantasy film is true-ish story and a tribute to the 80s fantasy films we grew up on, with an emphasis on the underdog spirit. The classic tropes will be, of course, updated to reflect contemporary sensibilities. Participating in the independent film project will be familiar names like Christopher Lloyd, Rhea Perlman, Sean Astin, and Jim Henson's puppet Creature Shop. No dizzing CGI for this bunch! As much as Manheim would love to conduct a never-ending interview, you will have to learn more about Tami and her future projects/endeavors at her website.
Episode written by Tim Girrbach & Wendy Seyb. This episode was directed/edited by Wendy Seyb and features The Frauleins: Sabrina (Katie Sexton), Patrina (Fredi Bernstein) and Gert (Barrie Kealoha Linberg). Music was brought to you by The Black Forest Sax Quartet (Miguel A. Bolivar).
Mentions: Learn more about Tami's film project "Man and Witch" HERE. Take Never Ending yoga with weekly with Tami T/Th at 10am (updated: classes suspended for October).