Video Licks: "Godard, Brecht & The (Social) Distancing Effect" on A Brand New Episode of TRUFFAUT FOR KIDS
WHAT?! The first Truffaut For Kids was released last July? It seems like JUST YESTERDAY quarantine birthed a vital introduction to French New Wave cinema for the "Romper Room" set! Because most of us still have plenty of time on our hands to further explore the intricacies of this art form, we bring you EPISODE TWO of the now addictive series on culturally significant film. This time Colin O'Brien is joined by his neighbor Riley (Alex Song-Xia), her daughter Carol, Professor Zahoots (Andrew Zaharia), French Cultural Ambassador Estelle (Estelle Csillag), Aspiring Screenwriter Felipe (Felipe Dieppa), Mail Carrier Lou (Becky Chicoine), and DVD Player (Michael Wolf) for a deeper look at the history and events of the movement, plus it's worldwide cultural impact.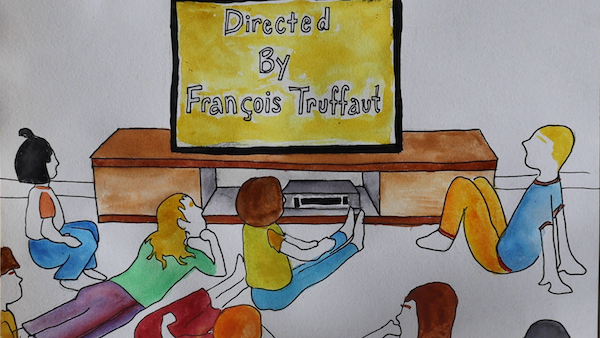 You will have tons of "beaucoup de fun" as this learned gang cover French New Wave editing, the Criterion Channel's cinematic library, the impact of the movement on modern filmmakers like Coppola, Almodóvar, Baumbach and Tarantino, Brecht and Godard's influence on how the French New Wave audience interacted with the screen, and the almost "400 Blows' delivered by Mail Carrier Lou regarding the movement's self-importance, infighting and arguable implosion. Is Colin's appreciation of the movement now tainted forever? Only one way to find out! Enjoy Godard, Brecht & The (Social) Distancing Effect!
This episode features Alex Song-Xia (The Week Of, The Tonight Show), Felipe Dieppa (Dora The Explorer, Dan In Real Life), Becky Chicoine (Mr. Robot, The Other Two) and more!
Mentions: Watch the FIRST EPISODE of Truffaut For Kids HERE.