Quick Dish Quarantine: REMOTELY FUNNY Virtual Comedy Competition TOMORROW Hosted by Gianmarco Soresi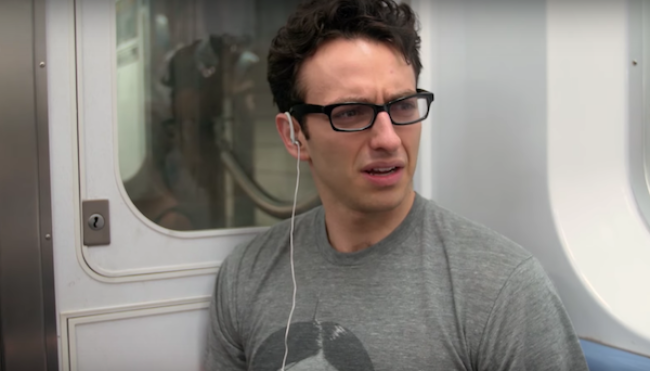 Want to watch comics go head-to-head in a battle for the esteemed label of comedy champion? Of course you do! TOMORROW, January 27th, at the REMOTELY FUNNY Virtual Comedy Competition you will catch new comedians and seasoned veterans competing for bragging rights. Last week's winner was Gianmarco Soresi, who will be this week's host! Soresi is an NYC comic whose jokes have been featured on Netflix's Bonding, SeeSo's New York's Funniest, PBS's Stories from the Stage, and Amazon's Comics Watching Comics (season 8 winner). The audience will vote for their favorite to win weekly cash prizes. The show will have a live studio audience so you will hear actual authentic laughter and reactions from a group of people selected from ticket buyers. How novel! Comedian contestants for this week's hilarious stand-up RushTix livestream will include:
Akeem Woods (BET)
John Kennedy (Fargo comedy festival)
Sam Morrison (Stand Up NBC, Bravo, The Tonight Show)
Pedro Gonzalez (Late Night with Stephen Colbert)
Who will be crowned the winner? Only one way to find out!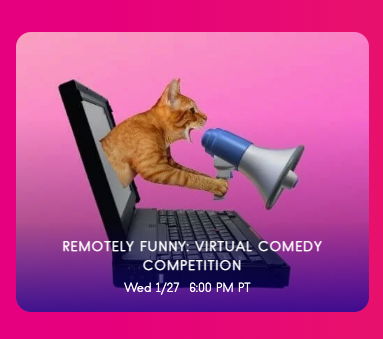 Mentions: Show 6pm PST. FREE! Book at RushTix. Event takes place every Wednesday at 6pm PST. The livestream will be available for re-broadcast for 24-hours after the live show. FYI: In the event of a tie, comedians will enter into a "Tie-Breaker" round with 1 minute each to perform and the host will decide the winner.