Video Licks: Watch Toronto-Based Comics ANTO CHAN & JOSH YANG Deliver Some Impressive FRESH RICE Performances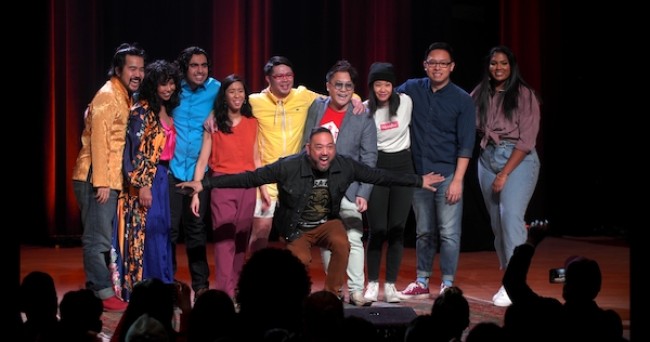 If you are starting to think you've time traveled back to the early 2000s with "Bennifer" sliding back into the lexicon, don't fret! It's still 2021 and we are still in dire need of some laughter. Lucky for you, the humor-filled celebration of "Asian Heritage Month" continues with more FRESH RICE, the web series showcase of new Asian comedic voices. This week there's double the jokes as we bring you sets from Toronto's Josh Yang (Have We Made It Yet?, Sleep with Josh) and Anto Chan (Shed Talks, Love So Far).
JOSH YANG began his stand up comedy journey in 2019 and in this hilarious set, his not so secret comedic weapon of choice shines through. So what is this super power? Well, clearly, his monotone, factual toned voice. That phonatory process pairs beautifully with Yang's brand of dry, self-deprecating, observational humor. It also doesn't hurt that his content is funny as heck. In this set, Yang explains how his voice lends to his dating status, seaworthy communication, and bedroom navigation. We also learn why it would be most appropriate for comics to choose Yang as an emergency contact and what his ultimate "rich person flex" would be. Let's just say, Yang's adoptive kid could very well be the next Powder with some mad chopstick abilities.
If nautical nonsense be something you wish, ANTO CHAN is your seafaring comic of choice. When Chan is not hosting shows or being a wedding MC or storytelling or doing spoken word poetry, he's bringing audiences a pun-rich, beatbox extravaganza of humor. Chan starts out the set describing his experience with strangers engaging him in a "guess your race" game. This is certainly not the ideal way to meet new people, but with his looks receiving the temporal description of "Ming Dynasty," the comic couldn't help relaying that "Ming" is his "Chinese name" and "Dynasty," is his stripper name. Convenient! Chan unleashes his "pun-fu master" skills on the audience drawing some growns at first, but ultimaely winning them over the crowd as he transitions into some major nautical pun material. You HAVE to appreciate a "Yeah buoy" exclamation, kids! The two real clincher comedic moments of the set include Chan showing how easy it is to start beatboxing, just using some literal potty language analogies; and, Chan demonstrating the challenge of learning Cantonese with its NINE linguistic tones. Perhaps, that is why Cantonese actually has the word "tones" in the name. HA! Enjoy the set below (and always respect a glottal stop)!
Mentions: Look forward to more May sets from Veronica Antipolo, Tim Wong, Nick Fernandes and Gina Siva at RICE: Asian Comedy Showcase. Subscribe to the channel HERE.