Layers: At LUCK OF THE DRAW We're All Winners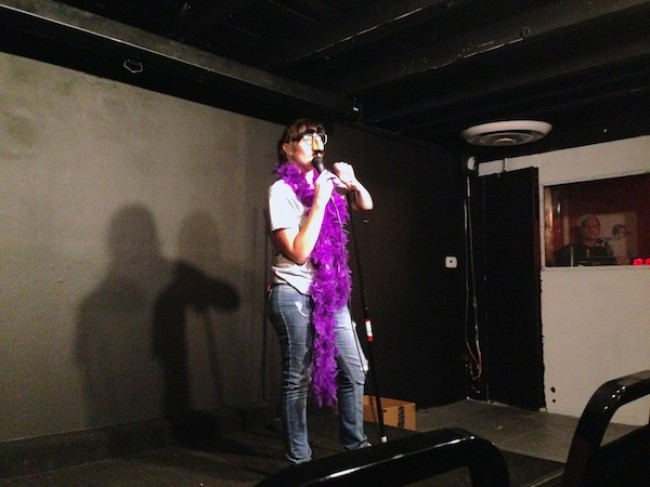 I attended Luck Of The Draw, a brand new show at NerdMelt, on Saturday night. Hosted by comedian Caitlin Durante (freshly minted Program Director of the NerdMelt Showroom) and comedian Matt Donaher, this new show has a digestible hook: audience members draw suggestions at random from a hat and the comedians must integrate whatever's on the card into their act. Sounds simple enough right? Caitlin's upbeat self-deprecation meshed nicely with Matt's more chill deadpan, and they did an example or two for the audience before bringing on the first performer on this super stacked line-up. Let me tell you, nobody was more curious to see how this format worked than the comedians themselves.
First up, comedian Jake Weisman (of the very outrageous WOMEN comedy group) drew a suggestion to tell his origin story onstage. With his usual nihilistic joy, he wove in some of his regular bits before telling a groovy tale of happenstance about how his parents met, "It's because of quaaludes and weed that I exist so life is meaningless." I hope he tells this story in his regular act because it was amazing. It set the tone for the night though as various comedians grappled with how to best execute the suggestions and still do their act. Comedian Andrew Michaan had to solve a Rubik's Cube while he told jokes, but not the one "I'm used to" he claimed, to our bemusement. Elsewhere comedians Jenny Zigrino and Zach Sherwin turned their sights on the audience with giving advice and continually having to use the phrase "just do it," respectively.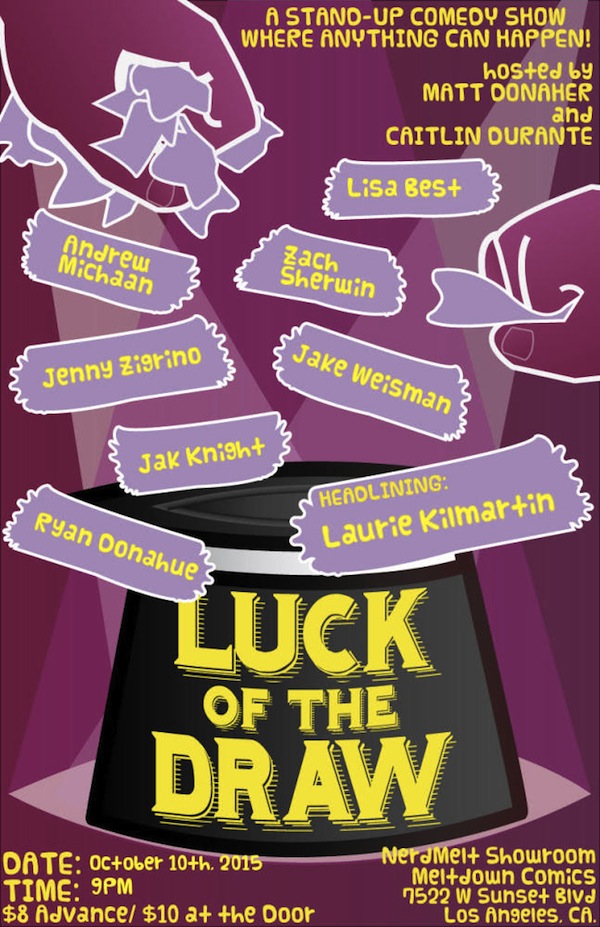 Commended by everyone thereafter, comedian Jak Knight had to do his jokes while pretending to be Tom Cruise. Mostly consisting of making a running motion in a highly excitable voice, Jak's usual bits about discovering his friend had gotten molested as a child and comparing white women to swans, took new dimension. With no couch to jump on though, Jak commented offhandedly, "It's boring being white." He then said that he wished he had gotten the previous comedian Ryan Donahue's suggestion, which was to perform with a hand-puppet policeman.
This constant tension between a comedian's act and the hosts' suggestions reached its zenith when comedian Lisa Best hit the stage and was handed a feather boa and Groucho Marx glasses (big nose, mustache, and eyebrows). She wrestled with her costume using her usual brand of endearing frustration. Her story about visiting family and the competition among her siblings over sharing accomplishments (both of her brothers brag about their new boats) had a surreal layer of absurdity added to the top while she wore this new costume. "Look at me!" she shouted at the audience, mustache lint getting in her mouth. It was honestly perfect, Lisa coming out on top.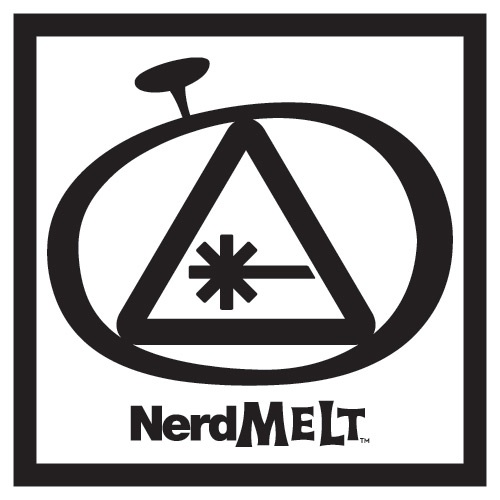 The incredibly funny comedian Laurie Kilmartin closed out the evening with a normal set, "9/11 and vagina jokes," before being subjected to a lighting round of suggestions shouted out by Matt and Caitlin. "Hey Laurie, now you can only do crowd work." "Hey Laurie, you can only tell jokes from this joke book." "Hey Laurie, tell a brand new joke you've never told before." Of course Laurie took it all in stride. She's the best. So Luck Of The Draw's first show was definitely full of surprises, but was always engaging. I highly recommend you check it out. In one night the possibilities ranged so far and wide that I can't wait to see what next month's show brings.
Mentions: Follow Luck Of The Draw on Twitter to keep updated about next month's show. Follow Caitlin Durante HERE. Follow Matt Donaher THERE.