Icing: My Most Memorable Stand-Up Comedy Moments Of 2015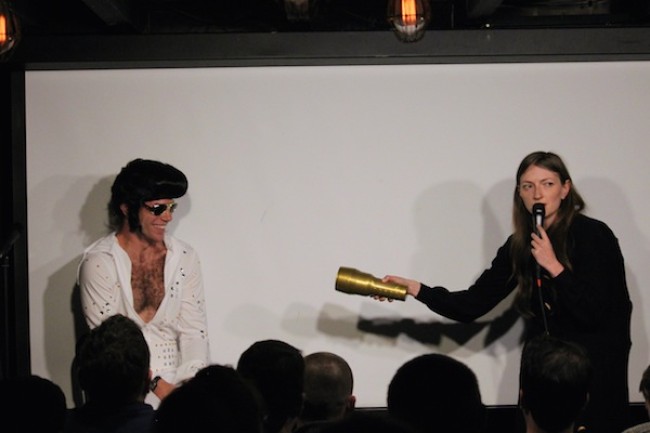 I spent a lot of evenings in 2015 going to stand-up comedy shows. What started off as a one show ritual for me (The Meltdown) has now blossomed into a nightly pilgrimage to all the weird and wonderful alternative spaces in Los Angeles. Honestly I'm in awe of the performers, witnessing stand-up comedians of all demeanors, attitudes, and styles. The experience of going to a comedy show always feels raw and intimate. I just really love to laugh. So I wanted to share with you a list of stand-up moments in 2015 that really stayed with me long after their respective shows ended. These were the performances I couldn't wait to recollect to friends and strangers, that converted me to follow these comedians to more shows and onto other mediums, and made understand the nuances of what it really means to laugh truly and deeply. Obviously your moments may and will differ greatly (and I want to hear about them), but I hope they inspire you to check out these very funny people and come to shows with me!
The Whitest Kids U' Know Do 'Slow Jerk' Live In San Diego (02.21.15)
My roommate and I in college adored The Whitest Kids U' Know, a New York City-based comedy group with a show on IFC from 2007 through 2011 (although in college everything was funneled through the then brand new YouTube platform). 'Slow Jerk,' a sketch featuring members Trevor Moore, Darren Trumeter, and Sam Brown, escalates a gross societal norm to its breaking point playing with ideas of what level of homoeroticism is acceptable in a heteronormative society. It's my favorite sketch of theirs and on a trip to San Diego I discovered last minute that Trevor Moore would be performing at a comedy club to promote his new album. After an entertaining hour of his solo material, Moore brought out Trumeter and Brown to reenact the sketch LIVE, and let me tell you it was even glorious in person.
Will Weldon Makes Fun Of Doug's To-Do List At Duplex Comedy Suplex (05.07.15)
Duplex Comedy Suplex is a weekly comedy show hosted by the gregarious and sweet Doug Culp in his living room, literally. Often the comedian must contend with the small, but attentive audience and/or the weird quirks of Doug's apartment like the wall of Meltdown posters, the giant electronic piano, or glasses of Mountain Dew. Comedian Will Weldon perfectly crystalized this dynamic at the very first show by riffing on Doug's to-do list he snatched before he went up to perform. Weldon has a keen and hilariously grumpy perspective, and it was out in full-force on this collection of mundane chores (like taking out the trash or cat litter), filling an entire set worth of riffing that was as endearing as it was memorable.
Anna Seregina Sheds A Light At Historical Roast (06.13.15)
The historical celebrity in the hot seat that summer night at the NerdMelt show Historical Roast was musician Elvis Presley, but a rowdy front row proved to be an ample source of comedy for comedian Anna Seregina, one my absolute favorite stand-ups performing right now. Playing her 'bad Russian comic' character whom has a shoulder hump and a penchant for adjusting mics inefficiently, Seregina's commitment and intensity is always surprising and always a highlight of the night at any show. Yet tonight she proceeded to take advantage of one of the many fleshlights lying around as a prop to illustrate points to the bros in the front row to their discomfort, but to everyone else's delight. I can't even get over how much fun I had while watching her perform that set. An instant classic.
Emily Maya Mills' Summer Nights At Good Heroin (09.12.15)
I'm a huge fan of comedian Emily Maya Mills and I've had the pleasure of seeing her perform numerous times in 2015. Her stand-up set at Good Heroin (the garden party comedy show hosted by comedians Dave Ross and Matt Ingebretson) proved to be a high point of the wet hot American summer we had in Los Angeles this year. Describing it as 'southern murder mystery' weather, Mills went into her current material at the time (traffic mantras, Matthew McCounughhy, acting roles she typically gets versus ones she doesn't), but her usual free-spirited, sultry style took on a new dynamic in the back of Stories Books & Cafe as we wiped away the sweat and tears from laughing.
Brandie Posey's Album Taping At Hyno Comics In Ventura (09.20.15)
Huddled in the back of comic shop in Ventura about an hour north of Los Angeles, punk rock comedian Brandie Posey and friends (Karen Kilgariff & Drennon Davis, Brock Wilbur, and fellow Lady To Lady podcast cohosts Barbara Gray and Tess Barker) proceeded to make magic while she recorded her debut comedy album. Whether she was repping the Mighty Ducks, adding herself to the notable alumni section on her high school's Wikipedia, or discussing how the Quaid brothers relate to political parties in this country, Posey's stories are equally an intimate affair and a pure riot. Making the drive up was well worth it. Being there I felt like I was in on one of the raddest secrets in comedy, but I know that even more people will know Brandie Posey soon enough when the album drops in 2016. I can't wait to relive it.
Lisa Best And The Futility Of It All At Luck Of The Draw (10.10.15)
Comedian Lisa Best knows how to take life's mundane frustrations and craft them into deep existential laughs on a cosmic level. At Luck Of The Draw, a new show in the NerdMelt Showroom where comics pull silly tasks out of a hat and do their material with this added mystery element, Best took her material to absurd new heights, all because she drew a notecard that instructed her to wear a feather boa and signature Groucho Marx nose and glasses. Telling a joke about familial bragging around the holidays and feeling unable to compete as compared to her two brother's bigger purchases, Best howled into the wind embracing her silly attire, the bit taking on new and epic proportions. One for the ages.
Matt Ingebretson's Class Portraits For Diary (10.16.15)
Matt Ingebretson is one tall, charming as hell comedian, and he invited us on a journey at Lindsay Ames's amazing show My Diary at UCB Sunset in October. While the other wonderful performers that night (Erin McGathy and Jonah Ray) read from journals and punk rock poetry respectively, Ingebretson commented that he never kept any ephemera like that growing up, but luckily for us, his mother kept his school portraits. So Ingebretson proceeded to take us through each photo from fourth grade to senior year of high school, puka shells and all with a deeply curious and wry reflection at how he transformed from a boy into a man. If only we could have such comedic clarity about our own past.
Eric Dadourian And Megan Beth Koester's Dope Poet Society With Power Violence (10.18.15)
Eric Dadourian is a comedian who will change your life. He did something a little different than his usual material at October's Power Violence (the first one at Silverlake's The Satellite), a monthly mixed-media comedy show hosted by comedians Whitmer Thomas, Clay Tatum, and Budd Diaz. Dadourian came out in a beret and read deeply committed poems from a supposed high school poetry society while the effervescent comedian Megan Beth Koester drummed along intensely on a suitcase next to him. Later they took things to a whole other level when Dadourian and Koester joined Thomas, Tatum, Diaz, and Ali Koehler (Upset lead singer and former Vivian Girl drummer) on stage for a massive cover of Pennywise's "Bro Hymn." Everyone was playing bass guitars exclusively (the theme of the night), but with Dadourian performing the lyrics with a slam poetry-esque delivery, it truly became undeniable fun and something special. Whoa whoa oh oh!
Anna Seregina & DeMorge Brown At Drennon Davis' Imaginary Radio Program (11.03.15)
Comedians Anna Seregina and DeMorge Brown have put this idea on tape before, Russian television reporter gets wild while their befuddled subject stares on sheepishly and the interactions in-between, but at Drennon Davis' Imaginary Radio Program (a dazzling display of evening entertainment worth checking out), it took on a visceral, explosive quality that knocked me off my feet. This time Brown played Obama while Seregina frequently upped the ante involving a sandwich, sad interns, and a glass of water over the head. Once Brown asks for a sandwich himself, all hell breaks loose. While the online short is great and hilarious in its own right, its power in person is simply gut-wrenchingly sublime to behold. I hope they do it again. I'll be there every single time.
November's Blam! Blam! Blam! At R Bar LA (11.10.15)
Blam! Blam! Blam!, a monthly comedy show produced by DeMorge Brown, felt like a rite of passage for me in the weird world of Los Angeles alternative comedy. Part party, part endurance test, over twenty comedians went on at the tiny R bar in Korea Town deep into the night. Hosted by actor and comedian Matt Peters, he was our rock through the night introducing great sets from a wonderful line-up including the likes of Sharon Houston, Bennie Arthur, Brianna Murphy, Erin Lampart (and future Erin Lampart), and more. The bar was a beast in and of itself, filled with strange crowd members like the raver millennials in the front tables, Justin the idiot who got a cheer from the entire bar after he finally left, and the woman who ran up to kiss comedian James Fritz after his beautiful burner of a set near the end of the night. Whether it was the gin & tonics, the pain from laughing so much, or just the sheer force of the amazing line-up, I came out the other end bruised, battered, and smiling. Not for the faint of heart, but worth every minute.
All Of The Meltdown With Jonah And Kumail And Everyone (01.07.15 – 12.16.15)
I've been attending The Meltdown, NerdMelt's flagship weekly comedy show hosted by comedians Kumail Nanjiani and Jonah Ray, consistently since 2012 and I'm still very happy to call it home. It really was my introduction to the alternative comedy scene in Los Angeles and has shaped my appreciation of great stand-up ever since.
Some of this year's highlights for me include (but are not limited to): appreciating all of comedian and Meltdown emcee Ed Salazar's high-five variations, when Jenny Slate dropped in with her new kickass hairdo, magician Justin Willman's numerous wonders while Kumail glanced on suspiciously, comedians Davey Johnson and Katie Crown's epic make out sesh, the season two tapings for Comedy Central, Amy Schumer dropping in after the Glamour UK awards, comedian Andy Erikson proposing to her boyfriend onstage, Doug Culp's outrageous laugh, Jake Weisman's epic post-spinal surgery set, comedian Ian Karmel taking over hosting duties for a night and singing Lisa Loeb's "Stay" with producer Emily, Judd Apatow reading us the children's book about sex Where Did I Come From, the dance group Liquid Feet doing a routine to the Jurassic Park theme, comedian Chris Thayer doing his silent naked clown art class routine, comedian Janine Brito talking about crocodiles for an entire set, Jonah holding up hilarious notecards written by a temporarily voiceless Jen Kirkman, Emily Heller's reverse mermaid costume for the Halloween show, celebrating Meltdown's five year anniversary with a Frozen-themed birthday party, and ending the year with a Christmas carol sing-along with Reggie Watts, Pete Holmes, and Steve Agee.
So even though Kumail and Jonah are busier than ever with their own projects, it's clear that The Meltdown, produced as lovingly as ever by the all powerful Emily V Gordon and approved for a third season on Comedy Central, is still very near and dear to their hearts and they show no signs of stopping. 2016, bring it on.
Mentions: Tell us your funniest comedy moments of 2015 in the comments! Feature image by Joe White. Shows to check out:
The Whitest Kids U' Know
Duplex Comedy Suplex
Historical Roast
Good Heroin
Luck Of The Draw
My Diary
Power Violence
Drennon Davis' Imaginary Radio Program
Blam! Blam! Blam!
The Meltdown With Jonah and Kumail
Comedians to check out:
Anna Seregina
Lisa Best
DeMorge Brown
Eric Dadourian
Sharon Houston
Matt Ingebretson
Megan Koester
Erin Lampart
Emily Maya Mills
Brianna Murphy
Kumail Nanjiani
Brandie Posey
Jonah Ray
Will Weldon