Icing: JAY LARSON Talks About His New, Sincerely Funny Comedy Special ME BEING ME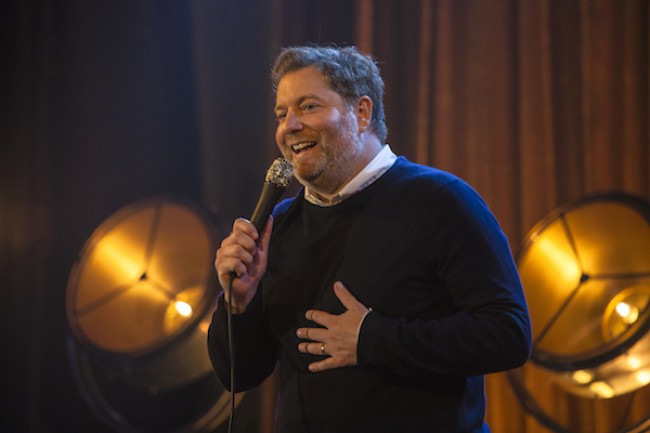 I believe the first time I was introduced to the humor of JAY LARSON was when he was a guest on a live podcast I attended. I don't remember which podcast it was, but I DO remember that it was one of the most honest, side-busting displays of storytelling I'd ever experienced. Larson has shared his comedic talents with a much wider audience since then, but he hasn't lost a bit of that pure, unadulterated, barrier-free style I'd come to admire upon first encounter. I'm happy to report that the seasoned comedian's self-produced one hour special, ME BEING ME, is out today and it's something extra special. You can get your hands on the special via his website jaylarsoncomedy.com (as well as on Amazon & Vimeo). The audio version is available via Audible Comedy.
I've already watched the special multiple times and it's really a master class in storytelling. Larson fearlessly shares stories of family, marriage, and, yes, even revenge. Note to self, always help out your neighbor if they need a car battery jump, most especially Jay Larson. You'll laugh hard as he jokes about resorting to whiskey to get his child to sleep, sharing his produce expertise with a fellow market shopper, and his fishy, no frills attempt to spice up his marriage. And just when he has you merrily in the palm of his hand, Larson's ME BEING ME will have you welling up in the best way with a heartfelt story about his estranged father's passing. I promised I wouldn't cry! Anyhoo, it's about time you met the comedian that's had countless television appearances, including the Twin Peaks reboot, Comedy Central, Conan, The Meltdown, @Midnight, and This is Not Happening; has made innumerable podcast appearances including This American Life; co-hosts his own podcast The CrabFeast with Ryan Sickler; and has countless other accomplishments to boast about. Laugh with Larson and pick up a few comedy and actings tips along the way. You are allowed to hum "I've Gotta Be Me" in your best Sinatra voice as you read this interview. Enjoy!
Jay Larson – Me Being Me – The One, King Size Bed from Jay Larson on Vimeo.
COMEDY CAKE: Just watched your new special ME BEING ME several times and I just can't get enough. You get really personal in this special, was that your original intent when putting together the hour?
JAY LARSON: Well, thank you so much. Since I produced the special myself I was able to talk about whatever I wanted which was really important to me. In the past Networks would give notes on jokes and I really wanted to just say what I felt. I think it's important to be personal in comedy, in life actually, when you share you allow other people to feel ok about something they might think is only something they're going through. And making it funny on top of that is just gold.
CAKE: The thing I love most about your comedy is that it's so relatable. When you are creating new jokes do you constantly keep the audience in mind, or is it a more spontaneous, individual process?
LARSON: I live my life to then bring it to the stage. For me that is the beauty of it. I've always loved sharing my ideas, experiences and downfalls.
CAKE: You talk about your family a bunch in the special. Is your wife always cool with the jokes? Did she actually not know your whiskey joke would be going public? What are her thoughts about the more risqué material you share (ie. "the halibut)?
LARSON: Hilarious! Well she knows I think it's important to share our life experiences. She definitely didn't know about me giving our 9 month old booze but she trusts my instincts as a dad. "The Halibut" on the other hand was a fine line, especially when I did that joke live in front of her parents!!! Even my wife can't sensor me. But in all honesty I would never say something that would jeopardize our relationship.
CAKE: In "Me Being Me," you joke about your crying infant pretty much driving you to the brink of questionable behavior. What percentage of your material do you think is generated out of stressful life-altering experiences like these?
LARSON: Stress, Happiness, adventure, imagination, loneliness, a white wall…You name it, there's a joke to be had in it. If you can take stress, hard times or even death and find a way to make people laugh about it, then we can all face the harder parts of life a little easier.
CAKE: What advice would you give comedians just starting out when it comes to storytelling?
LARSON: I once asked a famous comedian for advice and he told me, "Get up on stage as much as possible". At the time I was so mad, I wanted some nugget but it's true. There's no right way to tell a joke, or to tell a story. Go find your voice and do it til you can't stand it and then do something else with your life. The only way to get funny is to try.

CAKE: I have to ask, what was it like being cast on the "Twin Peaks" revival where you played Dougie's limo driver? How did that even come about and what did you learn from that experience?
LARSON: I wasn't a huge Twin peaks fan or David Lynch fan. Of course I respected him and his art but wasn't a super fan like some of my actor friends who lost their mind over it. It was completely random, unique and hilarious. I laugh when I see amazing people's minds work. Whether it's great arcitecture or music or David Lynch. My audition was me telling a story of my own to camera. My second audition was me just talking with the casting director and then I was on set. We get too obsessive with what something has to be or what actor is right, David Lynch looks at someone, hears them, sees a smile he likes and picks them. We are all just pawns in his mind.
CAKE: What are your thoughts on David Lynch's type of humor in movies?
LARSON: Well, I think he personally is hilarious. Super funny guy. I always like to look at things for what they are, not what I want them to be. He has a very unique perspective and I love watching how he puts it all together.
CAKE: Do you think a background in stand-up really lends itself to performing as an actor?
LARSON: I really don't know. I know some hilarious stand ups that don't act and I know some decent stand ups that can act their asses off. I had an acting coach that would make me sit on my hands because he said I used my hands too much which definitely comes from stand up, and having an Italian family. I always hated that and felt it was who I was, it was authentic to what I brought as an actor, but what do I know.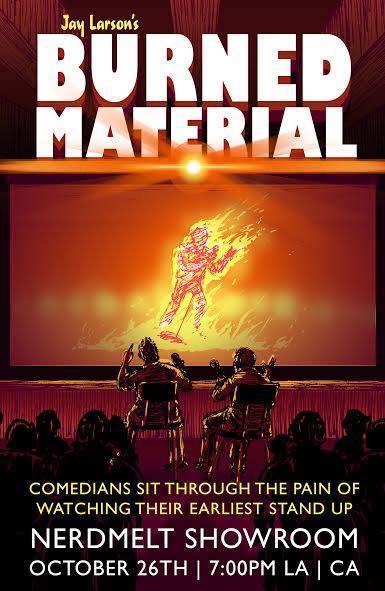 CAKE: Please tell us what's been the best part of performing at the "Toasty" show in LA, a free form roast of strangers?
LARSON: My good friends Joel (Mandelkorn) and Mandee (Johnson) came up with the idea of a show where all of the comedians are doing different "Toasts" and asked me to host. Immediately I said, "I'll do it but I want to be involved as a producer and host every show going forward." It is so much fun and hilarious. Watching the mind of a comedian run with a toast is so hilarious.
CAKE: Can you let our audience know more about your upcoming new LA show "Burned Material" where comedians comment on their very early work?
LARSON: I started documenting my stand up career from Day 1, I don't know why but know I have 50 hours of stand up from the first 3 years and I started watching it and some is so bad!!! I thought it would be fun to sit down with stand ups and watch their old stand up and rip it apart. I grew up outside of Boston, all we ever did as kids was make fun of each other.
CAKE: Where can we expect to see you next?
LARSON: I don't know and I kind of like that. I have some writing projects I am working on and of course the next hour of material. But I'd really like to go write on a show, there are some things in the works for that so we will see. Stand up is so lonely I miss being on a team and would love to be in a writer's room and work on something that I believe in so we will see.
CAKE: What would you like most for your fans to take away after watching the special?
LARSON: That imperfection is a beautiful thing. I hate perfect! I think we all need to be reminded that we have faults and it doesn't make us a bad person or less than. As long as you are perfectly you!
Mentions: In case, you missed the link before, you can get the new special at jaylarsoncomedy.com. See Jay Larson LIVE October 26 at BURNED MATERIAL at Nerdmelt Showroom. Buy tickets HERE.