Icing: Read All About Silverlake's New Stand-Up Show "Comedy at The Friend"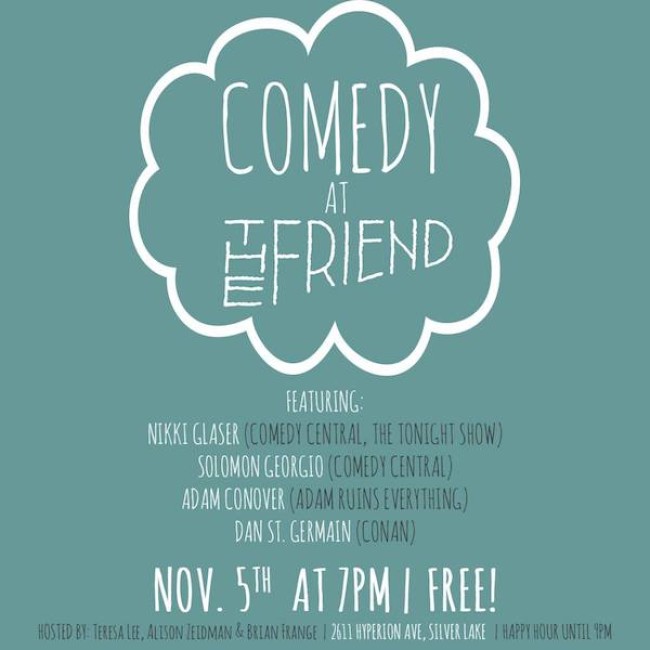 The comedy gifts come early this year, kids. This SUNDAY, November 5th, in Silverlake, Teresa Lee (American Pie, Very Forward), Alison Zeidman (writer and consulting producer for Adam Ruins Everything) and Brian Frange (staff writer on Adam Ruins Everything) bring you Comedy at The Friend. The show aims to feature tight lineups with big names for LA traffic weary local and visitors. If you are looking to chill this Sunday night with some very funny folk feast your eyes on this fantabulous lineup:
Solomon Georgio (fresh off his Comedy Central special)
Adam Conover (Adam Ruins Everything)
Nikki Glaser (Not Safe with Nikki Glaser)
Dan St. Germain (Conan)
I told you you'd be gifted in a grand way! Allow Comedy at The Friend hosts Teresa Lee and Alison Zeidman to further entice you to get your laugh on. Enjoy!
COMEDY CAKE: So what made you choose The Friend as the venue for your new comedy endeavor?
ALISON ZEIDMAN: I like to think that they chose us.
TERESA LEE: I don't like traffic and it's 5 minutes from my house. But it's in a neighborhood away from the clubs on the west side and Hollywood and we wanted to find a venue where we could run a neighborhood show for locals that want to have a cool place to come every week for quality comedy without dealing with parking or covers or things that generally cost money and take away from the experience.
CAKE: Can you tell us a little about the team behind "Comedy at The Friend"?
AZ: I'm a writer and consulting producer for Adam Ruins Everything, and I also contribute humor writing to the New York Times and The Daily Zeitgeist podcast on the HowStuffWorks network. I started doing stand-up in Philadelphia, then went to New York, and recently moved to LA.
TL: We are all standup comics that lived in New York and made the move out to LA recently. I actually met Alison and Brian more formally out here, but we recognized each other by our mutual aversion to sunshine and happiness. Actually I do think a lot of New York comics find each other out here, but really we just wanted to start a show that would feature out of town guests coming in for tapings and gigs as well as local favorites, and between the three of us we have a wide network that we thought would work well together.
CAKE: What can folks expect from this comedy show, versus others you've been a part of?
AZ: This one will have Brian and Teresa and very cheap drinks.
TL: The cheap drinks really. I can't speak for Brian and Alison, but the other shows I've run have had larger lineups with more comics, this time we're trying to keep the lineups more focused with bigger names doing more time and the three of us will be your comedic gurus leading you through the journey every week. Also, we like giving away free drinks to the audience. There will probably be free candy too.
CAKE: You have an amazing lineup planned for the debut show. What's the process for finding guests to perform?
AZ: They're just people we know and think are funny. We are very connected and cool. Please let everyone know that. I really can't emphasize it enough.
TL: There were four rounds of auditions and all the comics had to answer an on-stage question and do a swimsuit strut, and these were the folks with the highest scores so they got spots.
CAKE: What are some of your favorite shows to attend in LA?
AZ: Good Heroin at Stories in Echo Park on Saturdays and Friendship Buddies at Verdugo in Glassell Park on Sundays.
TL: I love Good Heroin on Saturdays, Sauce on Fridays, Put Your Hands Together and uhh… Alison don't tell them about other Sunday shows. This is the only Sunday show you need.
CAKE: Where can we see you perform in the future?
AZ: Wherever anyone wants to book me. I'm new to LA so I'm just gonna be gross about it and outright say, "please book me more!" Right now I have more shows in New York over the next few weeks than I do here. Sad!
TL: At Comedy at the Friend, every Sunday at 7pm. But also, you can find my shows at teresaleecomedy.com. I'm pretty chill on Twitter too & I usually post about shows there.
Mentions: Doors 7pm., Show starts shortly after. FREE to bargoers, NO reservations required! Happy hour ($3 PBR Tall Boys, $5 House Reds and Whites, $6 Moscow mules) runs til 9pm. Free street parking. The Friend is located at 2611 Hyperion Avenue, LA CA 90027. Image of Teresa Lee c/o by Ari Scott. Images of Alison Zeidman and Brian Frange c/o Instagram.