Icing: JAMIE LOFTUS Gets Real About Her Wild, Upcoming One-Person Show at Lyric Hyperion 11.1 & 11.2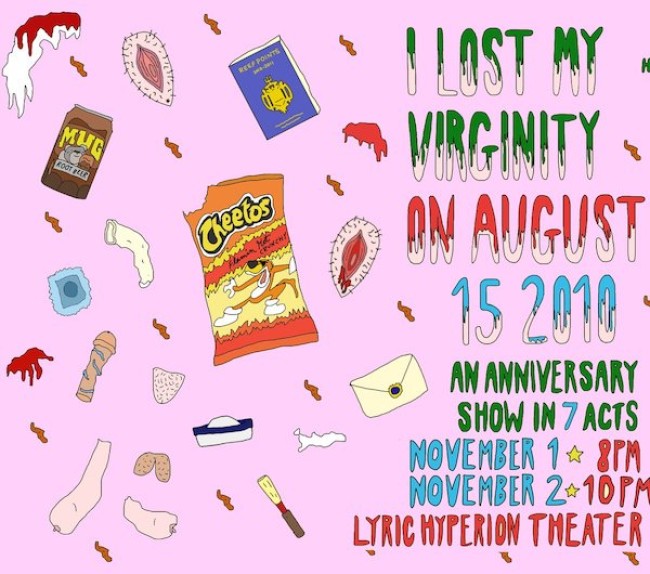 JAMIE LOFTUS is a breath of fresh air in an all-too-often stagnant world of standup. She recently gained notoriety for having eaten pages of David Foster Wallace's 'The Infinite Jest' for over a year, but that project doesn't really give the layperson a sense of what to expect from this brilliant young comic. Her hilarious and inventive work includes the absurd animated series "Boston PD: Zamboni Crimes Division," the oft-overlooked "Mr Rogers Has Dysgraphia," and the upcoming performance, "I Lost My Virginity on August 15, 2010,", happening this Wednesday and Thursday at the Lyric Hyperion in Los Angeles. She's also one of the nicest and most supportive people I've ever met.
NOAH BRITTON: What should we expect from the 'I Lost My Virginity…' show? I heard great stuff about the last iteration but you've said this one will be very different. Why will this be the best comedy event of the year?
JAMIE LOFTUS: Thank you!! I wish you could be there. If people saw the show the first time, I'm still fucking a doll and meat, the audience still has a zine/hymnal that's integral to the show and the man I lost my virginity to still Skypes in for the duration of the show. Pretty much everything else is different. The first time doing this show included my favorite comics in LA performing between scenes in the show, whereas this version will be much shorter (70 minutes total) and tighter. I'm using a version of the Neo-Futurist format for this show, which basically means that I've written twenty versions of me losing my virginity, all of which are really different (think one that's narrated by my parents, one that's a cartoon, one that's built on the hero's journey format in The Power of Myth, plus seventeen others). The order of the show is chosen by the audience, something I love about Neo shows, and because every scene could affect the look, sound and smell of the rest of the show, it's almost impossible to see the same version of it twice.
NOAH: I love 'Too Much Light Will Make the Baby Go Blind,' I'm so happy you're using its format. So, will there be live sex on stage?
JAMIE: There's sort of sex onstage but it's mainly between me and various meats from 99 Cents Only. Or between audience members at one point if they want. Maybe that's illegal. I'm not sure.
NOAH: How dirty will this get?
JAMIE: It will depend on how the running order of each show shakes out, but it will be gross and more importantly, smell bad.
NOAH: Why do you think you feel compelled to reveal so much of your personal life on stage? Do you think this makes art better?
JAMIE: I don't know! For me it's cathartic and a bit of a shortcut in the writing process – using simple setups from my own life is helpful for me when I'm writing and trying to apply more complex ideas or influences. And from a more practical standpoint, building absurdism on something really grounded in my life tends to work better with audiences than building absurdism on top of absurdism, which I feel can get kind of abrasive and excludes a lot of people from your work. I want my work to be smart, but I don't want it to be smart at the expense of being able to speak to people on a basic level.
NOAH: Who are your comedy heroes? What about other comedians you like, contemporaries?
JAMIE: Oh man! I'll list a mix of people I'm lucky to know and people whose work I obsess over, and there's a lot of crossover, haha. For this show I pulled most of my inspiration and a lot of formatting cues from the Neo-Futurist theater group, I love love love them. Performers who never fail to make me laugh and inform a lot of the work I do are: Maria Bamford, Josh Fadem, Debra DiGiovanni, Natalie Palamides, Lizzy Cooperman, Amy Sedaris, Jennifer Vanilla, Sarah Sherman, Johnny Pemberton, Mitra Jouhari, Ify Nwadiwe, anything Wham City makes, Joe Pera, Erin Lampart, Chelsea Peretti, Megan Koester, Christina Catherine Martinez, Karen Kilgariff, Barbara Gray, John Early, Patti Harrison, Caitlin Durante and Maggie Maye. And then artists and cartoonists like Ramin Nazer, Faye Orlove, Gina Wynbrandt, Chip Zdarsky, Julia Gforer, Craig Bartlett, Jay Howell, Penelope Gazin, Brad Neely, Lisa Hanawalt and Brandon Bird. And then writers like Lemony Snicket (I have a LS tattoo whoops), Eva Vives, Alana Hope Levinson, Nora Ephron, Fran Hoepfner, Rembert Browne, Joseph Fink and Jeffrey Cranor (former Neos), Muriel Spark, Noah Hawley, Dorothy Parker, Jamie Brew, Lindsay Ellis, Jack Handey, Mira Gonzalez and Stephanie Ward. I'm forgetting people! I just read this list again and it rules and was a good use of an hour probably.
NOAH: What's something awesome you've made that got less attention than your other stuff (a hidden gem)?
JAMIE: I am always surprised when people tell me they have seen a livestream I did for JASH this year called Swan Lake Live From a Locked Basement (https://www.youtube.com/watch?v=Ul_rNiUg_e8) but it was really fun and dumb and I don't think a lot of people have really seen it. There's also a short illustrated book I did called Zoey Says Yes (https://medium.com/@jamieloftus/zoey-says-yes-c91a947c83e80) earlier this year kind of for no reason that I didn't try to do anything with, but maybe I should have? Or maybe not.
NOAH: You definitely should've, it's great. And I'll never forget watching you chug 7 gallons of milk during the live version of your Swan Lake show. So, can you reveal more about your upcoming projects? What's the status of the Zamboni Crimes Division?
JAMIE: I have a full-length cartoon coming out with Cafe this Friday called 'Rat Teens' that I'm excited about, and a Comedy Central web series called "Irrational Fear" that's live action and will come out late last year / early next, I'm not sure. Boston PD: Zamboni Crimes, unfortunately, remains defunct, but it's my favorite thing in the world to do!
NOAH: Will you publish "The Haunted Zamboni"?
JAMIE: If anyone wants to publish The Haunted Zamboni , I welcome it.
NOAH: Was going to college the right decision for you or do you regret it?
JAMIE: I don't know, really – I didn't know I wanted to be a comic until more or less the end of college, but I learned a lot of stuff there that informs what I do now. Financially, it was a devastating idea that I pay out of my asshole for every month, and I feel like I would have figured out this is what I wanted to do eventually anyways.
NOAH: Do you still enjoy doing sets w/shocking stuff, like eating dog food, or is it something you're doing more to drum up an audience? I guess what I mean is, after doing something like that for so long, does it become routine but feel obligatory, or is it still fun? When we toured this summer we got really burnt out and sick of doing the same set every night, but I wonder if that'd still apply to something like chugging 7 gallons of milk.
JAMIE: It depends! Usually I will only do high stakes stuff like the dog food and buttchugging that if I think it's right for a specific show and audience. If I'm not having fun doing it, I doubt people would want to watch it. Sometimes they don't even when I do, and that's fair too.
NOAH: What would you like your fans to do or not do? What is the line between a fan being supportive vs. overly-engaged in your life? Your fans know so much about your private life that they must assume they know you better than they really do.
JAMIE: Haha, I don't really have a huge following so it's not that big of a problem! I think there are some risks at getting personal in your work that sort of makes people feel like they know you a little better than they actually might, but as long as boundaries are being respected that doesn't bother me too much. I've been lucky to meet a lot of nice people.
NOAH: You've opened for Maria Bamford several times now, who out there still intimidates you?
JAMIE: Everyone and everything all the time.
NOAH: Do you have any advice or regrets for other young comics?
JAMIE: Something I think about a lot is Nora Ephron saying that 'everything is copy,' which is a really smart thought that could also ruin your life and relationships if you're not careful.
NOAH: How does your dad feel about all the material you've done about him?
JAMIE: My dad has always been really supportive and has a great sense of humor about himself and my entire family, and I think sometimes gets a kick out of the character version of him. He would be supportive of whatever I did – he brought me to a strip club once when I had to write a sociology paper about it, stood in the back of a Bright Eyes show when I was pretending I could drive to impress a cool senior girl in high school, drove me to do a midnight shift at a local radio station on Christmas. Once he found out I was pretty good at it and wanted to pursue it seriously, he had no problem driving me two hours out of the city to perform jokes about wanting to fuck him in a bar basement. I'm very lucky. Please come to my stupid show.
Mentions: Jamie Loftus performs "I Lost My Virginity on August 15, 2010," November 1 and 2 at the Lyric Hyperion in Los Angeles. Tickets are only $5. Follow her @hamburgerphone. Noah Britton is a member of sketch comedy troupe Asperger's Are Us. If you'd like to read Jamie's interview with them, it's HERE.