Icing: "A Late Bloomer" & "The Chris Gethard Show" Regular MIMI FISCHER Talks About Her First Solo Show at The PIT's Solocom Fest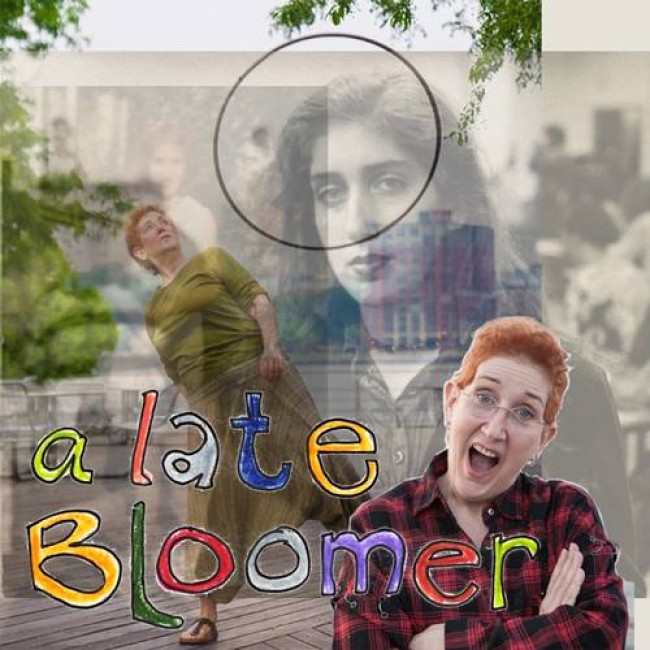 Anyone who's watched The Chris Gethard Show should be quite familiar with the constantly moving tour de force figure bringing a smile to everyone's face each episode. Those Mimi on the Hoops skills belong to MIMI FISCHER, the hilarious comedian, storyteller, hoop-dancer and regular on the UCB show turned public access fave turned millennial adored cable sensation. The sexagenarian (yes, that's a word) has more energy than me on a good day and will be performing her first solo show called A LATE BLOOMER this Friday, November 17th at The PIT's SoloCom Festival, NYC's only all-new solo comedy festival. The show focuses on Mimi's jump into the totally new world of comedy and hoop-dancing, in which she jokes about the positive side of aging and her challenges of being part of a 20-something peer group. Mimi was kind enough to talk with us about the her unique journey into hoop-dance, improv, The Chris Gethard Show, The Special without Brett Davis, her solo show at The PIT, and, of course, her inspiring and unrelenting, fresh outlook on life. Enjoy!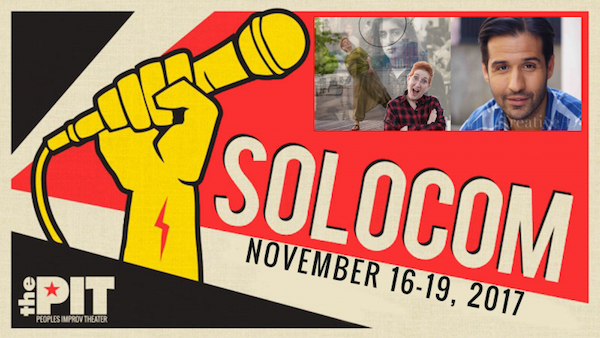 COMEDY CAKE: What first interested you in improv?
MIMI FISCHER: Strangely, a hoopdance friend from North Carolina posted a 5-minute video by Mike Subelsky which I found myself watching again, and then taking notes (bring a brick not a cathedral) and then I thought why not take a class I live right in the neighborhood of UCB. And so it began. All good things come from hoop after all :)
CAKE: How did you occupy your time before you got your start in comedy?
MIMI on the HOOPS I started hoopdancing in late 2007 but didn't get serious about it (daily practice) until January 2011 the same time I started my first improv class. I've done work ranging from being a market-maker in foreign and over the counter stocks in Wall Street (various firms) for 12 years, to canvassing for Greenpeace, installing Christmas decorations in office building lobbies and department stores, doing administrative assistant work, producing art shows for myself and my (at the time) husband. Also have been teaching yoga for the past 23 years. I still teach yoga and hoopdance.
CAKE: Was Hoopdance always a skill of yours because you are quite adept at it?
MIMI on the HOOPS Didn't become aware of hoopdance until December 2007. I did love dance (studied and sometimes performed for 15 years) until a dance injury sidelined me. I really missed dance so when I discovered that hoopdance was a thing I looked for a way in. In December 2007 I took the first NYC workshop of Jonathan Livingston Baxter's (of Carrboro NC) HoopPath. I had never hooped before. They made me a hoop that came up to my sternum. Big hoop. It was amazing. But I didn't feel comfortable/confident to hoop outside where people could see me, and the hoop was way too big to be able to do it in my apartment so I didn't hoop again until the next June I went to the HoopPath Retreat in Carrboro. Then not again 'til November when J-Bax came back to NYC. Until finally something kicked in at the next retreat and I became able to shoulder hoop. Then I though, I'd better start practicing! So I did, and then in January 2011 when that practice went daily things started to open up.
CAKE: How did you meet Chris Gethard and get involved with the show?
MIMI on the HOOPS I was a UCB student so I knew who Chris Gethard was, I used to go to the Stepfathers show every Friday night and he was a member then. I would show up at least an hour before the show in order to snag a front row seat. The Stepfathers were my improv idols! So Chris kind of knew me by sight. Then when TCGS moved to public access cable from being a monthly live UCB show. First episode I watched on Ustream was episode 6 when Shannon O'Neill hosted and debuted the game Snatch or Catch. I commented online using my old ICU handle so Gethard even know it was me, but he answered my comment so nicely. I started watching regularly and a few more episodes in decided to come be audience in the studio. Came to episode 11 as an audience. An hour before Gethard tweeted that the musical guest was stuck on the Turnpike and would not make the show and asked anyone coming to bring any musical instrument. I brought meditation chimes and also stuck a collapsible hoop (breaks down into 8 segments) into my bag. The actual show was a little too chaotic for me to just break out the hoop but I went up to Gethard after the show, opened my bag and said, "If you ever want to have me on the show I've got this." He asked what it was and when I said "a hoop," he got a glint in his eye. He asked, "Can you do that for an hour?" and I said sure. He said I could come on any week I wanted – I asked if he meant it because I would. The next week ep #12 I brought some hoops but the only place there was room was between the cameras so except for a couple of seconds during the show and a bit at the end where Gethard asked me to come up no one saw me. No one that is except Gethard and the panel. And the next week when I got to the studio there was a hoopspace set up for me behind the panel, and so it began.
CAKE: What's been the most wild moment on TCGS you've witnessed so far? Who's your biggest buddy on set?
MIMI on the HOOPS That is a tough one. So many amazing moments but the one that gave me chills was ep #46 Robot Battles the birth of The Keeper of the Battledome (Anthony Atamanuik). That character was amazing! Also the robot battles were hilarious and the Don Fanelli "I didn't get the email" bit was hysterical. Runners-up include: #38 Birth of the Hintmaster, #62 Smash-cut to the future (return of the Keeper of the Battledome) and from Fusion ep 203 "Slam Dunks and Slam Poetry with John Starks, John Hodgman and musical guest Pitchblak Brass Band. For the dunks, the poetry and the music – great ep! My biggest buddy on the set easily is Dave Bluvband (The Human Fish).
CAKE: What has it been like seeing the show grow from it's humble public access beginnings?
MIMI on the HOOPS Miraculous and yet somehow the show from the beginning just seemed so great to me – even, or especially the weirder eps that it just had to go wider!
CAKE: Do you still keep up with what's happening on the New York public access scene?
MIMI on the HOOPS I do watch and have been on (three times) The Special without Brett Davis that took the Wednesday 11pm slot that TCGS had, and is 'executive produced' or actually executive produced by Chris Gethard and J.D. Amato (longtime director/producer of TCGS).
CAKE: Who are your favorite New York performers right now, comedy or otherwise?
MIMI on the HOOPS I think Julio Torres is so precise and specific in his comedic voice. Even for his bit about being vegan alone he's the best. Of course Brett Davis, who not only does the Special but is so generous with his time and to other performers. He takes a lot of risk in his work – kind of Andy Kaufman-esque in that he's not afraid for his characters to be sometimes be unlikeable and deeply weird – of course others like wrestler Bobby Blaze are charming (dip dip dip), and Jo Firestone is the voice of womanhood and also one of the hardest working most prolific people in comedy right now. I love John Hodgman and his new book is great. Some of my favorite New Yorkers have become Los Angelenos so John Early and Kate Berlant come visit more! Everyone involved with The Opposition is knocking it out of the park – writers and performers, wow! There's a lot of Gethard Show and UCB on this list but that's just chance, right?
CAKE: You have an upcoming show at The PIT's SoloCom. Can you tell us what audiences can expect at "A Late Bloomer?"
MIMI on the HOOPS I'm going to talk about moments in my life that led to my being a late bloomer. Hint: One essential to being a late bloomer is to not have bloomed on time, that's totally key. Also what it's like to actually be a late bloomer. I'm old, not middle aged, because if this is the middle I'm going to be a pretty cranky 128-year old. Also I'm going to hoopdance because 1. I can and 2. Hoopdance opened up me up to my potential which is such a weird catalyst but it's true and I'm going with it.
CAKE: What's your advice for people wishing to get a start in comedy later in life?
MIMI on the HOOPS Get going, we don't have all the time in the world. Actually no one does but we know it. Get out there, keep your head down and perform as much as anyone lets you. If you aren't getting the opportunities make your own show. I did. I've been running a weekly improv show Dessert Cart: Full Fat! since 2013 it keeps me in the group game (little insidery improv pun there).
CAKE: What do you believe is the key to feeling young?
MIMI on the HOOPS Age is less a factor than health. For me yoga, hoopdance, a little bit of meditation and positive thinking to cut through the morass of negative self-talk, anger and dismay at the news etc, to keep the mind healthy, and figuring out what works for me nutritionally – that's been a process!
CAKE: When you're not having fun in comedy, what are some of your favorite pastimes?
MIMI on the HOOPS Of course my hoopdance practice, yoga practice, teaching yoga (which I love), and vegging out to screens & bingewatching all the amazing good stuff that's produced for television these days. And reading from actual printed paper.
CAKE: Do you have more projects in the works you can tell us about?
MIMI on the HOOPS I've been branching out from improv (still my first love and I perform improv regularly at Dessert Cart) to do more solo work. Some of it is standup/storytelling and some is hoopdance and I'm looking to merge those two things going forward. Creating ALB has been very pivotal for that.
CAKE: Cake or pie, which could you never live without and why?
MIMI on the HOOPS I used to love my cake and pie – probably more of a pie fan as I baked pies from time to time (very cold butter or oil if vegan is key to the flaky crust). But I've moved on due to actual health concerns – okay I'm trendy but my no grain/no sugars or sweeteners thing isn't for the trend it's for an actual health issue. Maybe TMI but a couple of years ago I was diagnosed with Crohn's and I keep my diet very specific so I don't have to go on meds and can keep feeling great. Some of my new loves: my turmeric, coconut oil, black pepper, curry leaves and almond milk drink (also cinnamon stick, fresh ginger, grated nutmeg) and sauerkraut or brine pickles (bring my probiotics to the yard). I condone eating cake and pie if your system says 'go for it!' not gonna be a total spoilsport here even though this answer is too sincere. But look at what I named my improv show, right?
Mentions: Show 6pm. Only $10 (no drink minimum) & can be purchased online HERE or at the door. This show is part of The PIT's SoloCom Festival. The PIT (Striker) is located at 123 E 24th St NYC, 10010. Mimi produces, hosts, and performs in her own weekly improv show, Dessert Cart, which has been running for the past five years.