Icing: You Will NOT Want to Miss STAT ATTACK! Happening Thursday, May 29
One full week from today Stat Attack will be coming to the Comedy Central Stage in Hollywood. Stat Attack is a show that bring the pages of the comedy publication The Devastator to life with great bravado. Thursday, May 29th The Devastator will proudly present a FREE show featuring four scientists competing for one chance to send their life's work into space. The knowing participants include host RON BABCOCK (Adam Devine's House Party), LESLEY TSINA (Community), LILAN BOWDEN (Parks and Rec), JOHN FORD (Tournament of Nerds), PATRICK BAKER (UCB's Bonafide), JAMES URBANIAK (Venture Bros.) and DANA SNYDER (Aqua Teen Hunger Force). We got the skinny on Stat Attack from the folks in the know. This is an event you can't ignore! Read and enjoy!

COMEDY CAKE: How and when did the idea of Stat Attack come to fruition? We want all the gory details!
STAT ATTACK CLAN: Stat Attack is the longest running feature in The Devastator book series, created by comedian Lesley Tsina. It started as a parody of Harper's Index, then morphed – like something out of a Michael Jackson music video – into a parody of infographics. Stat Attack shows us how the world works through pie charts, line graphs, and other math-y stuff that makes jokes look more real.
One of our editors, Lee Keeler, brought the idea of doing a Stat Attack themed show to the Comedy Central Stage, and they said "yes," no doubt thinking they had the next Chapelle Show on their hands. Either that, or they needed to kill some stage time and were like, "sure, why not?" We're leaning towards the former.
CAKE: Please explain what "The Devastator" publication is for the uninitiated?
STAT ATTACK CLAN: The Devastator is a comedy book series mixing together satirical humor comics and writing by folks from The Daily Show, The Onion, Adult Swim, Marvel, Fantagraphics, and more. We're sold in stores across the US, UK, and Canada. We've made ten Devastator books so far (no continuity!) and this year we expanded into more spin-off and original titles. One of our latest books is The Devastator: Apocalypse, with Paul Scheer, Jordan Morris, Joe Lo Truglio, and other amazing folks. Check out DevastatorPress.com to see what we mean!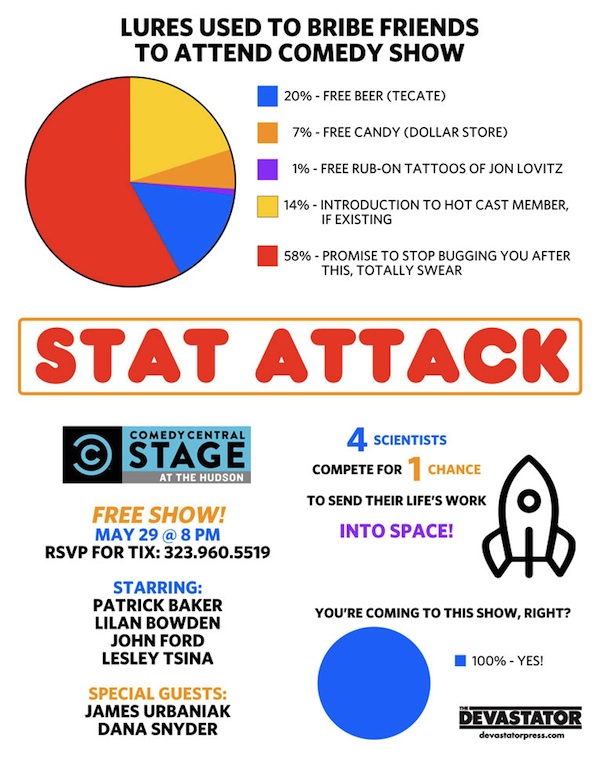 CAKE: If you were a scientist, what kind of dog-eat-dog efforts would you go through to send your life's work into space?
STAT ATTACK CLAN: Sabotage, arson, murder – these are the things we wouldn't do, because they're super wrong, you guys! We'd do it through prank calls. Basically, we'd call all the other scientists in the running and tell them there's a treasure chest of gold buried under a giant X somewhere in Nova Scotia, and while they're on a mad, mad, mad, maddeningly long wild goose chase, we'll quietly finish our life's work and get it onto that spaceship.
CAKE: What have been the funniest space-based comedies of this decade and why?
STAT ATTACK CLAN: Definitely G-Force. Okay, okay, that's a joke answer! We've never seen G-Force. The correct answer is obviously Space Buddies. Why? When everyone's favorite lil' dogs leave our atmosphere, the cuddly hijinx are out-of-this-world. Houston, we have a puppy!
Also, Spaceballs.
CAKE: What makes the Comedy Central Stage the ideal venue for Stat Attack?
STAT ATTACK CLAN: We've seen a few of our friends, including staff editors Lesley Tsina ("Lord of the Files") and Patrick Baker (Bonafide) run shows here. It's a big stage, has great tech capabilities, plus it's very accessible because it's FREE!
CAKE: Who's ready to take a trip to space this year? What's the first thing you'd do when you go to your destination planet?
STAT ATTACK CLAN: The Devastator staff is ready to blast off into space, as soon as we sell enough books to buy everyone those $250,000 space tix. So far, we're about $2,499,800 shy of what we need, but that's our plan: once we get to Mars, first thing we're gonna sell souvenir Devastators to our fellow passengers for $1 million each, and then badda-bing badda-boom, we're rolling in Mars money. If that doesn't work… maybe a Kickstarter?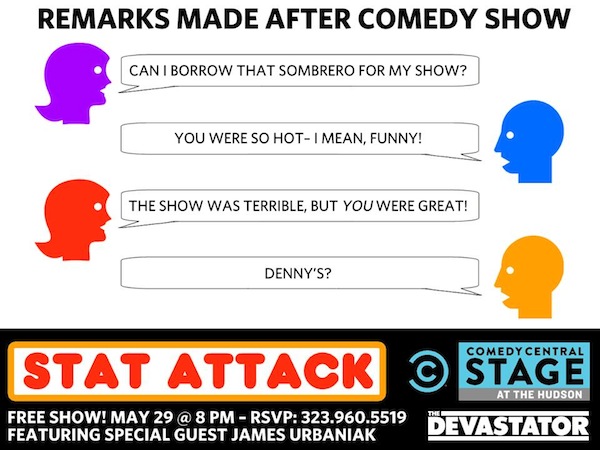 CAKE: Who has shows or projects to plug? This is your chance to purge.
STAT ATTACK CLAN: Good timing: Our staff has way too much to plug!
1. First, of course: Stat Attack @ Comedy Central Stage is Thursday, May 29th at 8pm, with guests James Urbaniak and Dana Snyder! Reserve by phone: 323-960-5519. Here's the Facebook event!
2. Our latest books: The Devastator: Apocalypse, Slash Fiction Through the Ages, Wizards of Cockblock Forest. Buy all of them!
3. John Ford's UCB show "Seinfeld: The Purge" is amazing and will premiere at UCB Theatre LA on Wednesday, May 28th at 6:30pm. Tickets here.
4. Lilan Bowden's group Lilan and Wilder is often featured on Funny or Die, here's their page!
5. Patrick Baker and LIlan Bowden's Maude team Bonafide and John Ford's Maude team TuT have a joint show at UCB Theatre LA on Wednesday, May 28th at 8pm. Tickets here!
6. Lesley Tsina's hilarious show "Lord of the Files" will be touring soon, so check out LesleyTsina.com for details!
7. Ron Babcock will be going on tour this fall, so follow him on Twitter @ronbabcock or check out his site HeyRon.com for updates.
8. Producer Lee Keeler continues to host the Devastator-sponsored Hour of Power Hour at the Improv Hollywood, with the next show happening on Friday, June 27th at 8pm!
9. If you do comic conventions, The Devastator will have booths and panels at the following: Long Beach Comic Expo, Phoenix Comic Con, Denver Comic Con, and San Diego Comic Con.
10. The Devastator continues it's collaboration with CineFix Network to make movie parody videos, like "Xavier's School for Gifted Youngsters, ONLINE." See all our videos here!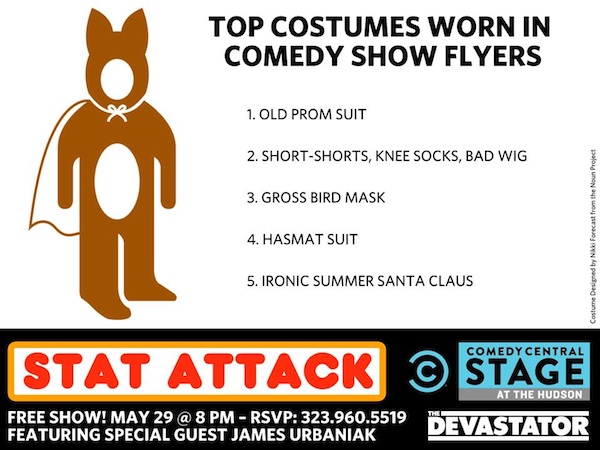 Mentions: Show 8:00pm. Absolutely FREE! Reservations are required so RSVP by calling 323.960.5519. Stat Attack! is produced by Lee Keeler and directed by Geoffrey Golden with theme song by Matt Geiler. The Comedy Central Stage at the Hudson is located at 6539 Santa Monica Boulevard. Cross street Hudson Avenue between Highland and Vine. Read All Hudson Theatre FAQs HERE.