Layers: Why You Need to Donate to Ted Alexandro's Teacher's Lounge Kickstarter
Oh man, not another darn Kickstarter. YES, but this one is worth the donation. Teachers Lounge is a comedy web series created & written by Ted Alexandro & Hollis James, starring loads of your favorite comedians. You ask, "but there are plenty of web series out there that don't ask for my donation, why donate to this one?" Let me give you FIVE very good reasons:
1. BIG TIME COMEDY CELEBS WERE PERSISTENTLY NUDGED INTO BACKING IT
Stars like Amy Schumer, Jim Gaffigan, Dave Attell, Russell Peters and Bill Burr are solidly behind this project. In fact, there is even video testimonial of their coerced enthusiasm for the project. Watch!
2. BY RAISING 50K TED & FRIENDS CAN MAKE A QUALITY WEB SERIES WITHOUT THE MEDDLING OF CORPORATE THUGS
Why involve the suits? They can only water down the creative process and make everyone unhappy with the end product. Boo! Plus Ted & Hollis can plan that trip to the Bahamas they've always dreamt about. J/K!
3. MONEY MEANS QUALITY
The Kickstarter goal may seem like a lots but it takes lots of dead presidents to shoot a web series professionally. So far they've shot four and with your generous donation they can finish shooting and editing the next six episodes. Cue vigorous clapping.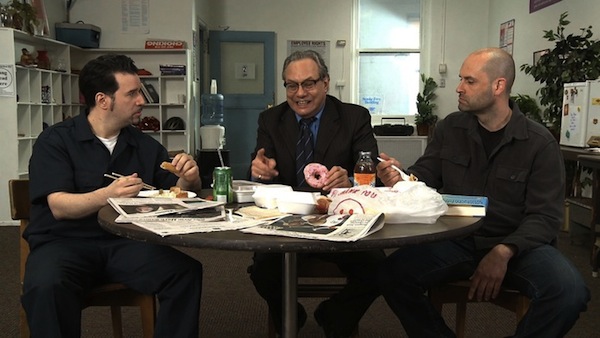 4. THERE ARE TONS OF SPECIAL AWARDS THAT WILL SATISFY YOUR GREEDY DESIRES
As a reward for your generous donation you will receive great prizes. Just some of those prizes include personal Twitter or Facebook shout outs from Ted & Hollis, exclusive downloads of digital video extras, serious merch, a personalized video message, an original prop, your name on the Teacher's Lounge whiteboard, 2 VIP Premiere Party for Teacher's Lounge passes and so much more.
5. GET ALL GRASSROOTS LIKE A TRUE HIPSTER
Through your donation send a message that there's still grassroots support for smaller, DIY projects like Teacher's Lounge. You, yes YOU, can help give your favorite comedians a forum to show their true talent. You can also tell your friends "I'm better than you, so there."
OK, time to give you a few more deets about the Kickstarter project. The web series is about two friends, a music teacher (Ted Alexandro) and a janitor (Hollis James) who hang out in the teacher's lounge of a NYC elementary school where they also work. Each episode will feature comedy guest stars including Jim Gaffigan, Lewis Black, Janeane Garofalo, Judy Gold, Judah Friedlander, Jim Norton, Dave Attell, Rachel Feinstein, Michael Che, Todd Barry and musician Ted Leo.
The Kickstarter goal is 50k. Help these wonderful comedians achieve it one pesky dollar at a time. There are just 14 days to go so get with the program, kids. Thanks for listening.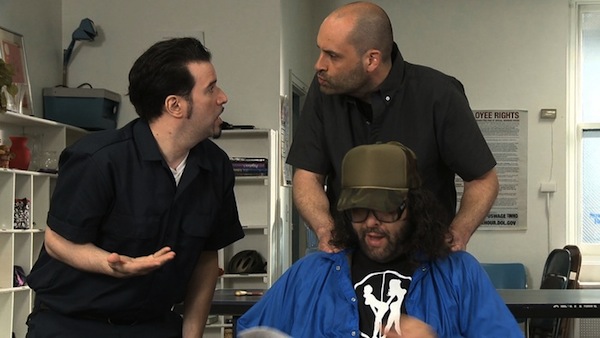 Mentions: Donate to the Teacher's Lounge Kickstarter HERE.