Quick Dish Quarantine: This Wednesday 8.5 Enjoy More of HOFF'S PUBLIC DOMAIN HORRORFEST ft "The Last Man on Earth"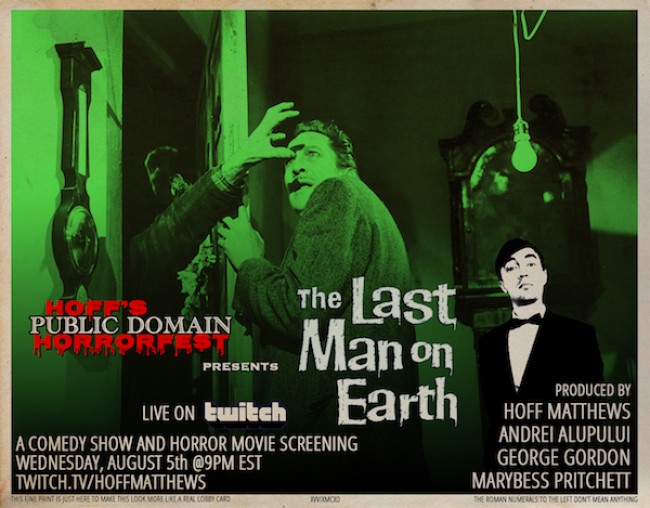 The last screening of HOFF'S PUBLIC DOMAIN HORRORFEST summer cycle is upon us. You mean it's August already?! Where'd the time go? OK, don't answer that. This Wednesday, August 5th at 9pm EST, join Hoff Matthews (Comedy Central) on Twitch as he livestreams the classic public domain horror movie "The Last Man on Earth," starring Vincent Price (not to be confused with the Will Forte sitcom which we never saw the darn ending of)! In this black and white post-apocalyptic sci-fi horror frightfest, we are invited into a world where a doctor must fend off the human beings turned undead, vampiric creatures (due to, of course, a PLAGUE). Seeming alone in the world, Dr. Robert Morgan makes a routine of daily vampire killing until he has some run-ins with what, initially, seem like the uninfected. You know it's too good to be true because, life is never that easy. Come watch the screening before the "scream team" takes a much well-deserved Horrorfest hiatus. Go, chomp on some garlic before you sit down for a chilling chuckle at Wednesday's viewing.
Mentions: Show 9pm EST. FREE! The happen on Twitch! There will be host segments, sketches, characters and special guest Arti Gollapudi (Forbes Under 30 Feature, Boys I've Kissed and Hated). The Horrorfest scream team includes Hoff Matthews, Andrei Alupului (Come Ova, UCB), Marybess Pritchett (An Inconvenient Talk Show), and George Gordon (Laugh Track Festival, Your Good Friend).