Video Licks: Midwest Butter Sandwiches & Some "Blue Mountain" Laughs with Comedian NEEL GHOSH on A New Episode of BOOKED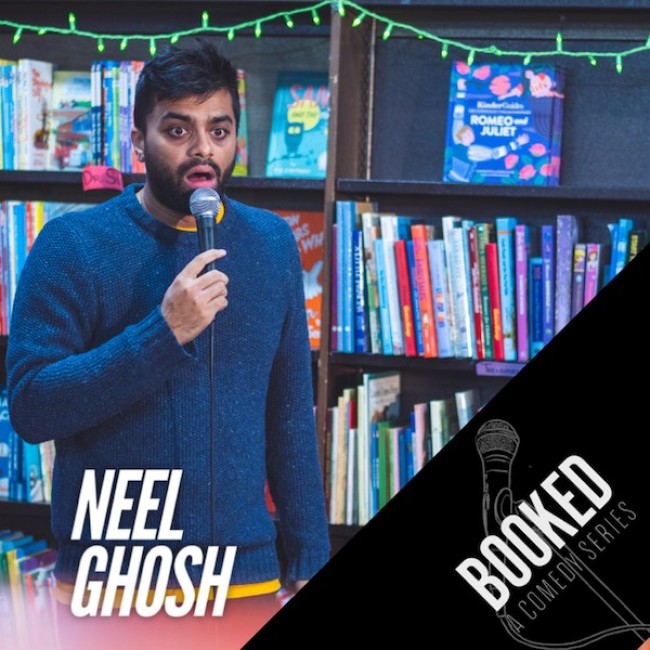 If you are an Angeleno, and frequenter of the LA comedy scene, you will know Bengali-American stand-up comedian Neeladri Ghosh (aka Neel) as the host and producer of many an entertainment exhibition (when those existed), including "Night Voyage" at Club Fais Do Do, "Love for Sale" and "Spring Break 08 is Garbash." Neel currently joins Jonas Presendieu every week on Papaya 9: Not News to discuss "slept on current events." On the latest episode of the comedy standup series BOOKED, you will find Neel discussing growing up in Iowa, why he was extremely emotional watching "Remember the Titans," his disfavor for the band Third Eye Blind, genetic basketball setbacks, a most curious grammar problem with the "Burt's Bees" brand, the Monster Mash guy, being Hindu in Iowa post 9/11, why Neel refers to himself as a "Cinnamon Mannequin," and the pros and cons of being named "Neelandri." Enjoy!
Mentions: Watch more episodes of BOOKED HERE. Follow the show on Instagram. Booked was produced and developed by Theo Manhattan, Granison Crawford, and Sebastian Scott. Image by @mikefaltography. This show was filmed at the $10 or Less Bookstore.