Quick Dish Quarantine: Watch Ari Stidham Host His Own YOUR LATE NIGHT SHOW TONIGHT This Friday 3.19 ft Guest Tina Majorino
Coming to you live on Nowhere Comedy Club's Zoom, THIS Friday, March 19th, will be a brand new edition of YOUR LATE NIGHT SHOW TONIGHT. Your favorite talent will build a completely original talk show in their own voice and POV. So who will that be exactly? None other than LA native, actor, writer, songwriter, director and producer Ari Stidham, who will welcome the amazing actor Tina Majorino to the show. You will be familiar with Ari from the CBS action/drama series Scorpion, where he played mathematician and statistician Sylvester Dodd. Stidham's theatrical directing credits include the Los Angeles productions of Shakespeare's Midsummer Night's Dream and the Star Wars musical parody Solo Must Die at the Hudson Backstage (for which a revival is set for May of this year).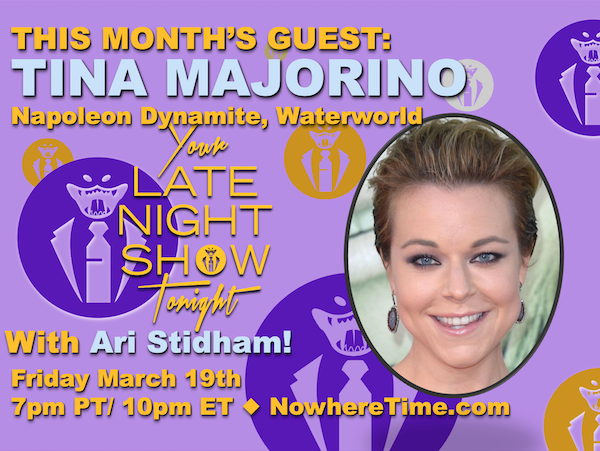 Guest Tina Majorino is known for her roles in such classics as When a Man Loves a Woman, Corrina, Corinna, Waterworld and, of course, the 2004 smash hit, Napoleon Dynamite. Since her return to acting, she has been in TV series such as Veronica Mars, Big Love, True Blood and Grey's Anatomy. She reprised the role of Mac in the Veronica Mars movie in 2014, and has played the part of Maggie Harris on the television series Legends. She later appeared in the recurring role of Florence in the series, wait for it…. Scorpion! Don't miss this brand new, one-time-only, must-see show!
Mentions: Show 7pm PT/10pm ET on Nowhere Comedy Club's Zoom. Get early bird, GA, VIP, and VIP couples tickets HERE. Your Late Night Show Tonight is produced by Gil Baron (Comic Relief,) Pauline Ekholt, Dempson Juvenal and Ben Kuerschner (The Tonight Show).